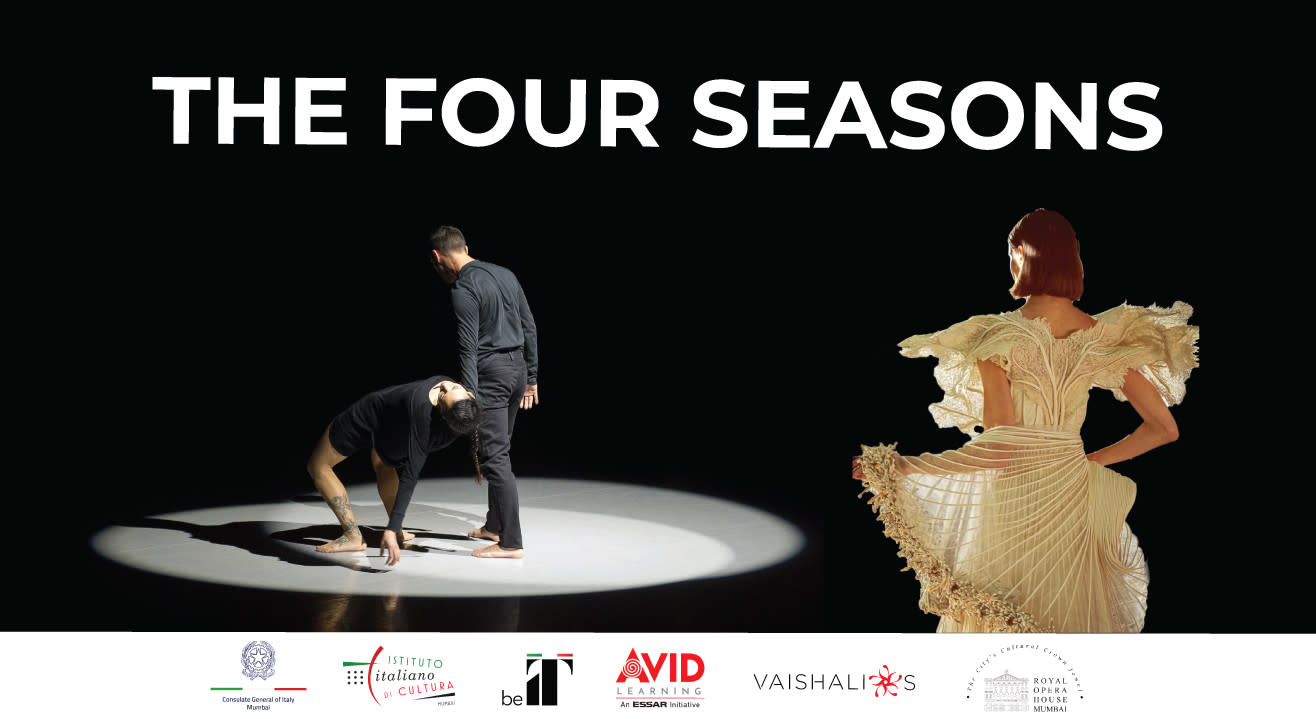 The Royal Opera House, Mumbai
Step out and enjoy this event
Event Guide
Live Performance
Enjoy a unique experience
Invite your friends
and enjoy a shared experience
The Royal Opera House, Mumbai
Step out and enjoy this event
Event Guide
Live Performance
Enjoy a unique experience
Invite your friends
and enjoy a shared experience
Event Guide
Live Performance
Enjoy a unique experience
Invite your friends
and enjoy a shared experience
To celebrate the Italian National Day The Consulate General of Italy in Mumbai and Italian Cultural Centre, Mumbai invites you for The Four Seasons – a performance by Oliva Contemporary Dance Project along with a fashion show of unique Indian hand weaves by Fashion Designer, Vaishali S.
Join us for a one-of-a-kind experience that bridges baroque music, contemporary dance from Italy and Indian couture!
About the Performance
The Four Seasons" Life and its colors, life and its obstacles, life and its victories.
On Antonio Vivaldi's exceptional concertos molding the movements, "The Four Seasons" explore the life of dancers who, with their artistry and body, turn into chords and harmonies. The dancers portray the true essence of classicism combining their bodies in the articulations of classical music.
"Spring, Summer, Autumn and Winter" draw up a journey through emotions and actions that awaken nature and the senses of the human being. The fusion of the music with the dancers step by step describes the single events gifted to us by each season, the colors, the experiences, the dreams.
Three dancers who through their experiences will create a narrative amidst magical and complex notes, between dream and reality.
About Oliva Contemporary Dance Project:
Oliva Contemporary Dance Project is a synergism of passion, audacity and perseverance. Initially founded in Italy under the name "Pantarei," OCDP has since evolved from 2004 to be known for its exquisite movement style and visionary choreography. With each dancer's diverse background, individual dancers contribute to the company's talent as a whole while still manifesting personal artistry. Oliva and Dario create choreography that magnifies dancers in their prime and provides room for genuine personality to come alive on stage. The company's trademark style integrates love, strength, and refinement on one stage; this ensures a long-lasting impression with each performance. Artistic Director and Co-Founder Michele Oliva and Francesca Dario are at the helm of this global and ambitious company.
After producing numerous projects across Europe, OCDP has moved to New York City to challenge themselves as they strive to develop international recognition. Here they aim to expand their artistic reach and share the same passion that ignites OCDP's dancers with audiences across the world. By these means, OCDP's singular mission connects and touches everyone they come in contact with.
VAISHALI S, an eponymous brand, is borne out of designer Vaishali Shadangule's genuine affection and passion for the classic Indian weaves. Working with authentic woven textiles, perennially telling a culturally-rich tale about the country's heritage, the brand has endeavoured to lend the Indian handloom weave a global design language of expression since March 2001. We're all about celebrating the exquisite handloom weave. And there is at least one in each of the 29 states of the country!
The Royal Opera House
Mathew Rd, Charni Road East, Opera House, Girgaon, Mumbai, Maharashtra 400004, India
GET DIRECTIONS
The Royal Opera House, Mumbai
Step out and enjoy this event
Event Guide
Live Performance
Enjoy a unique experience
Invite your friends
and enjoy a shared experience