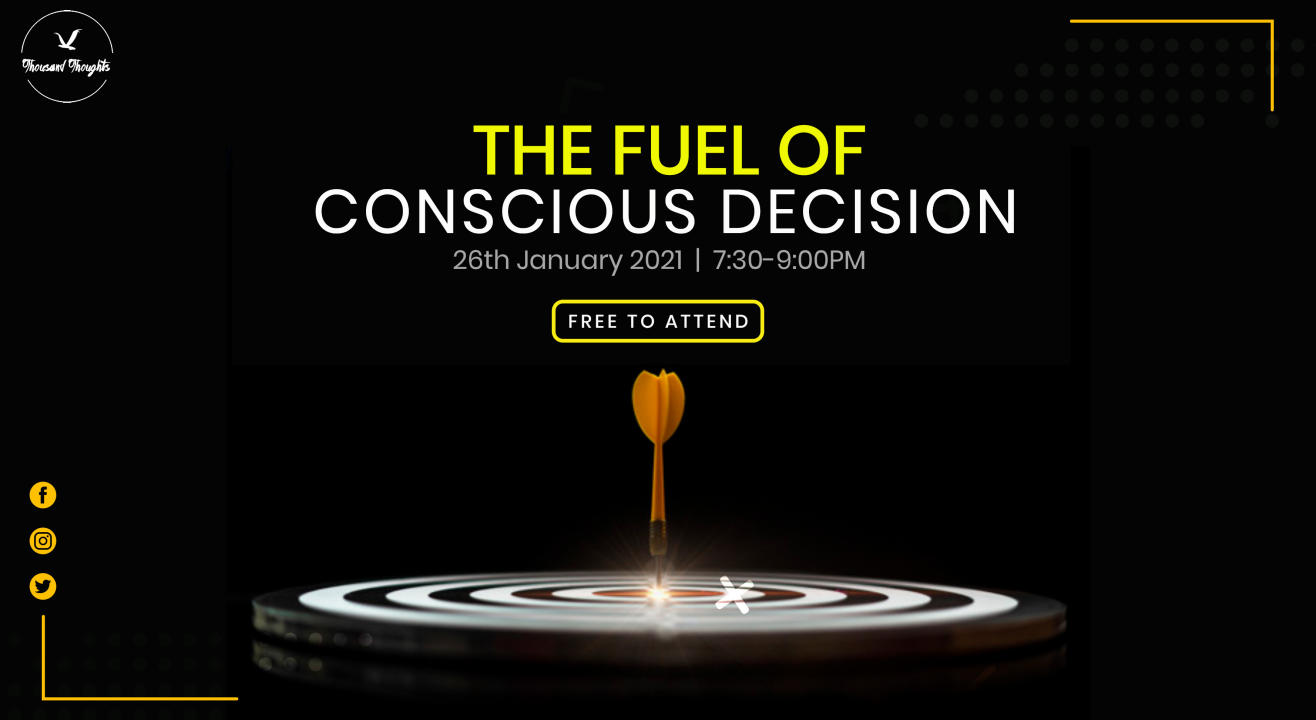 The Fuel Of Conscious Decisions
Enjoy this event from your home
Invite your friends
and enjoy a shared experience
Invite your friends
and enjoy a shared experience
About the Event
Have you ever wondered sometimes why you end up doing exactly the opposite of what you planned? Why are many rich people depressed and living miserable lives? Do you let your emotions influence your decisions?
People often say that it's all about situations. But in reality, It's all about Decisions we make in each ordinary moment of our life.
It's time to end up gambling on your future. Let's rise above the idea of luck and destiny that we have been sold since childhood.
It's time to shape our destiny with conscious decisions.
Thousand Thoughts announces a 90 minutes Intensive self-reflection Webinar – The Fuel Of Conscious Decisions, with an aim to help you create the identity you deserve by setting the absolute action plan to direct your attention towards your desires and move from a state of hopelessness to the state of Inspiration, where all your decisions would be worthy to help you meet your true potential in every area of your life.
𝗪𝐡𝐚𝐭 𝐲𝐨𝐮 𝐰𝐢𝐥𝐥 learn?
How to question and loosen Beliefs that limit you or hold you back
Recognize the Drivers of your Behavior
Mapping the prime forces of decision making
Understanding the patterns of Meanings in your life
Framing the Change
------------------------
𝐏𝐫𝐨𝐠𝐫𝐚𝐦 𝐃𝐞𝐭𝐚𝐢𝐥𝐬:
𝗪𝐡𝐞𝐧: Jan 26, 2021
𝐓𝐢𝐦𝐞: 7:30PM-9PM
𝗪𝐡𝐞𝐫𝐞: Zoom Meeting
𝐓𝐡𝐢𝐬 𝐢𝐬 𝐚 𝐟𝐫𝐞𝐞 𝐭𝐨 𝐚𝐭𝐭𝐞𝐧𝐝 𝐰𝐞𝐛𝐢𝐧𝐚𝐫.
Prior registration is mandatory
𝐁𝐨𝐨𝐤 𝐲𝐨𝐮𝐫 𝐒𝐩𝐨𝐭 𝐭𝐨𝐝𝐚𝐲!
\\ 𝐂𝐞𝐫𝐭𝐢𝐟𝐢𝐜𝐚𝐭𝐞 𝐨𝐟 𝐏𝐚𝐫𝐭𝐢𝐜𝐢𝐩𝐚𝐭𝐢𝐨𝐧 will be awarded!
----------------------------------------------
𝐂𝐚𝐥𝐥/𝗪𝐡𝐚𝐭𝐬𝐀𝐩𝐩: +91 9910055926
𝐄𝐦𝐚𝐢𝐥: thousandthoughtsorg@gmail.com