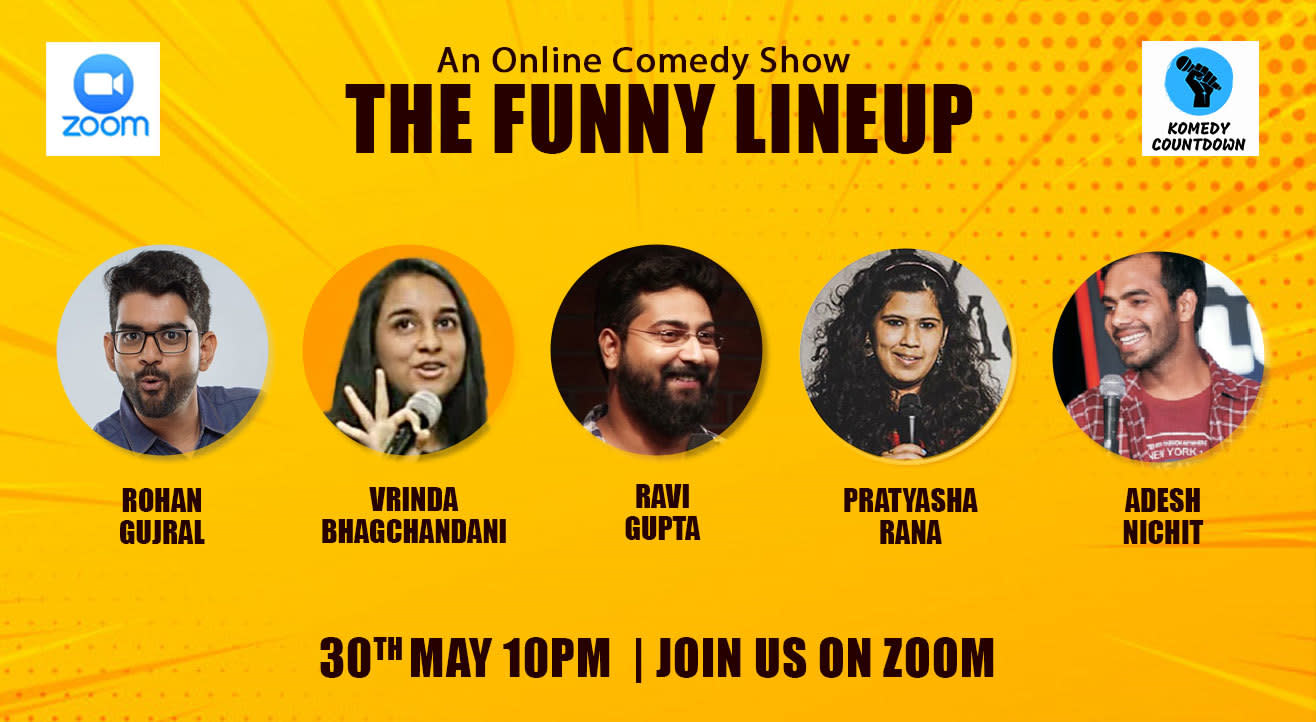 The Funny Lineup - An Online Comedy Show
Invite your friends
and enjoy a shared experience
Invite your friends
and enjoy a shared experience
About the Event
Come watch a bunch of established and upcoming comics try out old and new jokes. Sign up for a fun end to your weekend , right from the comfort of your home.
Rohan Gujral:
Known for his hilarious sketches on Comicstaan (2019), Rohan Gujral is an upcoming standup comedian from Mumbai. He performs regularly in Bandra, Andheri, and other cheaper suburbs. He's also performed at Pune Comedy Festival 3.0, his aunty's house in Jabalpur and other cheaper venues. Rohan travels in trains, taxis, and other (you guessed it) cheaper transport. He's been objectified quite a lot - "full comedy hai woh, full comedy hai!". His jokes revolve around daily life observations, and he's also great at humming the Doraemon song. On Comicstaan, his delivery and quirky twists set him apart from the other contestants. Take one of his best sketches with co-contestant Sumit Sourav. It started with an everyday conversation between office-goers on the Bombay local train, and ended in drug peddling, murder, and chaos. Check out Rohan's sharp writing skills for yourself at his standups and collabs with other comedians live!
Vrinda Bhagchandani:
Vrinda Bhagchandani is an upcoming standup comedian and has featured in several shows.
Ravi Gupta :
With over 20 million views on Youtube and facebook, Comedian Ravi gupta also known as Shudh Desi Comic is one of the most famous and entertaining Comedians in India.
Pratyasha Patgiri-
Pratyasha Patgiri is an upcoming comic and has featured in several shows.
Adesh Nichit :
Adesh Nichit, realized he is meant to be a standup comic when his marksheets started becoming funnier each passing year.
He is famously known for his non-scripted/ improvised jokes right in middle of his act.