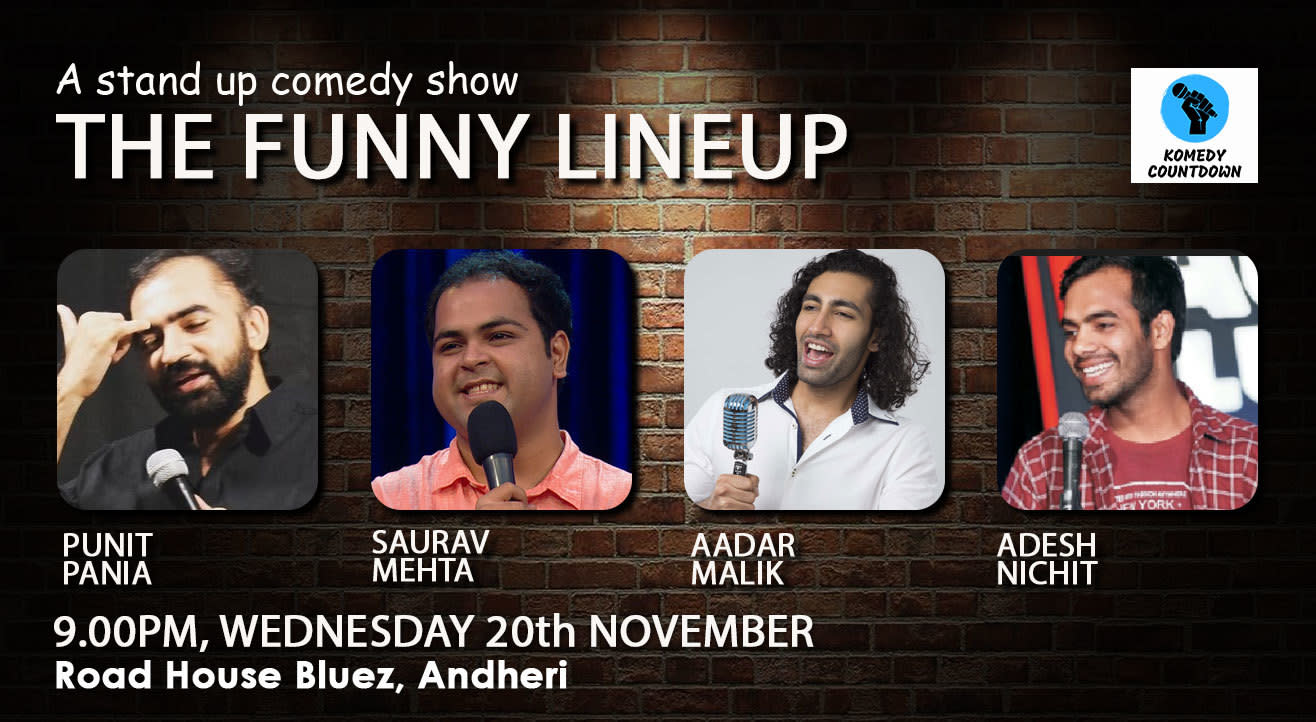 Comedy
About
Come watch four comics try out old and new jokes in completely different styles and make you LOL!
This show will be featuring Saurav Mehta , Punit Pania, Aadar Malik & Adesh Nichit.
Saurav Mehta:
Saurav Mehta is a standup comedian and writer, who was a finalist in Amazon Prime Video's comedy hunt, Comicstaan. Saurav's opened for the likes of Kenny Sebastian, Sorabh Pant, Abish Mathew and Anirban Dasgupta. He's performed at a variety of places, such as Canvas Laugh Club& IIT Kharagpur. Also Saurav is a freelance writer who has written three seasons of Son of Abish. He's written for Hotstar, Amazon, Ballantine's, Bajaj Allianz to name a few.
Aadar Malik:
Performing since the age of 7, comedian, musician and actor Aadar Malik was born to rule the stage - best manifested with his 2016 Amazon Prime Video special, Standup The Musical, a unique comedy show which included a guitar and piano. A trained actor with over 10 years of experience in Indian theatre, Aadar lives to perform for audiences across the world. He was also trained in music at the prestigious Trinity College in London, and his composition 'Goat Song' was shortlisted at the Worldwide Comedy Short Film Festival, London and was a rage on social media. He is a member of SnG Comedy, a popular comedy collective that has amassed 470K subscribers and 61 million views. Their content consists of sketches, stand-up, and a candid interview-cum-chat series, The Big Question, which has featured several popular guests. They also focus on Improv comedy and have done several shows around the country.
Punit Pania:
Punit Pania is the single man behind Chalta Hai Comedy - an NGO without foreign funding. He used to have a job, kinda. But he is now coming out of the closet as an artist.
Having produced over 200 shows over the past year including several sold out concept shows, Punit is making himself believe that comedy is the answer to a midlife crisis that is waiting to happen. Punit describes himself as a marketing professional by day, a struggling writer by night and somewhat of a comedian on weekends.
Having travelled across 20 states of our great country, Punit peddles suburban philosophy disguised as observational comedy. Fluent in 5 languages, Punit's ethnic background is a matter of debate that may be settled during his audience interactions. He denies having low self-esteem issues and thinks he is pretty good at writing artist bios in the third person.
Punit organizes and hosts all of Chalta Hai's shows across Mumbai, Pune, Surat and Baroda and has also performed in Kolkata, Chennai, Bangalore, Vizag and Goa giving him considerable experience in entertaining diverse crowds at a variety of venues and in different formats.
Adesh Nichit-
Adesh Nichit, 22, realized he is meant to be a standup comic when his marksheets started becoming funnier each passing year. You might find him cute but you will certainly take him home and replace your laughing buddha with him after listening to his jokes.
He doesn't have a categorical comical style, exaggerate daily life things in the most witty way possible and is famously known for his non-scripted/ improvised jokes right in middle of his act. Been in the comedy circuit for last 3 years, he has many accolades to his name such as winning numerous famous Comedy Mic events like IIT Rendezvous and has been hosting shows for Canvas Laugh Club which is popularly known as Mecca of Live comedy in India.
Venue
Road House Bluez, Mumbai
Road House Blues, Tokyo House, Next to Andheri Sports Complex, JP road, Azad nagar, Andheri West, Mumbai
GET DIRECTIONS