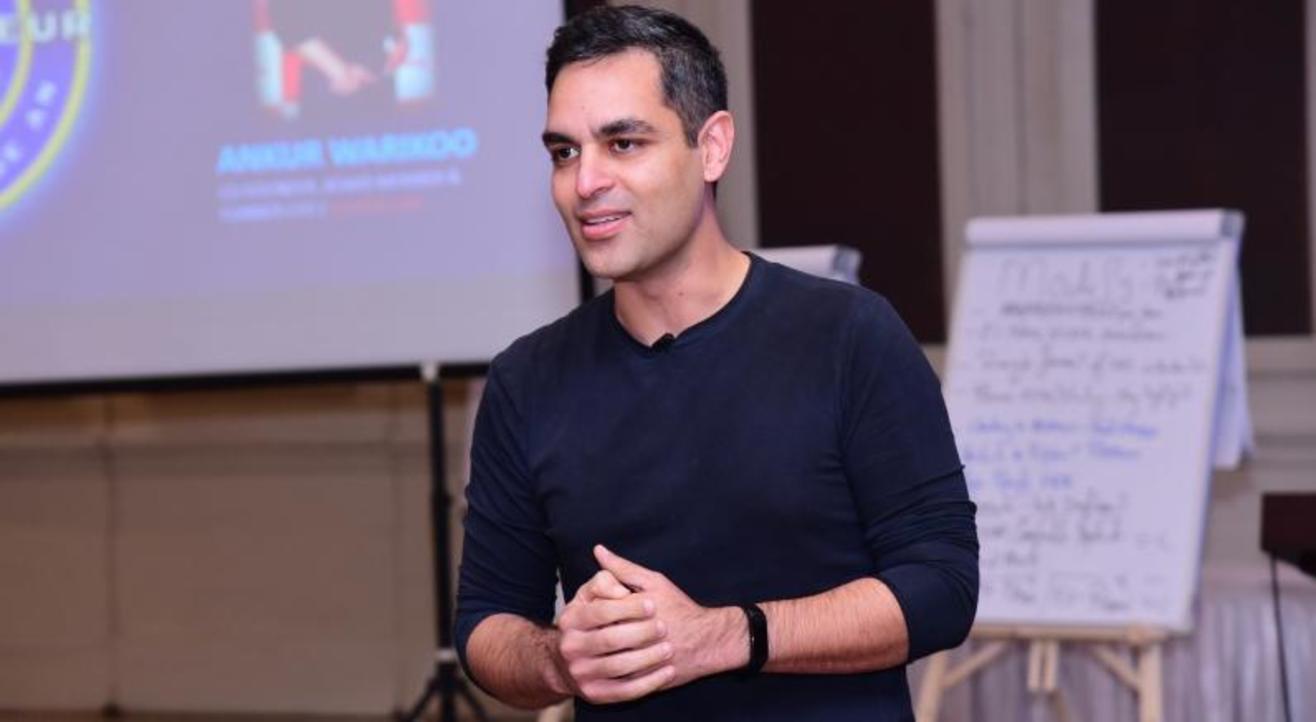 The Future Founders Conference (hosted by Ankur Warikoo)
May 1 - May 30 (Fridays & Saturdays) | 6PM
Invite your friends
and enjoy a shared experience
Invite your friends
and enjoy a shared experience
About the Event
The Future Founders Conference is a complete online series that takes you, the future founder all the way from conceptualizing your idea to launching the first version of your product.
Schedule of the conferences
May 15, Friday 6pm IST
Basics of founder equity and ESOPs
A live-conversation to help future founders on how to decide founder & team equity (ESOPs) in the early days of their startup.
May 16, Saturday 6pm IST
Basics of fund raising
A live-conversation to help future founders understand the basics of fund raising for their startup.
May 29, Friday 6pm IST
Planning and building your MVP
A live-conversation that guides future founders through the planning and building process of their product's first release.
May 30, Saturday 6pm IST
Releasing and distributing your product
A live-conversation that guides future founders through launching their first product, acquiring early users, getting formative feedback and even, pivoting.
Feedback from participants of earlier Future Founders Conference
The Best part for me was to realize the potential of the idea and suggestion provided by you on how to validate the idea .
Rated: 5 stars
It was a great learning and to know more about how to think about our ideas and in what investors are interested to invest in. I have attended some other event (organized by a different group) earlier but did not get to know such detailed understanding. Plus the Breakout room session was an excellent idea.
Rated: 5 stars
I used to think before that my idea is superb because I can provide the best service to clients, But I was wrong and its okay to be wrong along with running in the same race others are running.
I also learned that before stepping in anything I should be the one asking why how what to myself first for the idea.
Rated: 5 stars
For being real and sharing clearly the objectives. Also I loved the breakout rooms and how people including me actually conversed on ideas and issues in a very short period of time. Amazing!
Rated: 5 stars
Insight related to start ups ideas n implementations, reason for failure. One need to sit quite n understand n go deep in research why this idea did not come till now to other people or I am not aware.. It's not only that once should go for blue ocean idea, can go for red ocean idea n do that differently n with less expectation but need to focus n enthusiastic..
Rated: 5 stars
I'm happy that I attended the session. Got a new perspective on how I was looking at my Startup idea. Especially, if the the idea is that great why nobody else has worked on it. This will help me in identifying new possibilities and make my idea, product, and pitch even strong.
Rated: 5 stars
It was pretty direct, no BS and no time wasted
Rated: 5 stars
The way you explains anything is as similar as talking to a friend about anything without worrying of his judgement. Till yesterday i had never attended any webinars in my life and never learned anything about entrepreneurship from a real-life entrepreneur.
Rated: 5 stars
The honesty about sharing practical facts and few really good points to self evaluate before reaching out to someone (investor, mentor). Also the honest opinion about breaking the fad of startups reaching out to investors without thinking about the consequences (commitments) was very helpful.
Rated: 5 stars
The best part about the conference was your eloquent yet grounded way of explaining each and every sentence you spoke. I have always loved watching your videos but interacting with you live was an experience in itself. I hope this becomes a routine experience in the future! Your ability to keep it real and to break down how hard it is to actually build a worthwhile product for the market hits hard and really motivates one to keep at it with rigour. Thank you for doing this.
Rated: 5 stars
Best part was interacting with you Ankur, knowing your thoughts basis your life experiences, it was not only about success but also about failures and put me into a thinking mode.
Everything about the conference was nice starting from polls, main session, question and answer round, breakout session, side chats, connecting with so many like minded people.
Rated: 5 stars
As expected and usual, nothing but honest and real truth shared by you than some motivational (start an startup and universe will conspire for you on the way) and don't give up kinda gyan
Rated: 5 stars
About Ankur Warikoo (the host)
I am Ankur Warikoo, an entrepreneur, angel investor, startup mentor and public speaker.
Became an entrepreneur in 2009 with secondshaadi.com (yeah! long story. fun story) and gaadi.com.
Started Groupon's India business in 2011; ran APAC along with India until 2015.
Founded nearbuy.com in 2015. Raised $40Mn+ from Sequoia and Paytm. Was CEO until 2019.
As an angel investor, I have invested in 20+ startups and I am a mentor/coach to several first-time entrepreneurs.
I am also a public speaker and communicator - and share my content through my social media channels (1.3Mn+ followers across Linkedin, Twitter, TikTok, Instagram, Facebook and Youtube)
FORTUNE India featured me in their 40 Under 40 list for India and am part of LinkedIn India's PowerProfiles list.
More than anything else, I am passionate about helping first-time founders avoid the same mistakes that I made when I became one.
Registration and details
Each conference will be live for 90 mins, hosted by me (Ankur Warikoo)
The conversations will NOT be available as a recording. Even for the participants.
A private Zoom webinar link will be shared on your email address 6 hours before every conference, for you to join the live conference.
There is no refund available. Seats are limited and this is your way to commit to it.