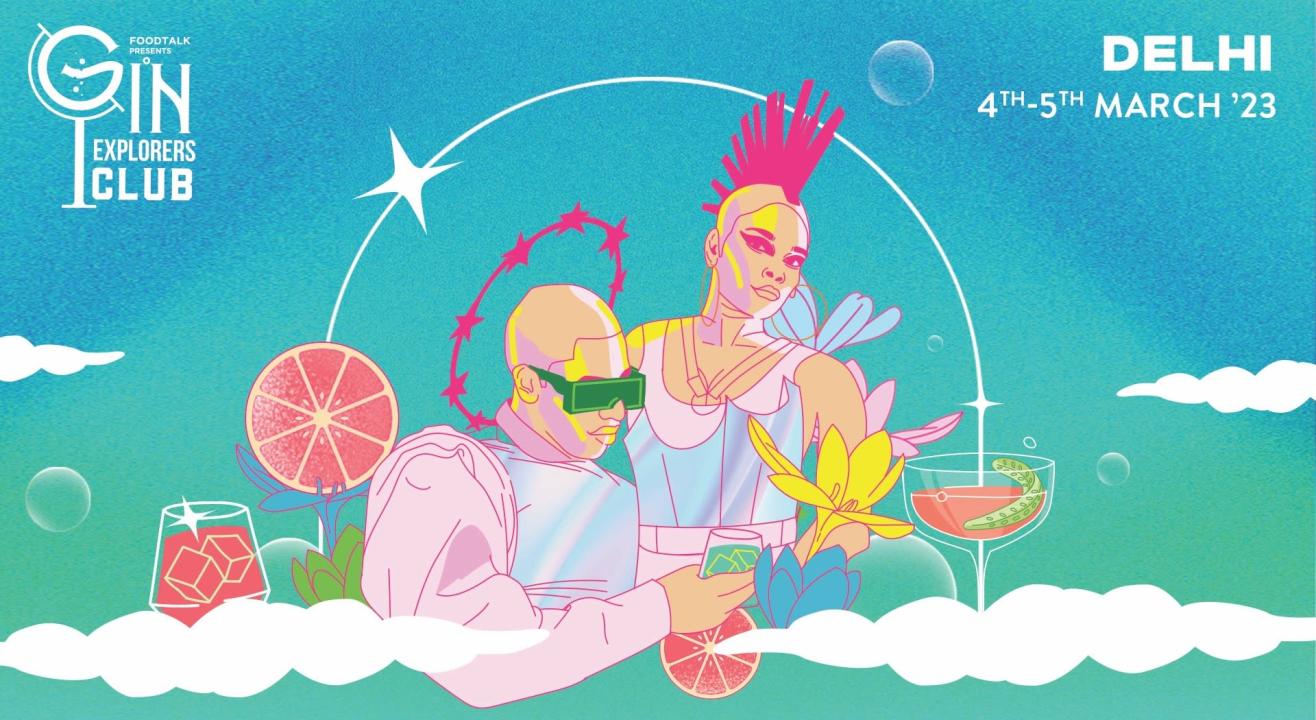 The Gin Explorers Club - Mythical Edition | Delhi
March 4 & 5 | Gates Open at 12 Noon | Event Shuts at 10PM
JLN Stadium Gate No. 2, Delhi
Invite your friends
and enjoy a shared experience
The Gin Explorers Club - Mythical Edition | Delhi
March 4 & 5 | Gates Open at 12 Noon | Event Shuts at 10PM
JLN Stadium Gate No. 2, Delhi
Invite your friends
and enjoy a shared experience
Invite your friends
and enjoy a shared experience
DELHI, we're making our way back to you with India's BIGGEST celebration of GIN!
Presenting, The Gin Explorers Club - Mythical Edition.
Come step into Gin City, where our mythical paradise awaits you… far from the realms of reality, we invite you to join us for a juniper-fuelled exploration.
Sip, sway and revel in our botanical wonderland.
Grab your tickets NOW!
What to expect?
A weekend long cocktail party awaits- think cocktails with the finest selection of International and Homegrown Gins for you to explore, performances from an exciting line-up of artists to get you grooving all weekend and pop-up restaurants for you to experience the best of the city's flavours- we've got it all lined up for you!
Gin Explorers Club is here to get your imagination running wild into our magical Gin City. 'Sip' your way into a land that goes beyond what the mind fathoms, when the clock strikes #GinOClock!
Participating Brands
Bombay Sapphire
Bulldog
Greater Than
Hendrick's
Jade Forest
Jaisalmer
Samsara
Schweppes
Tanqueray
Jimmy's x Cobalto-17
… and more!
• Hydration Partner: Vedica
• Refresh Partner: Morning Fresh
• PR Partner: Detales Communications
• Industry Partner: 30 Best Bars
• Bar Solutions Partner: SpeedX
• Media Partner: Event FAQS
• Lifestyle Partner: Good Times
• Outreach Partner: LBB
Artist Lineup
Get ready to vibe to the beats of some of the biggest acts the city has seen!
{Day-wise line-up mentioned below}
Aneesha Dass | Ashna Malik | Avantika | DJ SA | Kamakshi Khanna | Lynston (Throwback) | Nina Shah | Sahirah | Tanya Nambiar | The Copycats
Restaurant Pop-Ups to Feed Your Soul
• Burgerama * Le Cantine • Bili Hu • Koyla Kebab • Home Run • Gorillaz Pizzeria • Chickeera • Asia Central • All About Chicken • Good Flippin • Mai Bao • Superdogs • People Of Tomorrow • Minus 30
Explorers Flea with Artisanal Brands to Shop From
• Nomad Project • Kala Ghoda Records x Vivid Hifi • Tipsy J's • CBDAY • My Bumbo • My Muse • Pretsnak • Eastern Lights Seltzer Water
Day 1


Day 2

JLN Stadium Gate No. 2
Jawaharlal Nehru Stadium, Pragati Vihar, New Delhi, Delhi 110003
GET DIRECTIONS
The Gin Explorers Club - Mythical Edition | Delhi
March 4 & 5 | Gates Open at 12 Noon | Event Shuts at 10PM
JLN Stadium Gate No. 2, Delhi
Invite your friends
and enjoy a shared experience