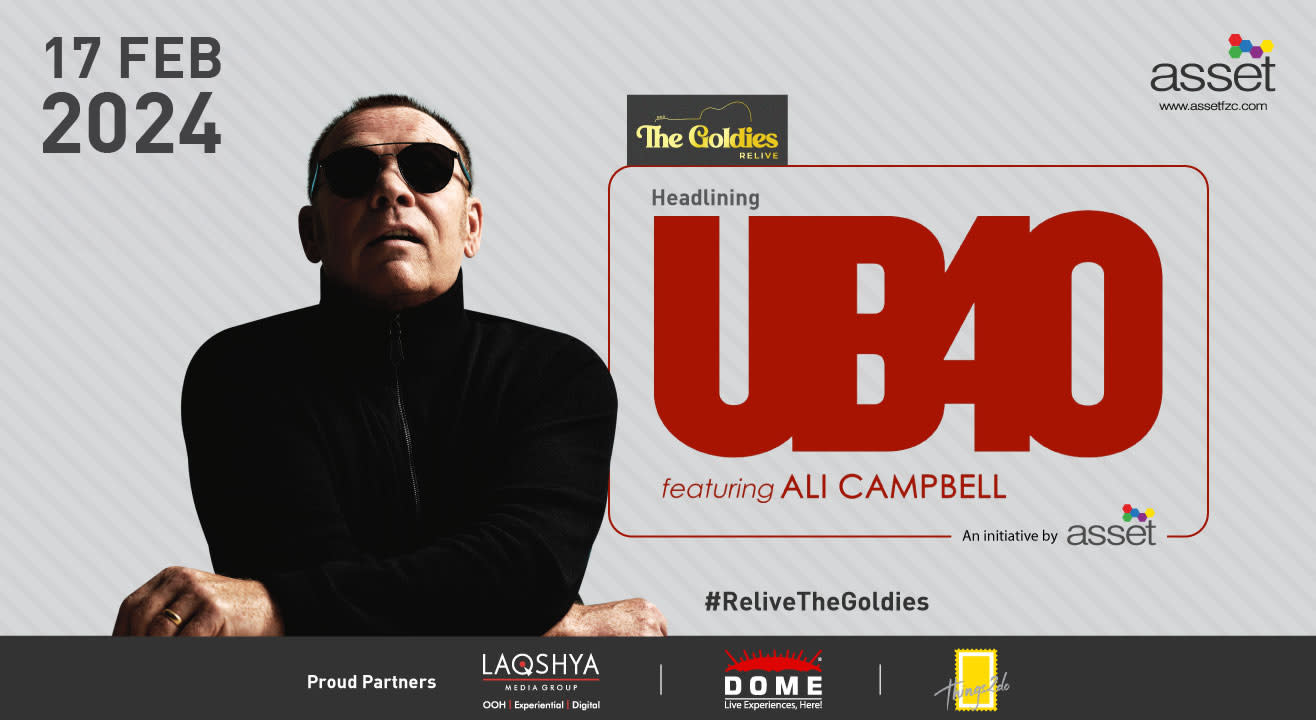 The Goldies - UB40 feat. Ali Campbell | Mumbai
17 Feb 2024 | 7 PM onwards
Event Guide
Live Performance
Enjoy a unique experience
Invite your friends
and enjoy a shared experience
The Goldies - UB40 feat. Ali Campbell | Mumbai
17 Feb 2024 | 7 PM onwards
Event Guide
Live Performance
Enjoy a unique experience
Invite your friends
and enjoy a shared experience
Event Guide
Live Performance
Enjoy a unique experience
Invite your friends
and enjoy a shared experience
Fuelled by the Reggae Pop spirit that powered UB40's original incarnation to worldwide success, the contemporary band fronted by founding member Ali Campbell is now coming to India. As the most authentic expression of the Birmingham band's original aims, Ali continues to curate and build on a legacy that dates back four decades to the group's formative days.
Despite seeing their plans for 2020 thwarted by a global pandemic, they are now primed to make the most of the momentum that saw their last tour visit the world's biggest venues with sold out shows and their 2018 album, A Real Labour Of Love, narrowly miss out on topping the UK charts.
'For me, it's all about advancing reggae,' says Ali. 'I love all kinds of music, but we've always promoted reggae. It's a style that keeps on changing, too. It's now being mixed with hip-hop, and its influence on dance music is huge. We're blessed in that we still get a really mixed crowd. Teenagers might be into grime, rock and pop, but they still love reggae. We played at Boomtown Fair in August 2019 and the crowd we attracted was full of fans aged between 15 and 35. It must have been the youngest large gathering we've ever played to.'
Backed by a seven-piece band, UB40 with Ali have become a formidable touring outfit. The Real Labour Of Love tour in 2019 visited Australia, New Zealand, Europe and America and even stopped off for a show on Rarotonga, an island in the South Pacific. The start of 2020 had been busy, too. With this year marking the 40th anniversary of UB40's debut single King / Food For Thought and the band's debut album Signing Off, the band played gigs in Brazil, the Dominican Republic and Puerto Rica before the entire live circuit ground to a halt in spring. 'Before the lockdown, we'd been firing on all cylinders,' says Ali.
The story began in the Birmingham suburb of Moseley in 1979 when UB40, taking their name from the form given to individuals claiming unemployment benefit, started putting an indigenous British slant on Jamaican reggae. After reaching number four in the charts with King / Food For Thought, the multi-racial band released debut album Signing Off in 1980. They went on to sell 70 million records and topped the UK singles chart on three occasions – with Red Red Wine in 1983; I Got You Babe (a duet between Ali and Pretenders singer and long-standing UB40 champion Chrissie Hynde) in 1985; and (I Can't Help) Falling In Love With You in 1993. Two of those hits, Red Red Wine and (I Can't Help) Falling In Love With You, also went to number one in the USA, while Ali and his brother Robin joined Birmingham singer and toaster Pato Banton to top the UK charts again with Baby Come Back in 1994. Paying homage to the songs that inspired them, UB40 feat. Ali Campbell also released three volumes of the Labour Of Love series, covering Jamaican standards such as Eric Donaldson's Cherry Oh Baby and Lord Creator's Kingston Town.
Exclusive Offline Ticketing Partner:
LiveFiesta
9619272554 / 9821261553


FAQs:
Q. When will the event start?
Gates will open at 5:30 PM. Event start time is 7:30 PM.
Q. Is this a standing or a seated show?
This is a seated as well as standing show.
Q. Is there an age limit to attending the concert?
This is a Family Friendly show.
However, tickets will be required for age 5 years and above.
Q. Will there be a parking facility at the venue?
Parking is subject to availability
Q. Will food, beverages & alcohol be available at the venue?
No outside food and drink will be allowed. However, Food & Beverage stalls will be present at the venue.
Q. Is ticket shift allowed?
No.
Q. Will I get a refund if I cancel my ticket?
No refunds on purchased ticket are possible, even in case of any rescheduling.
The One & Only UB40 Ft Ali Campbell is back in India after 24 Years 🎟️ ReliveTheGoldies
DOME SVP Stadium
Lala Lajpatrai Marg, Lotus Colony, Worli, Mumbai, Maharashtra 400018
GET DIRECTIONS
The Goldies - UB40 feat. Ali Campbell | Mumbai
17 Feb 2024 | 7 PM onwards
Event Guide
Live Performance
Enjoy a unique experience
Invite your friends
and enjoy a shared experience