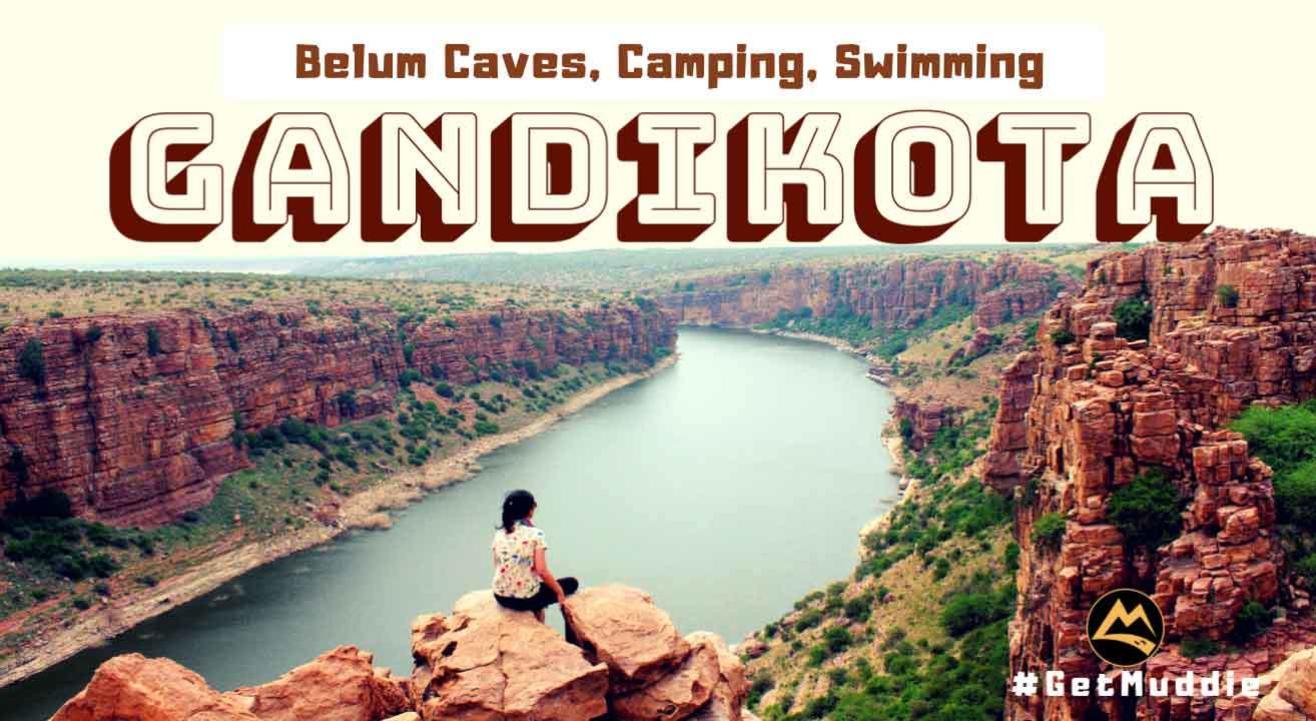 The Gorgeous Gandikota – Camping, Swimming, Belum Caves | Muddie Trails, Hyderabad
October 25 | 10PM - February 2 | 10PM
Invite your friends
and enjoy a shared experience
Invite your friends
and enjoy a shared experience
About the Event
Muddie Trails presents the amazing combination of beautiful Gandikota & magnificent Belum caves this weekend!
About the destination:
Gandikota along the banks river Penna in Andhra Pradesh is known for its spectacular gorge formed by river Penna that cuts through the Erramala hills. This handsome piece of nature's architecture has come to be known as the Grand Canyon of India by travelers who visit it and get bewitched by its beauty. Apart from the unmatched beauty of the gorge, the mystical charm of this fort makes a visit to this village all the more exciting for history lovers and adventure seekers.
Belum Caves are the second-longest caves in the Indian subcontinent open to the public. These caves are more than a thousand years old and were formed by a constant flow of underground water over a period of time.
Now lets #GetMuddie at Gandikota and Belum!
Call or WhatsApp Muddie Trails on 9827032009 or 8197949010 for any doubt!
__________________________________________
Basics:
Total slots for the trip: Usually 10 or more
Stay – Camping in the tents (3 sharing), Govt. Tourist home washrooms
for freshening up!
Food: 2 Breakfasts, 1 Lunch (Veg), 1 Dinner (Veg/Non-Veg) – all included
Trek difficulty: Easy (good for beginners)
Travel:
Tempo traveler (Non AC)
Start time: Friday at 10:00 PM
Ending time: Sunday 10:00 PM
Pick-up/Drop spots: Kondapur, Gachibowli
__________________________________________
Highlights:
The Grand Canyon style Gorge view
Gandikota Fort
Ruins like Old temple and Prison
Swimming with life jackets
Mylavaram Dam
Belum Caves
Amazing sunrise and sunset from gorge
Campfire
Music & Dance
Good food
__________________________________________
Schedule:
Day 0 (Friday):
Start from Hyderabad, an overnight journey of about 6 hours
Day 1 (Saturday):
Reach Gandikota tourist house early morning, freshen up & breakfast,
Head out to the Penna river (a mini-trek to the bottom of the Gandikota Gorge), play in the water & swim (life jackets will be provided)
Head back to our restaurant to have lunch, relax for an hour
Walk to the magnificent Fort, take a lot of selfies, visit The Grand Canyon of India and do a lot of self-styled bouldering by waking up the monkey inside us
Shout out loud into the valley to listen to your echo from different directions!
Reach our campsite of tents pitched in the form of a circle and play a lot of games
Socialize, revel in the warmth of the campfire,
Hot and spicy dinner & party till late night
Day 2 (Sunday):
Start the day with breakfast,
Head to Mylavaram reservoir, marvel at the huge water body and scenic landscapes, take some group pictures
Drive to Belum caves, visit the amazing caves and get to experience the new world underground,
Take a picture with huge Buddha statue at caves
Have lunch at a local restaurant in the village
Start back to Hyderabad, reach home by night
Share your gorgeous Gandikota and Belum weekend trip story with your friends and family
__________________________________________
Inclusions:
Travel,
Stay at our campsite on a sharing basis,
2 Breakfasts,
1 Lunch(Veg),
1 Dinner(Veg/Non-veg),
Life jackets to play in Pennar river
Campfire on Sat night (If it doesn't rain at the time),
Belum caves & entry charges
Organizer(s) from MT to look after all the activities
A lot of entertainment
Exclusions:
Sunday Lunch
Any misc. expenses not mentioned in the itinerary.
__________________________________________
What's next after booking tickets:
A Whatsapp group will be created for all the registered folks a night before the event
Information like exact pickup locations, things to pack, Organizer details, etc will be shared in the group
__________________________________________
Important notes:
Because of unexpected and local reasons, if Belum caves are closed, we will go to an alternate place
The facilities are basic, close to nature on this backpacking trip. Not for luxury seekers
Call or WhatsApp Muddie Trails on 9827032009 or 8197949010 for any doubt!
Cheers,
Get Muddie in Travel..