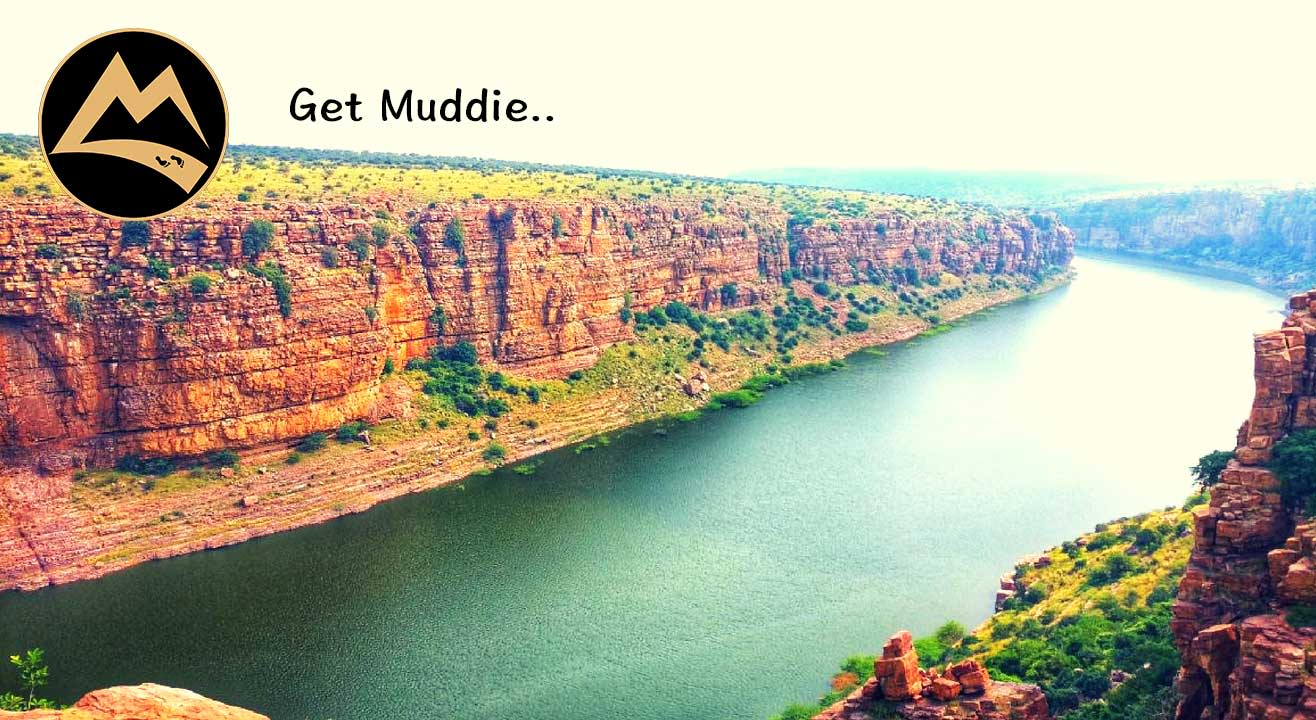 The Gorgeous Gandikota - Camping with Kayaking in Penna River| Muddie Trails - Hyderabad
Invite your friends
and enjoy a shared experience
Invite your friends
and enjoy a shared experience
About the Event
Upcoming Trips:
February 9th - 10th | February 16th - 17th | March 16th - 17th
---
Muddie Trails presents the amazing combination of beautiful Gandikota & magnificent Belum caves!

About Gandikota: Gandikota on the right bank of the river Penna in Andhra Pradesh is known for its spectacular gorge formed by river Pennar that cuts through the Erramala hills. This handsome piece of Natures architecture has come to be known as the Grand Canyon of India by travelers who visit it and get bewitched by its beauty. Apart from the unmatched beauty of the gorge, the mystical charm of this fort makes a visit to this village all the more exciting for history lovers and adventure seekers.

Enough of intro, now just #getmuddie!
Slots: 12 to 21
Accommodation: Camping, Govt. Tourist home washrooms for freshening up!
Travel: Tempo traveler or Mini-Bus based on final numbers
Food: Breakfast, Lunch, Dinner all included
Pick-up/Drop spots: Tin Factory, Indiranagar, Koramangala, Hebbal
Gandikota Fort
Grand Canyon of India
Penna River - Swimming, Cliff jumping, and Coracle - Visit Belum Caves (or lake if unavailable)
Camping, Campfire
Day 0 (Friday night):
Start from HYD around 8 PM

Day 1 (Saturday):
Reach Gandikota tourist house early morning, freshen up and breakfast, head out to the magnificent Fort, take a lot of selfies, visit The Grand Canyon of India and do a lot of bouldering by waking up the monkey inside all of us, shout out loud into the valley to listen to your echo from different directions! Have lunch, relax for an hour, head out to the Penna river (a mini-trek to the bottom of the Gandikota Gorge), play in the water and swim (life jackets will be provided), do Coracle, trek back to tourist home to freshen up and relax in the lawn. Head to the campsite of tents pitched in the form of a circle and play a lot of games, socialize, revel in the warmth of the campfire, hot dinner and party till late night

Day 2 (Sunday):
Start the day with freshening up and breakfast, drive to Belum caves (In case the caves are closed we will go to a beautiful lake), visit the amazing caves and get to experience the new world underground, have lunch, and start back to Hyderabad post lunch. Reach home by night.
Travel and tolls, AP state and all entry fees
1-Day/1-Night stay at our campsite on sharing basis
2 Breakfasts
1 Lunch(Veg)
1 Dinner(Veg/Non-veg)
Life jackets to play in Penna river
Coracle experience
Campfire on Sat night
Road trip to Belum caves and entry charges
Organizers from MT to look after all the activities and a bit of entertainment ;-)
1 Lunch on Sunday and any other miscellaneous personal expenses that are not mentioned in inclusions above.
Travelers are expected to sign a Liability/Waiver form given by the organizers before starting the trip/trek/event
Everyone must get their photo ID cards - like Aadhar or Driving License!
Muddie Trails is NOT a tour operator. Muddie Trails is an offbeat travel experience provider.
Our facilities are basic. If you expect any luxury, please do not register.
Our itinerary is flexible and Organizer may choose to switch/re-arrange parts of an itinerary based on need. Please co-operate with organizer and other travelers.
Do not forget to read our "Terms and Conditions" before registering!
Basic essentials like toothbrush, soap, towel, etc
Shades/cap/sunscreen
Sleeping bags and mats will be provided (no need to get blankets)
Fully charged mobiles with power banks - to take a lot of selfies.
There is limited electricity at the campsite
Selfie stick or DSLR if you are interested
Small first aid kit if you have and your medications if any (organizers will get one first aid kit anyway)
Odomos for insects and mosquitoes - as you are gonna camp!
Polythene covers to put used/wet clothes
An extra polythene cover to dispose of your trash - this is important, Muddie Trails have a no-littering policy!
Carrying a handwash/sanitizer/tissues will help
Don't carry expensive items. You are responsible for your own belongings.
Mandatory: A photo ID card xerox- like Aadhar or Driving License - one of the organizers will check this before boarding.
Comfortable sports shoes/trekking shoes/sandals - anything is fine as you have couple of treks to do!
Carry your jerkin/sweater - it can get cold at night.
The "Offbeat" theme of Muddie Trails
Muddie Trails provides real offbeat experiences for the travellers like trekking, adventure activities, camping in tents, bonfire, barbecue, visiting exploring and experiencing the unknown but awesome destinations that are not crowded with tourists

They do not take travellers to a tourist place unless it is required as a 'filler' in the itinerary between two offbeat places. Travellers are requested to refrain from asking the organizers to take them to ABC temple or XYZ church. The itinerary is already decided and posted based on their offbeat theme. The organizer will only change the itinerary if any place cannot be visited because of unpredictable reasons. If you have a wish list of tourist places to tick off in your mind, then probably Muddie Trails is not for you and hence they kindy request you to not register.
Nobody shall deviate from trek path led by organizers/guide

During the meetup, Muddie Trails is not responsible in case of any injuries or animal attacks or reptile bites.

Expect the unexpected in case of wild forests like the sudden closing of trek path by govt/forest department(because of wild animal sighting/landslide/some crime), in which case MT may have to cancel the trek (this is very rare - never happened till now). In this case, the organizer will plan for alternate trek/trip. If this is not possible, then Muddie Trails will refund the remaining amount after removing the travel cost.
Travelers are expected to respect each other and help each other.

Avoid discussing sensitive matters like sex, politics and religion/race.

Using foul or abusive language or arguing with fellow travelers/organizer will not be accepted and will stand a chance of being deserted by the travel group.
10% convenience charges of the total amount will be deducted in any kind of refund done online

90% refund if you make a request before 3 days of the meetup start date.

50% refund within 3 days and before 24 hours from meetup start time.

No refund within 24 hours from meetup start time

No refund during/after the meetup.