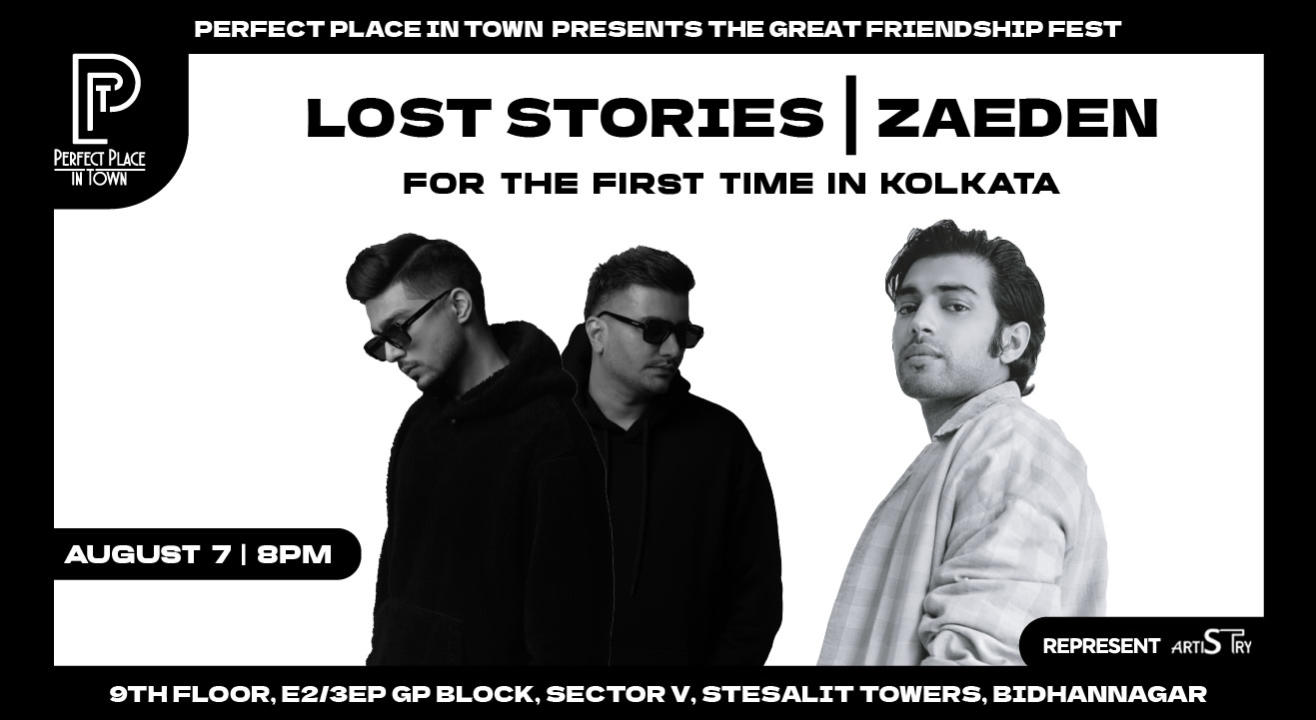 The Great Friendship Fest| Zaeden & Lost Stories | PPT | Kolkata
August 7 | 8PM - August 8 | 2AM
PPT - Perfect Place in Town, Kolkata
Step out and enjoy this event
Event Guide
Live Performance
Enjoy a unique experience
Invite your friends
and enjoy a shared experience
The Great Friendship Fest| Zaeden & Lost Stories | PPT | Kolkata
August 7 | 8PM - August 8 | 2AM
PPT - Perfect Place in Town, Kolkata
Step out and enjoy this event
Event Guide
Live Performance
Enjoy a unique experience
Invite your friends
and enjoy a shared experience
Event Guide
Live Performance
Enjoy a unique experience
Invite your friends
and enjoy a shared experience
Perfect Place in Town presents The Great Friendship Fest, the biggest event in town this Friendship Day 2022. The event features the greatest duo of the year Lost Stories X Zaeden. From hits such as Tere Bina, Noor and many more the duo will make your friendship day a memorable one.
This is the first time in Kolkata where you will witness Zaeden and Lost Stories doing an unique set together other than their own sets.
Spread the news across the city, and come along with your friends to make it a memorable one.
Entry below 18 is prohibited.
Club Rules applied.
For any queries call 9674211388
PPT - Perfect Place in Town
E2/3EP GP Block, Sector V, Stesalit Towers, 9th Floor, near RDB CINEMAS, GP Block, Sector V, Bidhannagar, Kolkata, West Bengal 700091, India
GET DIRECTIONS
The Great Friendship Fest| Zaeden & Lost Stories | PPT | Kolkata
August 7 | 8PM - August 8 | 2AM
PPT - Perfect Place in Town, Kolkata
Step out and enjoy this event
Event Guide
Live Performance
Enjoy a unique experience
Invite your friends
and enjoy a shared experience