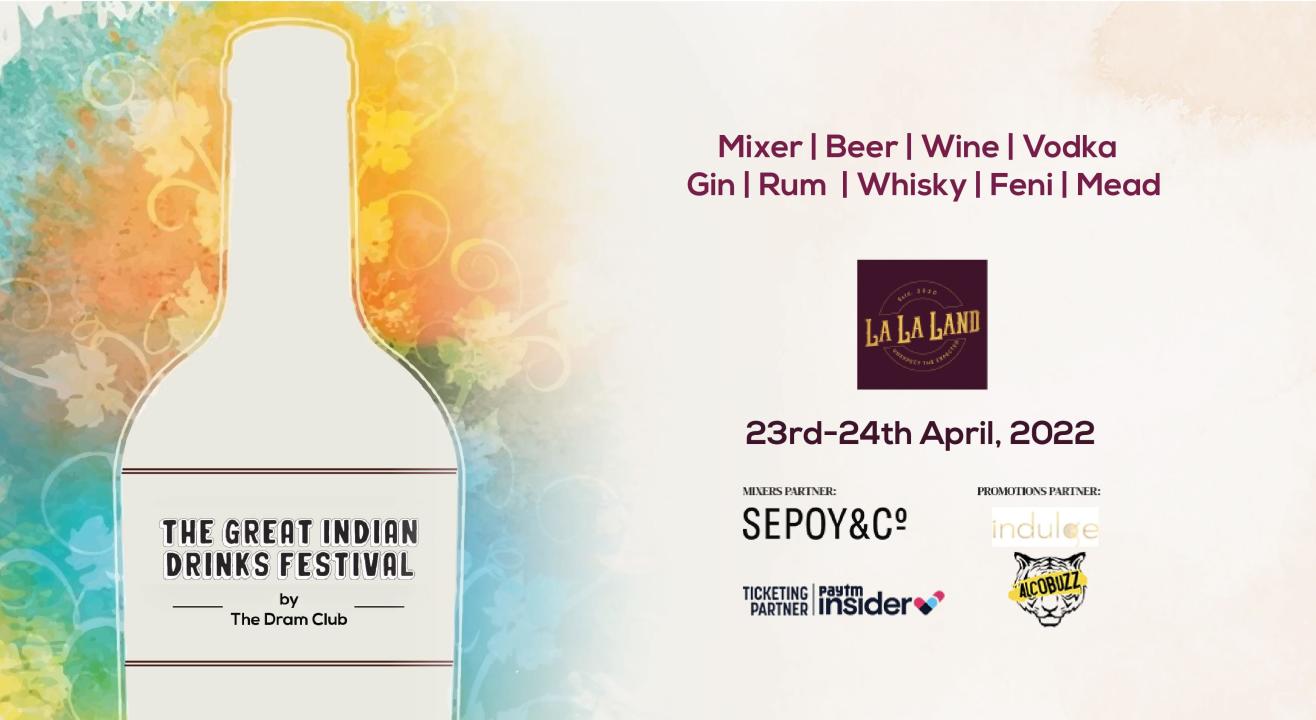 The Great Indian Drinks Festival
April 23 & 24 | 4PM - 11PM
Step out and enjoy this event
Event Guide
Celebration
Fun times ahead
Invite your friends
and enjoy a shared experience
The Great Indian Drinks Festival
April 23 & 24 | 4PM - 11PM
Step out and enjoy this event
Event Guide
Celebration
Fun times ahead
Invite your friends
and enjoy a shared experience
Event Guide
Celebration
Fun times ahead
Covid 19 Safety Measures
This event adheres to the following

Health & safety measures
Social Distancing
Hand Hygiene Stations
Proof of Vaccination Required
Invite your friends
and enjoy a shared experience
Covid 19 Safety Measures
This event adheres to the following

Health & safety measures
Social Distancing
Hand Hygiene Stations
Proof of Vaccination Required
A FESTIVAL TO CELEBRATE THE BEST OF INDIA'S CRAFT DRINKS
The Great Indian Drinks Festival by The Dram Club
Venue Partner: La La Land
Mixers Partner: Sepoy & Co.
Promotions Partner: Alcobuzz & Indulge India
The Great Indian Drinks Festival is the first of its kind festival, exclusively for drinks made in India. The two-day event takes place on April 23 & 24 at the La La Land, from 4:00 PM onwards.
From spicy gins to crafty beers, spirited new agave to favourite old whiskies, wines, rums, seltzers and more! India's most phenomenal distillers, brewers and winemakers will bring their best drinks to the festival, and you will be spoilt for choice. The pandemic changed how we drink alcohol, and the home bar especially is having quite a moment. India's exceptional homegrown spirits, beers and wines have found new audiences that are curious about cocktails, experimental with their spirits, and don't shy away from taking their palates on a spirited new ride.
If you are curious about cocktails, experimental with your spirits, and don't shy away from great drinks, food and music, The Great Indian Drinks Festival is for you. Here's what you can expect
Wide range of Homegrown Spirits from whiskies to gins to vodka to rums, seltzers, beers & wines.
Live Music performances
Sumptuous food paired with delicious cocktails
Featured Brands:
Arko Beer
Paul John Nirvana
Grover Zampa Wine
Brewwhale Beer
2 Down Beer Co.
Gobby Brewing
Smoke Vodka
Cerana Meads
Moonshine Meadery
Indri Single Malt
Two Indies Rum
Amrut Whisky
Tickle Gin
Tinto Feni
Cabo
Origin Meads
WildCraft Ciders
5% of the Ticket Sales will to donated to YODA Mumbai & Welfare of Stray Dogs
Age Limit: Ticket Holders will have separate alcohol bands for Age 25+ above as Govt Norms.
Each ticket with 699 or higher allows entry and a complimentary drink(s) worth INR 400/-
Internet handling fee per ticket may be levied. Please check your total amount before payment.
Tickets once booked cannot be exchanged or refunded.
Mandatory to collect your entry bands from the box office outside the venue.
They should carry a valid ID, liquor or consumption permit.
Right to admission reserved.
Consumption of drugs or any other narcotics activity is strictly prohibited.
Guests should flash their respective valid vaccination certificates at the time of the entry.
The event will strictly follow the covid 19 protocols laid by the government of Maharashtra or local governing authorities.
Outside food and beverage will not be permitted at the venue.
Parking and belongings will be at the owner's risk. Kindly follow the traffic protocols at the venue.
Management will not be responsible for any loss, theft, or breakage of any belongings of the respective guests.
In case of any norms applied by the disaster management authorities in any conditions viz. Covid, Earthquake, riots etc the show date can be postponed with respect to that instance and the same ticket value will be considered for the next date.
Tickets, once purchased, are non-transferable and non-refundable under any circumstances.
The venue will is equipped with all the safety, fire, medical aid, etc. kindly contact the emergency counter for more assistance.
People in an inebriated state may not be allowed entry.
Venue rules apply.
COVID SAFETY GUIDELINES
Owing to the current conditions surrounding the COVID – 19 pandemic, as a pre-condition to gaining access to the venue (events and theatres) you are required to be fully vaccinated and may be required to display your COVID – 19 certificate at the venue as per the various norms /regulations prevailing in the said State. The venue provider and governing authorities reserve the right to exclude any user from the venue if there are sufficient grounds to believe so for failure to abide by the protocols. You agree to exit without protest or refund. Users are required to check the restrictions as applicable in their State.
The Venue and The Dram Club reserve the right to change/modify the terms and conditions.
The Dram Club does not assume any responsibility regarding any injury or complications due to COVID – 19 accrued as a result of your participation.
The above guidelines are currently mandatory for Maharashtra.
La La Land
La La Land, Atria Rooftop, above Inox, Lotus Colony, Worli, Mumbai, Maharashtra 400018, India
GET DIRECTIONS
The Great Indian Drinks Festival
April 23 & 24 | 4PM - 11PM
Step out and enjoy this event
Event Guide
Celebration
Fun times ahead
Invite your friends
and enjoy a shared experience