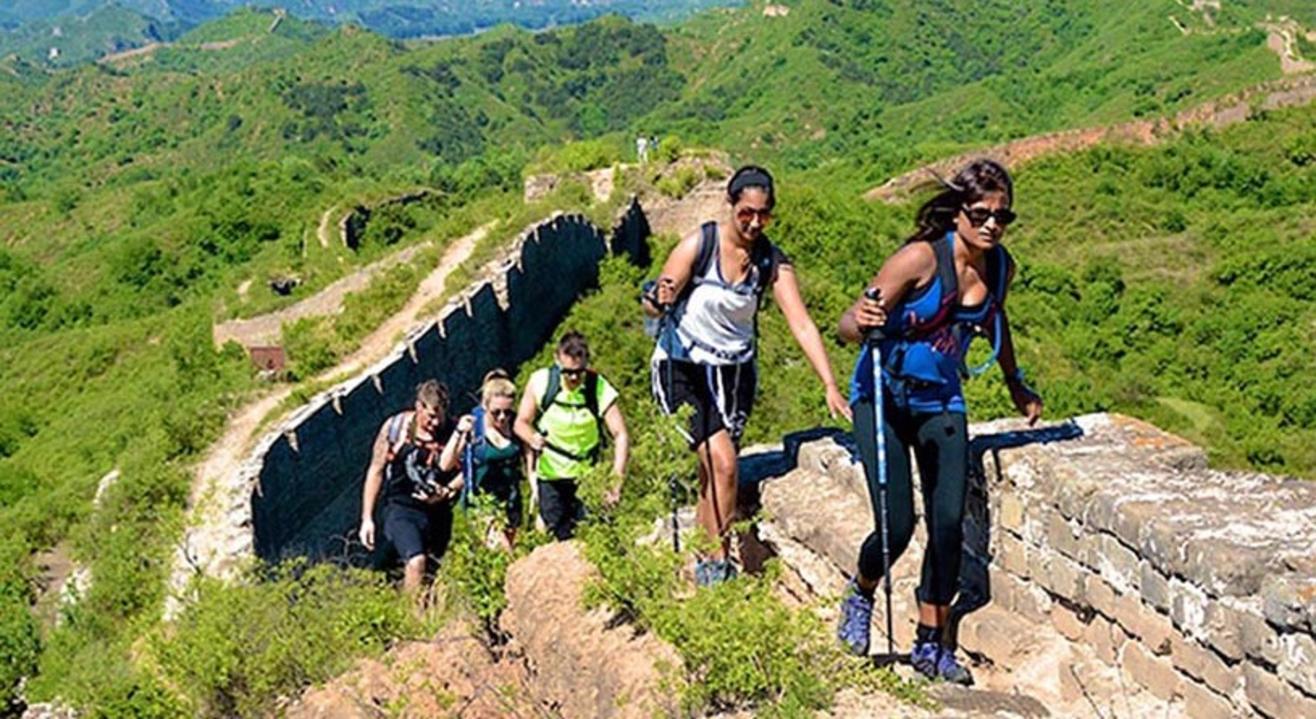 Tour
The Great Wall Of China Hiking Tour
Indira Gandhi International Airport (DEL)
88,200 - 90,300 (Inclusive of taxes)
About
Let's explore the Great Wall of China - one of the wonders of the world - in a way few do. It's a hiking tour full of engaging experiences along the way, with participative environmental protection activities and luxury being a part of it. One of the highlights would be the Great Wall Resort & Spa with its private Great Wall access andfully escorted Wall and City tours.
Hikes up the world-famous historical architectural wonder, Great Wall of China, at several locations.
As a Responsible Tourist, an opportunity to be awarded the Great Wall Guard Certificate.
Tours through the historically rich capital, Beijing.
A local cuisine with a local family.

Private English-speaking local guide.
Private air-conditioned coach with experienced driver.
Entrance fees mentioned in the program.
7 Nights:Accommodation with breakfast.
3 Nights at Gubei Water Town (3 star)
1 Night at Mutianyu Great Wall (3 star)
3 Nights at Beijing:Feitian Hotel (or similar; 4 star)
6 Dinners
1 Duck Dinner
1 Lunch with Local Family on Day 7

Air tickets
Visas
Canals in the Water Town at Simatai Great Wall
Hot Spring at Gubei Water Town
Cable cars on the Great Wall
Toboggan downhill on Mutianyu Great Wall
Other lunches and meals not mentioned.
Drinks including alcoholic and soft beverages and water.
Laundry, shopping and personal expenses.
Travel Insurance (Recommended).

Day 1: Beijing
Land in Beijing today. You will be met on arrival and transferred to your hotel in Beijing.

Overnight in Beijing.

Day 2: Beijing and Simatai
Arrival in Beijing and transfer to Simatai. Upon arrival, check in at the Great Wall Resort and Spa in Gubei Water Town at the feet of Simatai Great Wall. This night, don't miss the post-dinner walking tour through this picturesque water town; catch grand views of the Simatai Great Wall. You may also enjoy a hot spring spa (cost not included) to rejuvenate and recover from jet leg.

Overnight in Simitai.

Day 3: Simatai
Follow the private path from the Great Wall Resort, climb up and spend whole morning on the Simatai Great Wall. (Optional sunrise watching can be organised upon request if weather permits.) The hike takesthree hours. Descend for lunch in the Water Town. Enjoy an afternoon boat ride through the fascinating inner canals of this unique water town, that provide a glimpse of what ancient China would have been like. A view of the Great Wall (Boat Ticket charges not included) from another angle at a distance. Picturesque sunset at the Great Wall before dinner.

Overnight at Simatai.

Day 4: Simatai — Jinshangling — Simatai
A 45-minute drive to Jinshanling covering 18 kilometers, after breakfast, followed by a 4-hour hikeon the wall. A picturesque picnic with packed lunches on the Wall. In the afternoon, you are welcome to be a Great Wall Guard by collecting littered waste along the walk, thus getting a Great Wall Guard Certificate from CYTS and liaise with National Tourism Board for reporting the decent voluntarism and the contribution we made to environmental protection. Dinner upon return to Gubei Water town.

Overnight at Gubei Water Town.

Day 5: Simatai — Huanghuacheng — Mutianyu
Check out early from Simatai. Transfer by road to Huanghuacheng Section which is about 130kilometers away and takes two hours. It will take 4 hours to hike on the Wall today. We can also arrange a Great Wall Guard opportunity should clients want. Drive to Mutianyu area for dinner and staying overnight.

Day 6: Mutianyu — Beijing
Check out and head to Mutianyu Great Wall. A 3-hour hike along the Wall, followed by another packaged sandwich lunch in this pleasant setting.Another Great Wall Guard opportunity. We also offer optional toboggan downhill to finish the Great Wall hike. Transfer back to Beijingfor dinner.

Overnight in Beijing.

Day 7: Beijing
We cover 15 kms of the capital city in 5 hours. A subway ride leads to Tian'anmen Square, followed by a trip to the Forbidden City and Jingshan Park to enjoy a panoramic view of the heart of Beijing. Walking further takes you through Hutong Lanes; a local rickshaw ride from there takes you to lunch with a local family. Walk from there to the Drum Tower along the old street to Lama Temple.

Day 8: Beijing
This day is for self-exploration at your own leisure. There is an option of taking a half-day tour to Temple of Heaven and Summer Palace (includinga boat ride on Kunming lake) with lunch. In the evening, a farewell Roast Duck dinner awaits.

Day 9: Departure from Beijing

Venue
Indira Gandhi International Airport (DEL)
Indira Gandhi International Airport, New Delhi, Delhi 110037