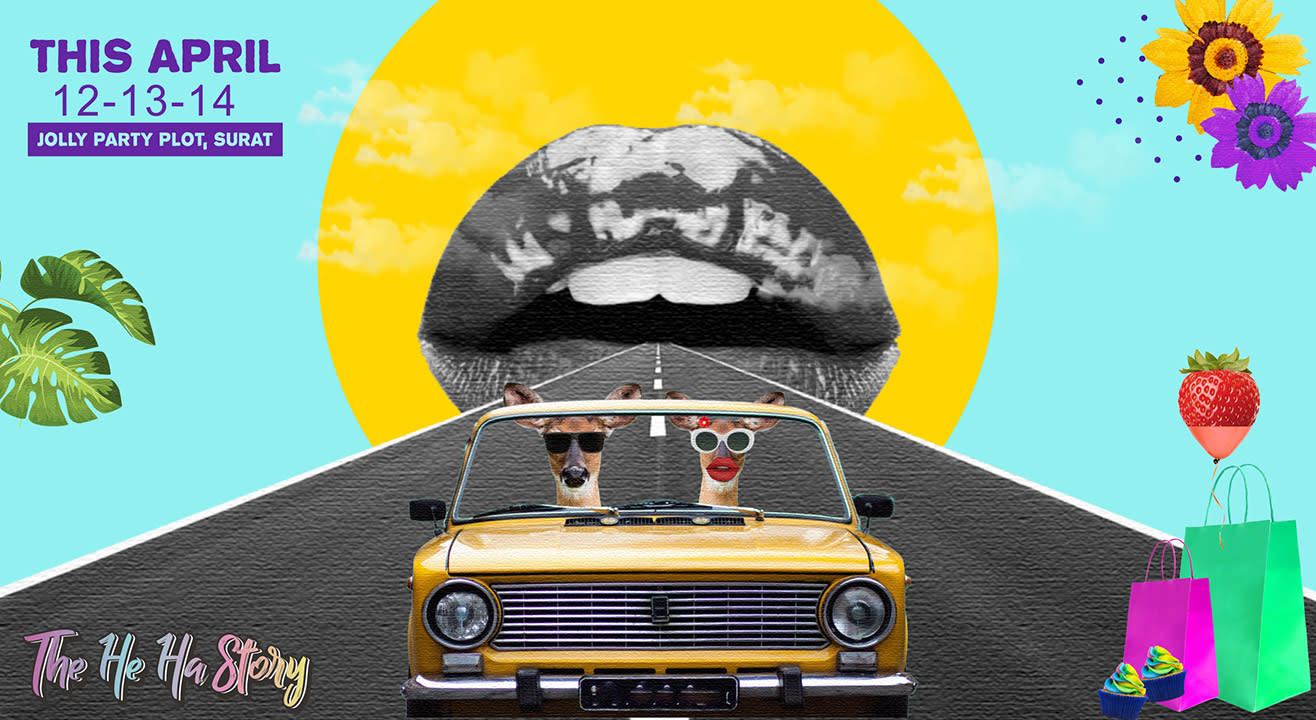 Flea Market
The He Ha Story
Jolly Party Plot, Vesu, Surat
About
The He Ha Story is Surat's happiest and largest Flea Festival! To celebrate creativity at its best; Artists, Mavericks, Designers, Musicians & Chefs, Facilitators, all will come together and showcase their out-of-the-box knack on a wide range of subjects and spread across inspiration and wonder throughout the festivity!
With mouthwatering grubs, aesthetic home grown brands, Live at the livearena, Stories at the tribe arena, and so much more, we will have plenty of surprises for each one of you!
Explore Food
Don't Go To Tasty, Let Delicious Come To You!
The He Ha Story is every food-lover's paradise. Our 2019 edition will have some 50+ experimental street cuisine brands. Just so you know, we also have a treat for all the sweet toother's!
Shopping
Loading Your Happy Bag, Keep at it!
Discover new shopping trends based on our personally curated 150+ shopping brands, from all over India. Overflow your wardrobe and satisfy your cravings guiltlessly!
Groove Through Live Music
Get ready to groove as 9 of the finest bands of India perform live! To keep it maddening, we've an amazing lineup of the coolest Indie bands & musicians. Surat for the first time will witness When Chai Met Toast, Tanya Nambiar, Kabir Cafe, Aswekeepsearching, Advaita, Boombay Djembe Folas, Kanishk Sethi, The Local Train & Ankur Tiwari; all together setting the stage on fire!
Movies Under Stars
Let's Get Lost In The Right Direction!
Who doesn't like watching movies under a wide open sky shining with stars that are near yet so far? The He Ha Story will be screening a series of the all-time favourites. Do it the date way, buddies way or the solo way! It's absolutely possible with our outdoor wireless headphones. We ain't going to have limitless headphones bus, so make sure you pre-register!
Tribe Arena
Brightening The World Around You!
Relax and let the set of emotions feel every word our Triber's have to offer. Tribe Arena will welcome stories of all; poets, storytellers & stand up comedians!
Dog Arena
Because Cuddling a Pooch Can Heal Every Wound Faster! We at the he ha story are going to have a quirky cafe which offers snacks and toys especially for your dogs! So bring them along and let them also embrace their bit!
Carnival Games
Stop The Clock, Rewind & Relive!
There is no age for playing games! For not so young kids coming to The He Ha Story, we will have games like no-age-bar trampoline, ball pits only for grown ups and some fascinating surprises!
Take in the Happy Vibe- Keep Smiling You!!
To all the shopaholics, the foodies, the explorers, the laughables, the quiet ones and the wanderers; there will be something happy for each one of you to take home!
Happiness Rules to Follow at The He Ha Story
Rule #1 Don't forget to bring in your happy suit.
Rule #2 Be yourself. Do your thing. Ain't nobody judging you at The He Ha Story.
Rule #3 Switch on your exploratory switch before you enter the gates!
Rule #4 Be the original You. The HeHa paparazzi will be on a lookout!
Rule #5 Ditch the diet. Give a treat to your taste buds.
Rule #6 It is absolutely mandatory to indulge into unexplored things at The He Ha Story.
Rule #7 Help the economy and shop with an open heart.
When Chai Met Toast: The newest band from the land of coconuts with infectious happy music, that go beyond age, genre and even language.

Kabir Cafe: Neeraj Arya's Kabir Cafe is a venture where Neeraj, Mukund Ramaswamy, Raman Iyer, Viren Solanki and Poubuanpou Britto KC strive to present the poetry of Kabir in a musically interesting fashion without compromising its lyrical beauty. They don't see the Mystic Kabir as a "saint". To them, he is just a human being who had the guts to speak his mind.

Boombay Djembe Folas: Boombay Djembe Folas is an exciting and energetic group of drummers who play traditional rhythms from West Africa and are the pioneer to do so in Mumbai, India.

Kanishk Seth: The Kanishk Seth Trio is a group of three young experimental musicians who've mastered the art of blending the timelessness of Sufi with contemporary Electronic.

As We Keep Searching: aswekeepsearching is a modern post-rock band expressing emotions, life experiences and feelings in the form of instrumental music with some vocals.

Advaita: Advaita' is a Delhi based eclectic fusion band, an expression of eight musical identities that dissolve into one another to create a unique sound. Their band members include Abhishek Mathur - Guitar, Aman Singh - Drums, Anindo Bose - Keyboard, Chayan Adhikari - Vocal/ Guitar, Gaurav Chintamani - Bass & Ujwal Nagar - Hindustani Vocal

Tanya Nambiar: Tanya Nambiar is a singer / songwriter based in New Delhi. Influenced by various genres, she describes her music as easy listening. Her music is a mix of pop, rock and blues.

Ankur Tewari: Ankur & The Ghalat Family comprises of Sidd Coutto, Johan Pais, Gaurav Gupta, Vivaan Kapoor and Ankur creating what they best describe as Urdu and Hindi easy acoustic ballads folk rock/ rock n roll.

The Local Train: The Local Train is an independent rock band known for their hit singles and edgy music videos. With an explosive live act in their arsenal they have performed at some of the most prestigious stages across the country. They are now considered to be the genre defining new face of hindi rock.


Where is the event?
Jolly Party Plot, Vesu

What kind of brands will be there?
Creative Brands from all across the country such as Mumbai, Ahmedabad, Baroda, Surat, all are coming together to make you go Woah!

What will be the vibe of the event?
Happy, Happening and Positive

Is it necessary to bring in my happy suit?
Yes, Absolutely!

What should we look forward to?
To having a great time with your friends as well as with strangers!

Will there be alcohol at the festival?
We are the residents of Gujarat, my friend! Let's follow this Gandhian rule.