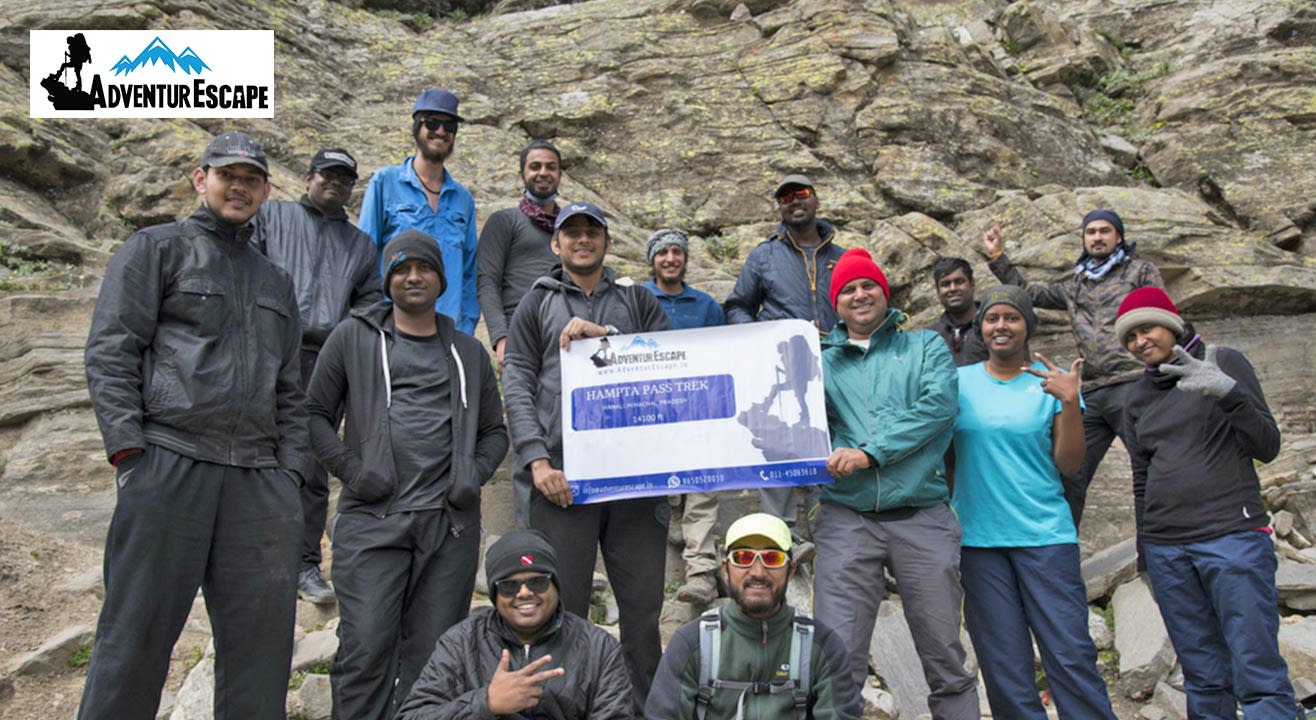 Invite your friends
and enjoy a shared experience
Invite your friends
and enjoy a shared experience
About the Event
The Hampta Pass trek begins in Manali. This adventure trail to Hampta Pass from Manali is exciting as it leads to enthralling meadows and green valleys.


The trek across the River Rani further leads to Chika, Balu ka Ghera, and Shea Gahru, through a stretch of tall forests of oak and alpine, offering a totally spectacular view of the valley. These valleys are also home to abundant flora, speckled with colourful orchids and sprawling mountainous slopes of Himalayan cedar. The trek to Hampta Pass takes an idyllic route, through the placid and shimmering waters of the Chandrataal Lake, which is indeed a traveller's delight. The trek from Manali to Hampta Pass is rated easy to moderate on the difficulty scale and is recommended for most beginners and experienced trekkers, alike. This trek promises a thrilling and rousing adventure, spanning over 5 days. The most favourable times of the year for the Hampta trek are the months of May, June and from August through to December.
Day 0
Reach Manali and stay in a hotel and enjoy the day. There will be a short briefing in the evening by trek leader and team.

Day 1
Manali (2000 m) – Jobra (2707 m) – Chikha (3000 m) – Drive from Manali to Jobra where the trek begins – the trek from Jobra to Chikha will take around 2 hours.
The team will drive to Jobra from Manali, which takes 45 minutes. Since Jobra is at a height of 2707 metres, at times, some of the beginners might experience mountain sickness. Necessary precautions and medication prior to travel could also be advised for beginners. Also, keeping oneself well hydrated is advised. Jobra is a place known for natural beauty lined by woody trails of maple, oak and deodar trees. A great view of the Rani Nallah flowing through the lush green meadows is a welcome sight to the trekkers here. From Jobra, the team begins the trek to reach Chikha, which takes about 2 hours. Chikha is known to be surrounded by glorious grasslands all around. Speckled by wildflowers, these grasslands offer a pleasant view. This is where the trek team camp by night on the first day of the trek.

Day 2
Chikha – Bhalu Ka Ghera (3600 m) – The trek to Bhalu Ka Ghera from Chikha will take about 4 to 5 hours
In the morning after breakfast, the trek team commences their onward journey from Chikha. They finally reach Bhalu Ka Ghera in 4 to 5 hours. This place, which is at an altitude of 3600 metres, offers picturesque views of the Dauladhar Range and the many majestic snow-capped peaks. The trek team stays at the camping site at Bhalu Ka Ghera overnight.

Day 3
Bhalu Ka Ghera – Hampta Pass (4300 m) – Shea Gahru (3700 m) – (6 to 7 hours)
Early morning after breakfast, the trek team prepares on a long hike, with their destination being the Shea Gahru via Hampta Pass at 4300 metres. This is perhaps the most challenging and exciting day of the trek. Finally, on reaching atop the Hampta Pass, the team feel triumphant, having reached their first high altitude pass(4300 m). The amazing views of the Chandra Valley and the awesomely beautiful barren mountains of Lahaul and Spiti present a spectacular sight here. They also get a glimpse of the lofty peaks of Deo Tibba and the Indrasan. The team further proceeds on a downhill journey to Shea Gahru, from Hampta Pass to the camping site which is at an altitude of 3700 m.

Day 4
Shea Gahru – Chatru (3300 m) – (3 to 4 hours) – Chandrataal (4300 m)
The team begins their onward trek from Shea Gahru to Chatru. Both these places, Shea Gahru and Chatru, are located by the Chandra River, within the Spiti Valley. They wear a deserted look and the barren terrain gives a totally different view of the valley. It takes about 3 to 4 hours to reach Chatru from Shea Gahru. Chatru is a confluence point of paths from Rohtang Pass, Hampta Pass, and Lahaul & Spiti. At Chatru, the trek team drives to Chandrataal Lake. They reach Chandrataal or the 'Moon lake' in 2 to 3 hours via Rohtang. The Chandrataal Lake offers an awesome view. The blue, placid waters of the lake wear a touch of pristine serenity. The trek team camp by the Chandrataal Lake overnight. This is the final day before they proceed back to Manali.

Day 5
Chatru (3300 m) - Chandrataal Lake/Manali (2000 m)
On day 5, the final day of the trek, you can either leave for Chandrataal Lake which is situated 70 km from Chatru and will take approximately 2 hours depending on the weather condition. At Manali, the team begins their journey back to Delhi. With time on their hands, they might take up a short tour travel around Manali for some great views that the hill station offers before returning to Delhi.


Accommodation costs (camping) sleeping bags, with roll on mattresses and the pantry/kitchen and toilet facilities.
Qualified and experienced trek leaders, guide and support staff.
First aid treatment/facilities.
All meals during the trek (veg and egg).
Any of the permit charges, forest entry fee and camping charges.
Transportation from Manali to Jobra and Chatru to Manali.
Trekking equipment (tents, sleeping bags, ropes, etc.)

The trek cost does not include any train fare or air fare charges
Stay and food at Manali or food during transit
Porters or mules for personal luggage.
Any cost other than those that are listed above in the inclusions should be entirely borne by the trekkers.

Necessities
Trekking shoes: Trekking shoes with good grip and ankle support is compulsory for the trek. Please ensure that the trekking shoes are not new and used by the trekker prior to the trek. The trail is slippery and requires you to walk through rocks and boulders so a good grip and water resistant shoes are necessary. Do keep an extra floater in case of rain and for use in camps.
Backpack (50-70 litres): A backpack with comfortable straps and a supporting frame is very important as you have to carry it on your own during the trek. Invest in a good backpack that is lightweight and comfortable to carry on long treks.
Daypack (20 litres): Keep a daypack in case you offload your backpack during the trek for your essential day items.
Torch or headlamp: Please bring a torch or headlamp for all treks.
Cutlery: Carry a spoon, mug and a lunch box. It is insisted that trekkers get their own cutlery for hygiene reasons and for packed lunch.
Sunglasses: Invest in a good pair of sunglasses as you are going to be out in the sun for most of the day. If you are trekking in snow, it will be mandatory as it protects you from snow blindness.
Two water bottles: 1 litre each for water during the trek.

Clothes and other accessories
Warm jacket and sweater (couple of them if you feel more susceptible to cold).
Thermals: Carry thermals to keep yourself warm in the camp. Trek pants (2) for daily use during the trek which are light and comfortable.
Collared shirts (3-4), full sleeves and quick dry so that it prevents sunburn on the arms and neck area.
Poncho: Poncho is very important when you are trekking in the monsoon season to protect you from the rain. You can rent one from the organizer at INR 50 per day.
Cap: To protect your hair and face from the scorching sun, carry a cap.
Synthetic gloves for your hands, as it will protect your hands from water, snow, and keep you dry and warm.
Socks (2 pairs) + woolen socks (2 pairs) for keeping you warm in the camps.
Trekking pole: You should carry your own trekking poles for the steep uphills and downhills. You can carry them or rent one from the organizer at INR 50 per day
Toiletries: Sunscreen, moisturizer, lip balm, toilet paper, toothbrush, toothpaste, hand sanitizer, wet wipes and tissues.
Plastic covers: While packing, use plastic bags to compartmentalize things and carry few extra plastic bags for wet clothes and to bring back your non-biodegradable material back. Mountains are the source of water and life on this planet. Please try and keep it clean and healthy.

Mandatory Personal Medical Kit
Diamox – 5 tablets (to prevent AMS)
Hyoscine - 3 tablets
Amlodipine 5mg - 5 tablets with doctor's prescription only
Avomine – 2 tablets (motion sickness)
Crocin – 3 tablets (fever)
Avil 25mg – 2 tablets (allergies)
Disprin – 3 tablets (a headache)
Norflox TZ & Lomofen – 3 tablets each (diarrhea)
Digene – 5 tablets (acidity)
Crepe bandage – 3 to 5 metres
Gauze – 1 small roll
Band-aid – 5 strips
Cotton – 1 small roll
ORS – 105packets
Betadine or any antiseptic cream
Moov spray (aches, & sprains).

How to reach by Air?
The nearest airport for Manali is Bhuntar, 50 km (approx) from Manali. Air India & Air Himalayas (9 seater, non-scheduled flight) have flights for Kullu. Air India has flights to Kullu from Delhi Airport & Air Himalayas operates flights from Chandigarh Airport.

How to reach by Train?
The two nearest railway stations for Manali are at Chandigarh (350 km) and Ambala (360 km). Onward journey can be travelled either by chartered taxis, buses or by air as Himalayan Bulls' private 8 seater charter is available between Chandigarh & Kullu.

How to reach by Road?
You can also reach Manali by road. There are many Volvo buses running from Delhi and Chandigarh daily. Delhi to Manali buses are available from RK Ashram Marg as well as ISBT Kashmiri Gate. Chandigarh to Manali buses are available from Sector 43 Bus Stand.

What is the type of accommodation provided in this trek and is it comfortable?
All accommodation for trekkers will be in tents on triple sharing basis. Each trekker will be given a sleeping bag and will share tents with fellow trekkers which can withstand temperatures upto -10 degrees celsius. The organizers also have the option for double sharing/single sharing tents if they are not comfortable in sharing it with others but at an extra cost.

Which are the best seasons for the Hampta Pass trek?
June to October are the best months to go on this trek.

What will the temperature be like during the months of June and October?
Day temperatures in June/July at Hampta Pass go up to an average of 13°C-18°C. It may fall to 0°C and -5°C at nightfall. Temperatures in September and October will be slightly lower.

Will I find snow on this trek?
You will find snow on different parts of trail till early July. Once it rains, the snow melts away; hence, you're unlikely to find it later in the season.

At what time should we reach Manali?
The trek will start at 10 AM from Manali Bus Stand. Please be on time as it is a group departure and everyone will start sharp on time. In case you are late, you will have to take your own transport to Jobra.

What happens if it rains during the trek?
Carry a poncho with you and during rain; you will continue as scheduled using the poncho and backpack cover to protect you from the rain. The tents that you will be staying in, the dining tent, kitchen and toilet tents are all water proof, so you will stay dry inside.

How will we get back to Manali?
Chatru will be your last campsite. From here, the organizers will arrange for a vehicle to drop trekkers back to Manali. You can expect to reach Manali by 5 PM. The cost of transport from Prini to Jobra and Chatru to Manali is included in your trek fee.

Will ponchos and other equipment be available for rent?
The organizers will provide you with ponchos and trekking poles on rent from Manali. The cost will be INR 50 per person for each item.

Is this a good trek for a first timer?
The Hampta Pass trek is moderately difficult. Beginners can attempt this trek provided they stick to the fitness schedule and meet the health requirements.

If not the Hampta Pass trek, what is a good alternative trek from Manali?
There are treks like Bhrigu Lake and Chandrakhani Pass trek from Manali which are great alternative to Hampta Pass trek.

Is there an option to offload my backpack on this trek?
Offloading your backpack will cost INR 1000 + 5% GST if you inform the organizers in advance. If you decide to offload once you reach Jobra, the amount will be Rs.350 per day inclusive of tax. The offloaded bag should not weigh more than 10 kg. Strollers, duffel bags, suitcases, etc. are not allowed.

Can I take my child along on this trek? What is the age limit?
Hampta Pass is a moderately difficult trek and requires a certain level of fitness. The minimum age for eligibility is 14 years. You can take your child along if s/he meets these requirements.


Cancellations prior to 30 days from the start of the trek:
You can either transfer the same trek to any of your friends/family or get a voucher for the same amount and register for any of our treks in future (validity 1 year) Or Get a refund of 90 % (If the trek amount varies, the balance needs to be paid by the trekker)

Cancellation between 30 days and 15 days to the start of the trek:
You can either choose to go for any other trek or other batches for the same trek depending on availability Or Get a refund of 75%

Cancellation between 15 days and 10 days to the start of the trek:
You can choose to go on the same trek with other batches in the same season Or Get a refund of 50%

Cancellation less than 10 days to the start of the trek:
You can transfer your trek to your friend/family (same trek) No cash refund.


Unsure if you would be able to go?

Worried your boss may cancel your holiday or your professor may put up weekend lectures? Dont worry, you can easily transfer your ticket to your friend later!

Going out with friends?

Unlock rewards or cashbacks the next time you are going to an event with your friends. Just use the 'Buy Together' option for an event if you see one on its page.
Curated & Handpicked Events
Paytm Insider aims to give you experiences in Online worth your time and money, and hopefully, encourage you to try something new. Be it curing post-work blues or making your weekend (more) awesome, you'll find it here. Explore live events (music, comedy, theatre, art); dining experiences; weekend getaways (treks, adventure, tours, travel, cycling, amusement parks); and live sport (cricket, football, kabaddi, badminton) matches; workshops (photography, marketing, cooking, baking, painting) and more.
Music Events: Gigs & Festivals
Calling all music lovers! Watch your favourite artists, live - at festivals, club shows, gigs or concerts. Paytm Insider has the best curated music events, across genres: rock, metal, EDM, pop, fusion, hip-hop, jazz, classical, Bollywood and world, at some of the best live music venues in the country. Paytm Insider hosts several top properties, including Bacardi NH7 Weekender, Timeout, SulaFest, Mood Indigo, Gaana Crossblade Music Festival, Locals DISTRICT, Lager n Barrel, MPower Fest. Also look forward to superstars like Arijit Singh & AR Rahman hosting their tours here.
Comedy Shows & Events
Who doesn't enjoy a good laugh? You'll find the latest shows by the best Indian comedians - Zakir Khan, Kanan Gill, Biswa Kalyan Rath, Kenny Sebastian, Comicstaan finalists (Nishant Suri, Rahul Dua & others) and more, on Paytm Insider. Catch them doing tours of their specials, trying new material, hosting an open mic, and more. Catch the big names of comedy at Headliners and LOLStars; or shows to see up-and-coming comics enthrall audiences, and open mic events where you'll see and cheer on fresh talent! International legends like Russel Peters, Eddie Izzard & Bill Burr have ticketed here in the past.
Cheer Your Favourite Sports Team On!
Paytm Insider is home to world-class sporting experiences across India: Vivo Indian Premier League, Indian Super League (FC Goa, Kerala Blasters, Jamshedpur FC, Mumbai City FC, Delhi Dynamos), Vivo Pro Kabaddi (Tamil Thalaivas, U Mumba, Haryana Steelers, Bengal Warriors, Jaipur Pink Panthers), I-League, Vodafone Premier Badminton League, Premier Futsal, and international cricket matches (Test, T20 and ODI). Can't get to a stadium? You'll find amazing screening experiences too - especially the EPL, Champions League and F1.
Weekend Travel: Trekking, Camping & Adventure
After a tiring week, one of the best ways to unwind is to head to the great outdoors. You will find excellent options for trekking, camping & adventure activities like white water rafting, waterfall rappelling and paragliding near Online. Paytm Insider teams up with experienced and responsible travel groups and event organizers so you have a memorable and safe experience. These events are for novices as well as experienced folks. You will also find special seasonal experiences like fireflies, camping, rafting and more on Paytm Insider.
Discover your city with Paytm Insider

Paytm Insider is a platform that helps you discover and buy the best in events, travel and food in your city. We strive to curate experiences that are worth your time and money, possibly something you have never tried before.
For event organizers
Paytm Insider is built by the same team that created Bacardi NH7 Weekender (us) and we sure know what goes into putting together a great experience. Our technology, marketing and customer support can help you build a community of not just ticket buyers, but also fans.