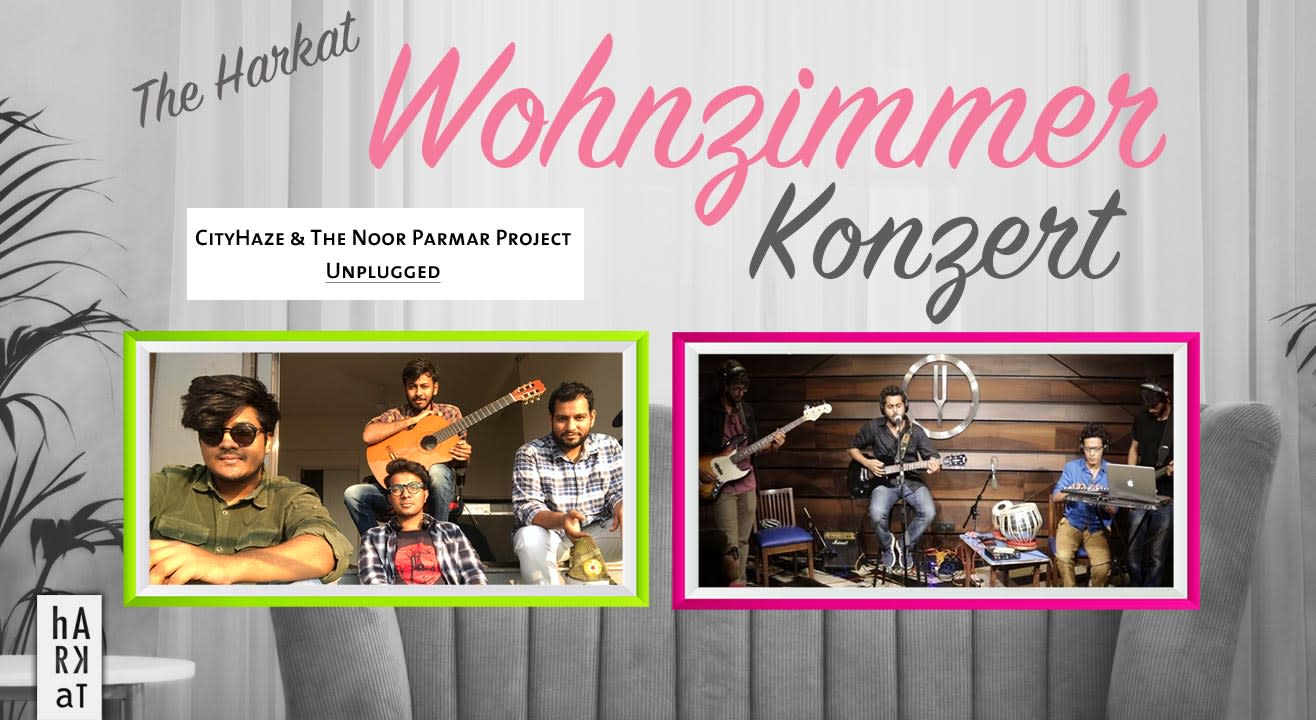 Music
The Harkat Wohnzimmerkonzert ft. City Haze & The Noor Parma Project unplugged
Harkat Studios, Versova, Mumbai
About
Harkat Studios present Harkat Wohnzimmer Konzerts, a series of singer-songwriter sessions at their cosy bungalow in Aram Nagar, Versova.


Harkat are kicking off the new year with a kick-ass line-up of two bands, playing unplugged – especially for you!


When a song hummed can wander effortlessly between the lips of its singer and your soul, you are at Harkat Studios Wohnzimmer Konzert.
A concert in a living room. And for a few hours this is your living room, with a singer-songwriter right in front of you, strumming music only for you.
Intimate, pure and absolutely enchanting. Forget the world outside and enjoy music in its most authentic presentation!
The Noor Project is a five-piece band formed in Mumbai, Maharashtra, India by composer-songwriter singer Noor Parmar. The Noor Project, sometimes shortened to TNP, features the artistry of musicians from Mumbai, with fellow band-mates Ujwal Jawda on Drums, Ralph Godinho on bass, Swapnil Ramina on guitar, Atul on flute and Noor Parmar on vocals/keyboard. The band members have roots in different genres, including Jazz, classical music, soul music and Sufi. The combination of each member has created a sound which is quite different, soothing and interesting. The Noor Project focuses on playing melodies from both Eastern and Western classical music and continues to explore the exciting blend of East and West. With some contemporary songwriting by the frontman, Noor Parmar and combination of sound by each band member TNP has a different and distinct sound. The Noor Project consists of Ujwal Jawda (drums), Swapnil Ramina (guitar), Ralph Justin Godinho (bass), Atul Krishan (flute), and Noor Parma (vocals and various instruments).

CityHaze came together in 2015 and released a self-titled EP of seven songs. The band since then has performed at a dozen venues in Mumbai and is now working towards recording a new set of songs which would possibly be the first full album.
In 2017, Jaideep Varma, director of the national award-winning documentary Leaving Home- the Life & Music of Indian Ocean, in association with Humara Movie released a documentary on the band and its music. Following the release, they have also been covered by the likes of The Indian Express, The Hindu, The Wire, Mid-day, Scroll, & Free Press Journal, amongst others. CityHaze is a trio formed by Samyak Singh (vocals, guitar), Abhigyan Arora (guitar), Soham Sarkhel (keyboard, vocals).
UJWAL JAWDA
Ujwal Jawda has been playing drums since he was 8 years old and is the son of Dharamveer Jawda, India's legendary violin player and composer.Ujwal's impeccable command over a variety of playing styles makes him one of the most in-demand drummers around in the indie music scene. He has recorded and performed with artists like Sonu Nigam, Neha Kakkar, Tony Kakkar as well as bands like Manzil amongst many others. Ujwal's application and dedication to the drum set have earned him a formidable reputation amongst his peers and he is looked up to by aspiring drummers. The Noor Project (TNP) actually came about with Ujwal's suggestions as to the best members for the band's unique style of music and his contribution and support has enabled the group to achieve a new level of sophistication and range.

SWAPNIL RAMINA
Swapnil Ramina is an 18 year old guitarist and the youngest in the band but has impeccable command over his guitar and a good sense of playing. His guitar playing skills have given the band a fresh sound which is quite distinct and new. Swapnil has been playing regular gigs with some of the great artists in the indie music scene. Mekaal Hasan, Rhythm Shaw, Wes Montgomery, Kush Upadhyay are some of his favourite guitarists.

RALPH JUSTIN GODINHO
Ralph stands out in his generation of great musicians as an immensely versatile artist, who can anchor a rhythm section with precision and groove, walk bass lines in a trio formation with delicacy and verve, or take centre stage as a dynamic, innovative and exciting soloist. His discipline and dedication have made him one of the most amazing bass players in the indie music scene having contributed his memorable bass lines to many songs and arrangements.

ATUL KRISHAN
Atul is a master musician who plays a range of wooden flutes. HE has immense command over a wide range of music form from folk to eastern classical to progressive rock and jazz. HE has been with the band since its inception and has played some memorable solos for the band. Atul has that rare ability to play melodic parts and solos in which not a note is wasted and each phrase is perfectly suited to the musical passage at hand.

NOOR PARMAR
Noor Parmar founded The Noor Project with the intent of featuring traditional music from the subcontinent in a progressive rock-jazz based musical style. He is the son of the legendary keyboard player Razak Parmar also known as Raju Parmar in the industry. Having studied Indian Shastriya Sangeet (classical music) Noor has a very good command on his vocals which adds grace and beauty to the sound of TNP. With roots in traditional Indian Classical music and immense love for Jazz TNP is a representative of a modern yet traditional style of South Asian music with roots in folk, classical, jazz and literary roots in poetry and writings of Sufi sages and modern Urdu Poets like Faiz Ahmed Faiz. Noor has worked closely Mekaal Hasan one of the great guitar players in the world and is his only assistant on this side of the border. Mekaal Hasan Band, Poor Rich Boy, Chet Baker, Miles Davis, Frank Sinatra, Nat King Cole are some of Noor's favourite artists.

SAMYAK SINGH
Samyak Singh is from Lucknow and grew up with Hindi poetry, film music and eventually Lucky Ali. He studied to be a journalist and worked in TV news for a while, gradually getting confused about who he really was. In 2015, he chucked it all up, to familial horror, to pursue music full-time, now further influenced by the likes of Wilco, Neil Young and Van Morrison. He is in a band called CityHaze that has even had a full-length documentary made on it (called "Par Ek Din", after one of his songs) before they have even finished recording their first album. Samyak is fully focused on exploring the singer-songwriter space in Hindi and expanding his musical perspectives through that.

ABHIGYAN ARORA
Abhigyan Arora has been playing guitar for 8 years and has been with CityHaze for close to two. Mostly a rhythm and blues guitarist with sundry influences, he keeps the melodic side of CityHaze buzzing with melodies and counter melodies. Although initially a bass player for the original band, he has since come back to playing guitars for the smaller, acoustic trio.

SOHAM SARKHEL
Born into a family of classical vocalists, Soham Sarkhel's early initiation into music was via Tabla, with his first solo recital coming at the age of 13. Lacking the qualities to be a child prodigy, he is now a cricket analyst by the day and has been dabbling with the keyboards for CityHaze over the last 18 months with a success rate reminiscent of the Indian cricket team of the 90s. He relies on historical evidence for it to get better.


About the Organizer & Venue
Harkat Studios is an international boutique arts studio based in India with offices in Mumbai, New Delhi and Berlin. They make films, curate experiences and are an alternative performance space that try to make the world a little better of a place to live in.
Venue
Harkat Studios, Versova, Mumbai
Bungalow No. 75, JP Road, Aram Nagar Part 2, Machlimar, Versova, Andheri West, Mumbai, Maharashtra 400061, India