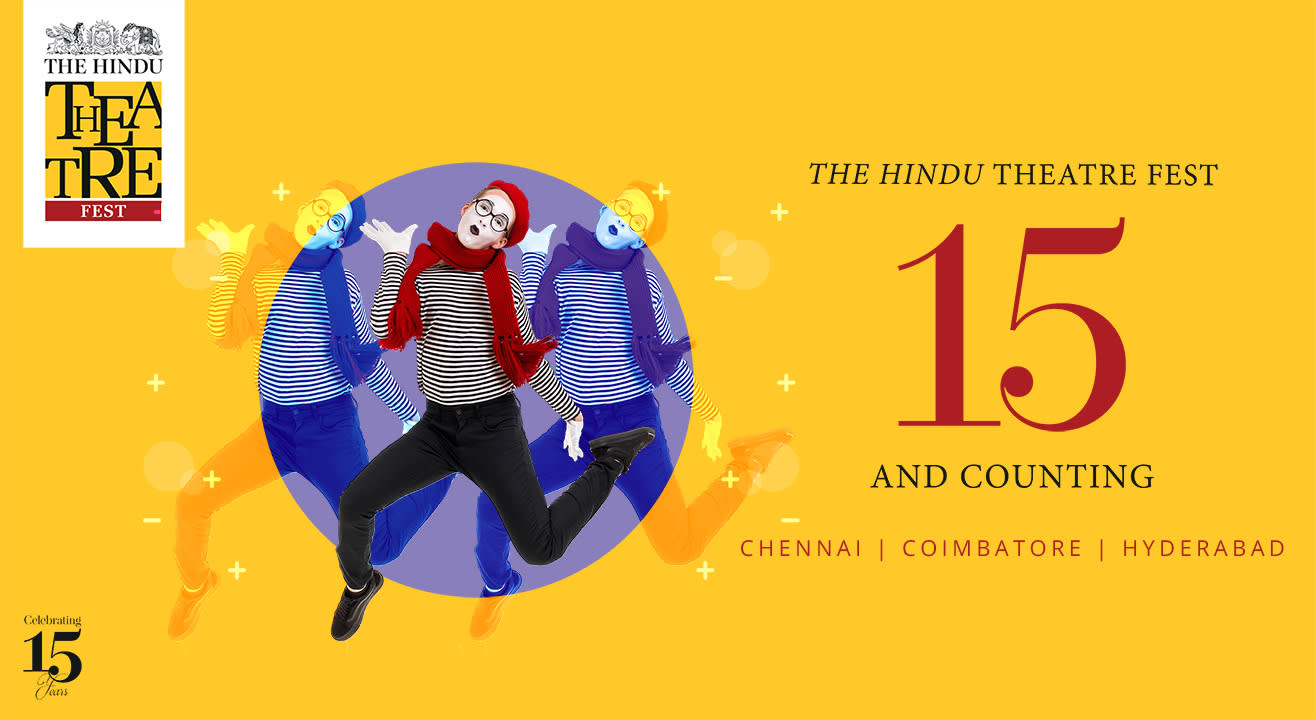 Watch life get staged at The Hindu Theatre Fest!
Experience the magic of theatre at one of the country's best theatre festivals.

Invite your friends
and enjoy a shared experience
In last year's edition of The Hindu Theatre Fest, beautiful ghazals were added to Ismat Chughtai's stories in 'Aurat! Aurat! Aurat!'. If that wasn't captivating already, its subversive world featured male actors speaking from behind curtains - and only when asked to. Then 'Detective 9 - 2 - 11' had hilarious Bollywood cliches, an absurd plot that kept everyone on their toes and a live jazz band to boot! The festival saw productions staged by veterans like Naseeruddin Shah and Mahesh Dattani, as well as radical plays put forth by young dramatists.

This year, the Theatre Fest is back with path-breaking theatre groups and plays that will give you a good sense of what's been brewing in Indian theatre. You can look forward to productions written and directed by international artists too! With plays happening across cities, this festival is a true testament to the power of theatre in bringing people together.

Check out what's happening in your city!

Listen to reviews from last year's edition of The Hindu Theatre Fest!

Some of the plays being staged this year:
Dekh Behen

A big fat Delhi wedding is underway! Five bridesmaids catch up, gossip, eat, drink, and bitch about their identical outfits. But that's not the only thing they have in common - they all dislike the bride. Inspired from the title and premise of Alan Ball's Five Women Wearing the Same Dress, this comedy promises to be a touching, irreverent celebration of the female spirit.




Hello Farmaaish!
In a forgotten hamlet, three village misfits use a community radio to follow Kalpana Chawla's odyssey to space. Their daily broadcast sets off a flight of imagination and misadventures. The inexperienced RJs take daily calls from the villagers and win their hearts - Hello Farmaish! is a heartwarming story of resourceful women who surpass the limitations of society and their surroundings, to reinvent the world they live in.
Dvija
Dvija is the narrative of one of the greatest warriors of the Bharatha war – Drona. A man born to educate, also finds the need to fight. What starts as a fight for survival ends for him on the battlefield of Kurukshetra, losing everything he holds dear. His scruples, his values, and the love of his disciples. The play illustrates the conflict of choice each one of us faces in the battle for survival, the choice of selecting the right action.
Dance Like A Man

The story of Jairaj and Ratna, two Bharatanatyam dancers past their prime, is contrasted with that of their daughter Lata, who is on the brink of establishing herself as a brilliant dancer. Her imminent success creates tension and jealousy, and the audience is drawn into the dark secrets of family relationships and conflicts between generations. The play probes the surface of the characters to question their deeper motivations, but the mode is comic rather than tragic, even though the concerns are serious, and you are never sure whether to laugh or cry.
Love Letters
AR Gurney's internationally acclaimed stage hit is a heartwarming, poignant play about two people, Andy Ladd III and Melissa Gardner, who write letters to each other over a period of fifty years. Andy is a serious, down-to-earth attorney. Melissa is a lively, free-spirited artist. Poignant, romantic and frequently funny, their correspondence follows a bittersweet path of boarding schools, marriage, children, divorce and missed opportunities. It's the life journey of two soul mates - enacted through words both written and unsaid - who share the greatest gift of all: the gift of love.
Manto
This production, the second in Motley's intended series of presentations on stage of Hindustani stories centers around the word 'obscene'. Two short stories - BU (Odour) by Saadat Hasan Manto and Lihaal (The Quilt) by Ismat Chughtai, for which both the writers were in the mid-1940's accused of obscenity and put on in the Lahore High Court - will be presented along with Ismat Apa's hilarious account of the trial called "in the name of those married women" and another celebrated Manto story, The Dog of Titwal.



Laila and Jamal
Laila and Jamal is an original stage adaptation of one strand of Manu Joseph's critically acclaimed novel, Miss Laila, Armed and Dangerous. The story of Laila and Jamal unfolds engagingly through the words of others – an old politician's intriguing telephone conversations with a powerful bureaucrat, stinging exchanges between Laila and her widowed mother, eleven-year-old Aisha's hero-worship of her Laila Aapi, and an intelligent agent's prolific interior monologues. Laila and Jamal raises compelling questions about the entire system, and the value of a human life.
Subscribe to receive our newsletter!
Find the best experiences happening out there in your city or enjoy handpicked content while sitting comfortably at home. Paytm Insider is your go-to place to figure out what to do today!