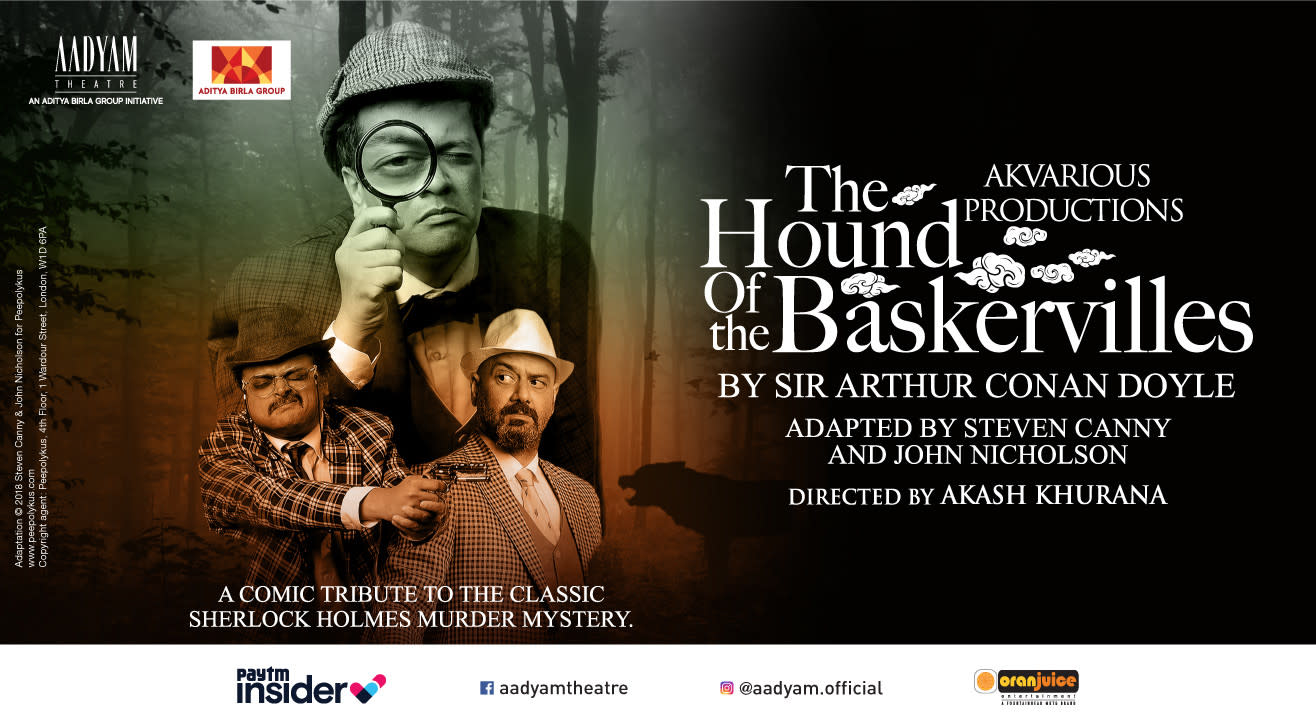 The Hound of the Baskervilles
Event Guide
Digital Event
Watch on Insider
For Age(s)
Family Friendly
Interactive show
Be a part of the show
Invite your friends
and enjoy a shared experience
The Hound of the Baskervilles
Event Guide
Digital Event
Watch on Insider
For Age(s)
Family Friendly
Interactive show
Be a part of the show
Invite your friends
and enjoy a shared experience
Event Guide
Digital Event
Watch on Insider
For Age(s)
Family Friendly
Interactive show
Be a part of the show
Invite your friends
and enjoy a shared experience
Play Synopsis
Come solve the spine-chilling mystery of The Hound of the Baskervilles with Sherlock Holmes and Dr. Watson. The twist in this tale, however, is bound to leave you in stitches!
When Sir Charles Baskerville is found dead on his estate, with a look of terror still etched on his face, and the paw prints of a gigantic hound beside his body, the great detective Sherlock Holmes is summoned from Baker Street, with Dr Watson in tow, to unravel the mysteries surrounding his death, and investigate the ancient curse of the Hound of the Baskervilles.
Adapted by Steven Canny and John Nicholson, this side-splitting parody of the Sherlock Holmes story turns a tale of terror on the desolate moors of Victorian England into a mile a minute comic romp.
PLEASE NOTE - THIS IS A PRE-RECORDED SHOW.
THIS PLAY WAS SHOT AND RECORDED LIVE IN AN EMPTY AUDITORIUM IN KEEPING WITH PANDEMIC-RELATED RULES & REGULATIONS SET FORTH BY THE GOVERNMENT OF INDIA.
THE RECORDED PLAY STREAMING WILL BEGIN AT 7:00 PM. PLEASE FEEL FREE TO JOIN 10 MINUTES EARLY TO DISCOVER THE AADYAM EXPERIENCE DIGITALLY
Language
English
Director
Akash Khurana
Cast (in alphabetical order)
Arghya Lahiri
Nadir Khan
Vivek Madan
Executive Producer
Akarsh Khurana
Creative Producer
Saatvika Kantamneni
Light Design
Arghya Lahiri
Yael Crishna
Sound Design
Varrunn Bangera
Backstage Management
Anubha Patnaik and Pallavi Patel for The Costume Team
Lisha Bajaj
Akash Khurana
In a span of over four decades in the performing arts, Akash Khurana has worked extensively with Satyadev Dubey, Sunil Shanbag, and Naseeruddin Shah, and is a core member of Arpana, Motley, and Akvarious Productions, three of India's foremost theatre companies. His production of Vijay Tendulkar's A Friend's Story, was performed at the Shakespeare's Globe Theatre in London. For Aadyam's previous seasons, he directed The Hound of the Baskervilles and Under the Gypsy Moon. He was Managing Editor of the theatre journal OVATION and the Artistic Advisor to the NCPA Repertory Theatre. He was also part of Jennifer Kapoor's think tank that launched the Prithvi Theatre Festival and was a jury member at the Mahindra Excellence in Theatre Awards, 2019. He has acted in nearly 60 films and won the Nandi Award of Andhra Pradesh for playing the lead in the Telugu film Dr. Ambedkar. As a screenwriter he has written over 20 films, including Baazigar, for which he got the Filmfare Award. For television, he has written over 200 episodes and acted in 15 serials. As an avid musician, he has played the drums and the piano, and is a composer and lyricist.

Cast Bios (in alphabetical order)
Arghya Lahiri Arghya Lahiri is a writer, director, lighting designer and filmmaker who works out of Mumbai, India. He's been involved in the theatre, in every capacity that he can get away with, for over twenty years. He is one of the founder members of QTP Entertainment. He graduated with his Master's in Film and Television Production from the University of Bristol, with a specialization in cinematography. He occasionally does voice-work for television, and for audio tours.

Nadir Khan
Nadir is an Indian director, actor, producer and radio professional who has been part of English theatre in India since 1998. He is a partner and co-founder of QTP and The Industrial Theatre Co. His most recent directorial credits include A Few Good Men (Aadyam – Season 5), Sing India Sing – An Original Indian Musical (Aadyam – Season 4), Anand Express (Aadyam – Season 3), Twelve Angry Jurors (Aadyam – Season 2), The God of Carnage (Aadyam – Season 1). Nadir has also been working with audio drama since 2001 and has produced, cast and acted in numerous award-winning radio productions with Goldhawk Productions Ltd., including Tumanbay - Series 1, 2, 3 & 4, A Fine Balance, Undercover Mumbai – Series 1, 2 & 3, A Suitable Boy and Q&A, to name a few. He has also been working in the radio industry in Mumbai for the last 20 years as a disc jockey, programmer, producer and voice-over professional.

Vivek Madan
Vivek Madan is an actor and theatre producer/curator based out of Bangalore. In his theatre journey of over twenty years, he has performed in more than 30 plays, produced and toured with a dozen, and curated two national theatre festivals. He is currently the Executive Director of Bhasha Centre, a new dream in the making, and works with Indian Ensemble as a trustee, while spearheading several independent theatre-based projects.
The Hound of the Baskervilles - Trailer
The Hound of the Baskervilles
Event Guide
Digital Event
Watch on Insider
For Age(s)
Family Friendly
Interactive show
Be a part of the show
Invite your friends
and enjoy a shared experience