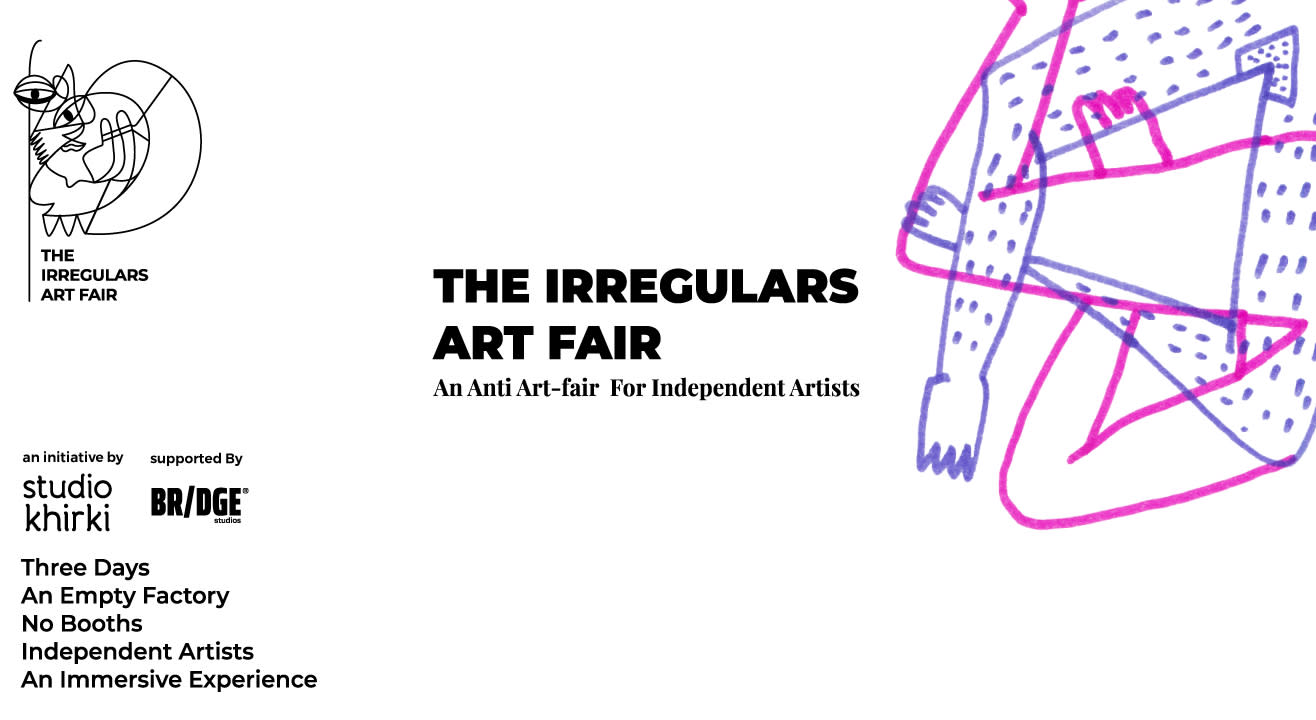 February 9 - 11 | 12PM - 6PM
Studio Khirki, Delhi, Delhi
Step out and enjoy this event
Invite your friends
and enjoy a shared experience
February 9 - 11 | 12PM - 6PM
Studio Khirki, Delhi, Delhi
Step out and enjoy this event
Invite your friends
and enjoy a shared experience
Invite your friends
and enjoy a shared experience
An anti art fair for independent artists to foster a dialogue that transcends prescribed geographies, hierarchies, and markets.


The Irregulars Art Fair is creating an alternative space for the irregular arts, for the weird and bizarre, with an aim to create a cultural community amongst all genres of art and culture and invent new ones. They seek to present new artists in spaces that were not originally created for an art exhibition and to display their art in ways that are not usually meant for display.


Follow them on Instagram - @theirregularsartfair
The Irregulars Art Fair has been put together by fine artist and curator Tarini Sethi and Anant Ahuja, Creative Director at Bridge Studios, and a huge team of artists and volunteers.
Big names associated with the Irregulars Art Fair
Dead the Duck
Gargi Chandola
Barkha Gupta
Osheen Siva
Aditya Verma
Anant Ahuja
Pulkit Mogha
Srishti Jain
Jai Ranjit
Aarman Roy

Metro
Saket Metro Station on the yellow line is the closest metro to the fair.

Taxi
Meru Cab +91 11 4422 4422
Easy Cab +91 11 4343 4343
Mega Cab +91 11 4141 4141

Due to lack of parking space, it is advised that you do not to get your own private vehicle.
What is this?
India's first anti art fair. What does this mean? It means that all the artists on board are independent artists. It means that there will be no booths; just rooms and hallways and kitchens filled with art. It means that they are here to challenge the art market.

What makes The Irregulars Art Fair different?
They aim to activate spaces that would not normally be used to show art, giving an opportunity to independent artists to express themselves in any way they deem fit. The Irregulars Art Fair is here to provide an audience to artists working on the fringe of the established art world and to build their own art market with their very own rules.

What will you find at the Irregulars Art Fair?
You will find immersive art of all kinds - murals on the walls, installations in different spaces, floors and ceilings full of art, and performances every day. This will attract art enthusiasts and collectors of all kinds to come and enjoy the anti-fair.

If I cannot come for all three days of the fair, will I miss out?
The art will remain the same on all three days. Only the performances will vary every day.
Studio Khirki is a design studio based in New Delhi, India.
Studio Khirki, Delhi
- 4/26, Khirki Ext Rd Khirki Extension, Block G, Khirki Extension, Malviya Nagar New Delhi, Delhi 110017
GET DIRECTIONS
February 9 - 11 | 12PM - 6PM
Studio Khirki, Delhi, Delhi
Step out and enjoy this event
Invite your friends
and enjoy a shared experience