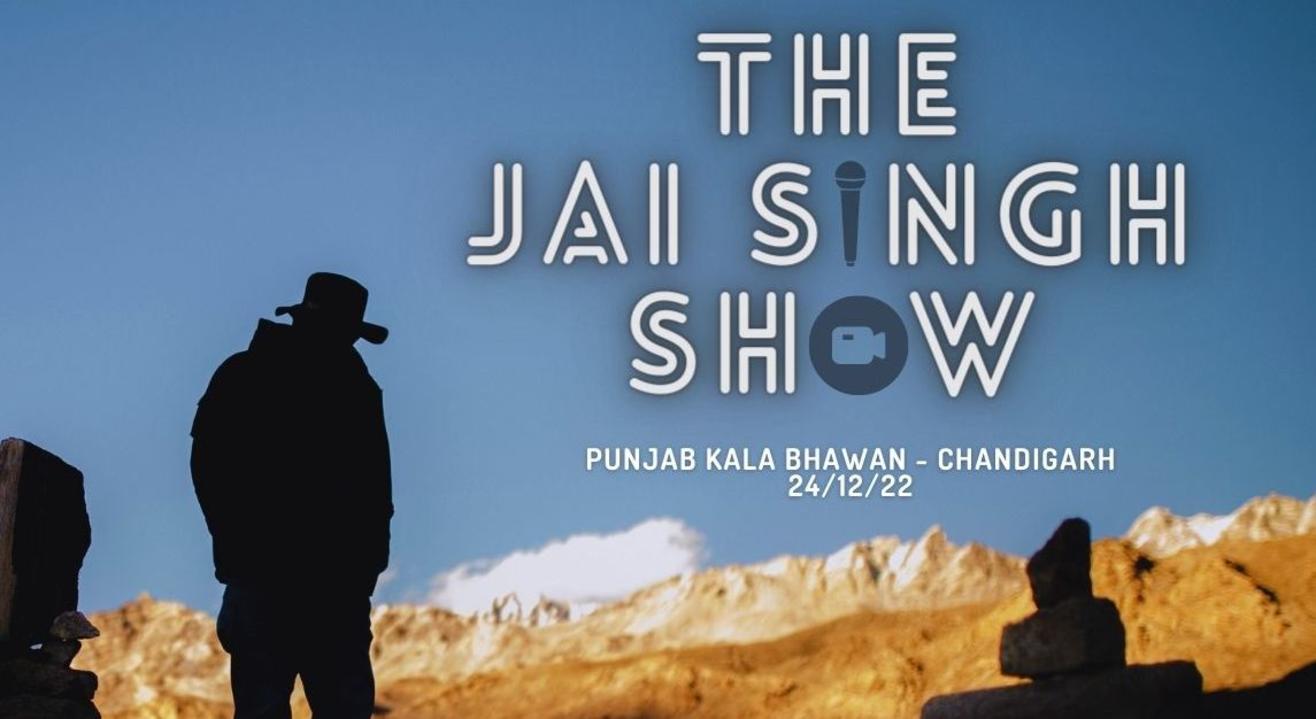 The Jai Singh Show | RT Chandigarh Chapter | Ghar Wapsi
Punjab Kala Bhawan, Chandigarh
Step out and enjoy this event
Event Guide
Live Performance
Enjoy a unique experience
Invite your friends
and enjoy a shared experience
The Jai Singh Show | RT Chandigarh Chapter | Ghar Wapsi
Punjab Kala Bhawan, Chandigarh
Step out and enjoy this event
Event Guide
Live Performance
Enjoy a unique experience
Invite your friends
and enjoy a shared experience
Event Guide
Live Performance
Enjoy a unique experience
Invite your friends
and enjoy a shared experience
The Jai Singh Show finally comes Home "Chandigarh". Yes, we know it has been a long time but big things take time. Our Jai Singh takes the stage with three stories that he has lived and through various art forms takes you to the world where he lived once. The theme of the show is "Mohabbat Zindabad", a poetic night. An evening where we celebrate art, where we celebrate two artists coming together, where we celebrate a team, and and evening where we celebrate love. Rome wasn't built in a day and for Qaisiyat to come together, it has taken years of hard work, grit, passion, determination and most importantly failures. This event is a tribute to all the dreamers out there. Let's do this!
Please be on time.
Please carry a valid ID proof along with you.
No refunds on purchased tickets are possible, even in case of any rescheduling.
Security procedures, including frisking remain the right of the management.
No dangerous or potentially hazardous objects including but not limited to weapons, knives, guns, fireworks, helmets, lazer devices, bottles, or musical instruments will be allowed in the venue and may be ejected with or without the owner from the venue.
The sponsors/performers/organizers are not responsible for any injury or damage occurring due to the event. Any claims regarding the same would be settled in courts in Mumbai.
People in an inebriated state may not be allowed entry.
Organizers hold the right to deny late entry to the event.
Venue rules apply.
Punjab Kala Bhawan
Punjab Kala Bhawan, 16B, Sector 16, Chandigarh, 160015, India
GET DIRECTIONS
The Jai Singh Show | RT Chandigarh Chapter | Ghar Wapsi
Punjab Kala Bhawan, Chandigarh
Step out and enjoy this event
Event Guide
Live Performance
Enjoy a unique experience
Invite your friends
and enjoy a shared experience