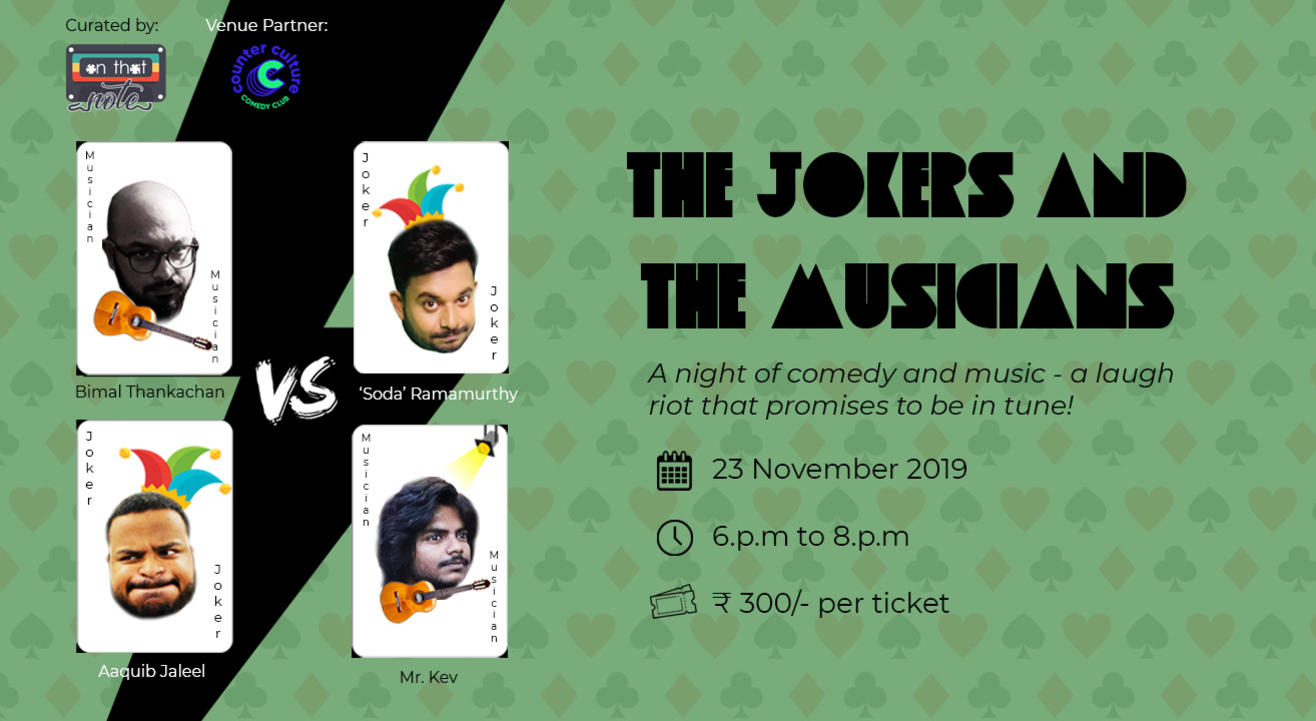 Comedy
The Jokers and The Musicians (Music Comedy Night)
CounterCulture Comedy Club
About
On That Note is going to experiment every month with different art forms and music and "The Jokers and the Musicians" is our take on bringing the best of comedy and music together. We shall have comedians and musicians get together to compete with another group. As the audience, we promise that you will not only have a lot of fun, but will be completely engaged throughout the entire show.
About the performers:
Comedian 1 - Sudarsan a.k.a 'Soda'
Sudarsan Ramamurthy AKA Soda is a stand-up comedian, comedy producer, writer, author, and freelancer for hire. When he first told a joke, his friends cringed and moaned. This inspired him to make a career out of telling jokes to strangers. He has received many death threats from close friends for his puns off-stage. Thankfully, he has received good responses via his on-stage performances. Soda produces show with Chennai Comedy, one of Chennai's longest running platforms for stand-up.
Musician 1 - Kevin Paul
Kevin is an independent artist from Chennai who enjoys performing to an intimate crowd interacting with them. His writing style follows a conversational or narrative style since he has been exposed to country music during his adolescent years. His music would usually revolve around pop and rock sprinkled with a little bit of surrealism. At the moment, he enjoys performing to an unassuming crowd.
Musician 2 - Bimal Thankachan
Bimal grew up listening to BoneyM, colonial cousins , Backstreet Boys and a variety of Malayalam movie songs , while simultaneously going for Carnatic music classes. Music became instrumental in his life with the introduction of the guitar and synthesiser and slowly started to become everything he wanted. With years battling the vocational war and finding some semblance of stability as a video producer, his music is stronger than ever. He writes music with emphasis on depression, solitude and hope, and on occasion designing orchestral scores for short films and other videos.
Comedian 2 - Aaquib Jaleel
Aaquib Jaleel is a comic. He enjoys sunsets, long walks and jokes about the great depression. He has an hour titled "stupid" which has received much praise such as -
"This was stupid" - some random dude who watched the show. "Stupid show. Stupid act" - some other random dude who watched the show.
"This show is genius" - Aaquib Jaleel
Venue
CounterCulture Comedy Club
3rd Floor, 16, 1st Cross St, Cooperative Colony, Sri Ram Nagar, Alwarpet, Chennai, Tamil Nadu 600018