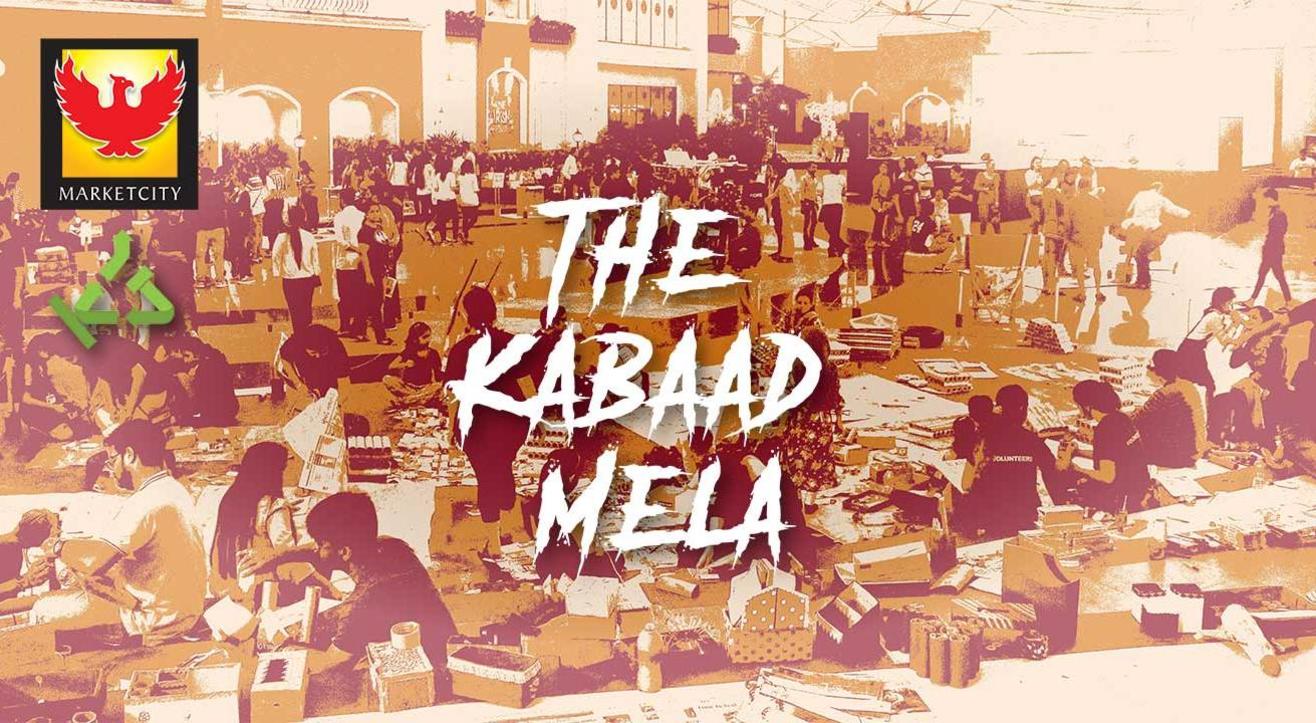 Experiences
The Kabaad Mela
Phoenix Marketcity, Kurla, Mumbai
About
The Kabaad Mela is India's 1st ever Upcycling Festival where the top competition entries will be exhibited along with music, drama and art performances, arcade and tabletop games, upcycling workshops, art installations, various competitions, pop-up shops, fun activities and other exciting events for all ages and interests!
The goal is to inspire, educate and provide a hands-on experience of Upcycling and its applications to the people in a vast variety of fields as well as appreciate and reward the competition winners and participants.
Free Goodies for every visitor in a Goodie Bag made from Upcycled Newspaper!
Live Upcycling Corner: Fun Fact: The Microwave, Velcro and even X-Ray Machines were all accidental inventions. Try your luck to invent or even recreate at the LIVE UPCYCLING CORNER. Create the best you can from the waste you get. But do not waste the best you have. Use your imagination to make a creation using the innovation. Take it home with you in your bag of memories and prices.
Junk Arcade: Wake up the kid from within and have a go at the JUNK ARCADE at THE KABAAD MELA. Nostalgia and lots of prices is what you will get coming out of this arena. Footpool, Stress Chess, Air hockey, Foosball, Life-Sized Jenga and a lot more! Arnold Schwarzenegger also once said, "The only 2 places I can fully be myself is a gym and a GAMING ARCADE."
Jam With Junk: The biggest stress buster of life is music. We've developed fantastic instruments from waste, especially a variety of drums! Explore your talent with an upcycled instrument as your inner musician jams with everyone else!
Performances: Fashion Shows, Band Performances, Street Plays and a lot more! One of the most entertaining events of THE KABAAD MELA! Be there to find yourself in a whirlpool of activities, all giving you immense to learn and take back with you, literally! (Tip: Free goodies for every visitor!)
Competitions - "It's not a problem if you always win" : Harvey Specter
Debate Competition: 'Trash' Talk
How well can you 'Dump' your arguments? Speak up to win it all.

Kachron Ke Khiladi: Obstacle Race Course.

Wardrobe of Waste: Kachra into Kapda
Fashion Designers, get ready to showcase your skills. An exciting fashion upcycling competition that ends with a ramp walk in your creation.

Minute to Win It: Scrap Mode
60 seconds. 10 Games. 2 people. 1 loser. The best 10-minute stress-buster!

Rapid Upcycling Competition: Jugaad But jaldi
Waste, haste and a lot of paste that tests your creativity.

Human Bowling: Do you roll?
It's not about how well you bowl, it's about how well you roll!

Treasure Hunt: Finders Keepers.
Walk in the shoes of Jack Sparrow and find the treasure at Find Me If You Can
How much does it cost to attend The Kabaad Mela?
The Kabaad Mela is a free event. However, we will appreciate it if you take a little effort and create an account on our platform so that we can keep you updated with all events.
What is the time duration of The Mela?
The event will be held on 14th and 15th October from 1pm to 9pm.
Are there any events or activities for which we have to preregister?
All events are to be registered at THE KABAAD MELA itself
Where is The Kabaad Mela being held?
Pheonix Market City, Kurla
What age group is it suitable for?
It is an event friendly for one and all age groups. Enjoy the event with your family and friends.
Do we need to have basic knowledge of Upcycling to enjoy The Kabaad Mela?
You will learn everything at The Mela. The volunteers will guide you throughout the tour.
Do any of the events within The Kabaad Mela carry any charges?
Many of the events have registration charges. But you could win much more than what you input. Give it your best shot.
Is there food available in The Kabaad Mela?
We have a variety of food counters at The Mela. Every person could enjoy our food options.
Venue
Phoenix Marketcity, Kurla, Mumbai
Lal Bahadur Shastri Marg, Kurla West, Kamani, Kurla West, Kurla, Mumbai, Maharashtra 400070