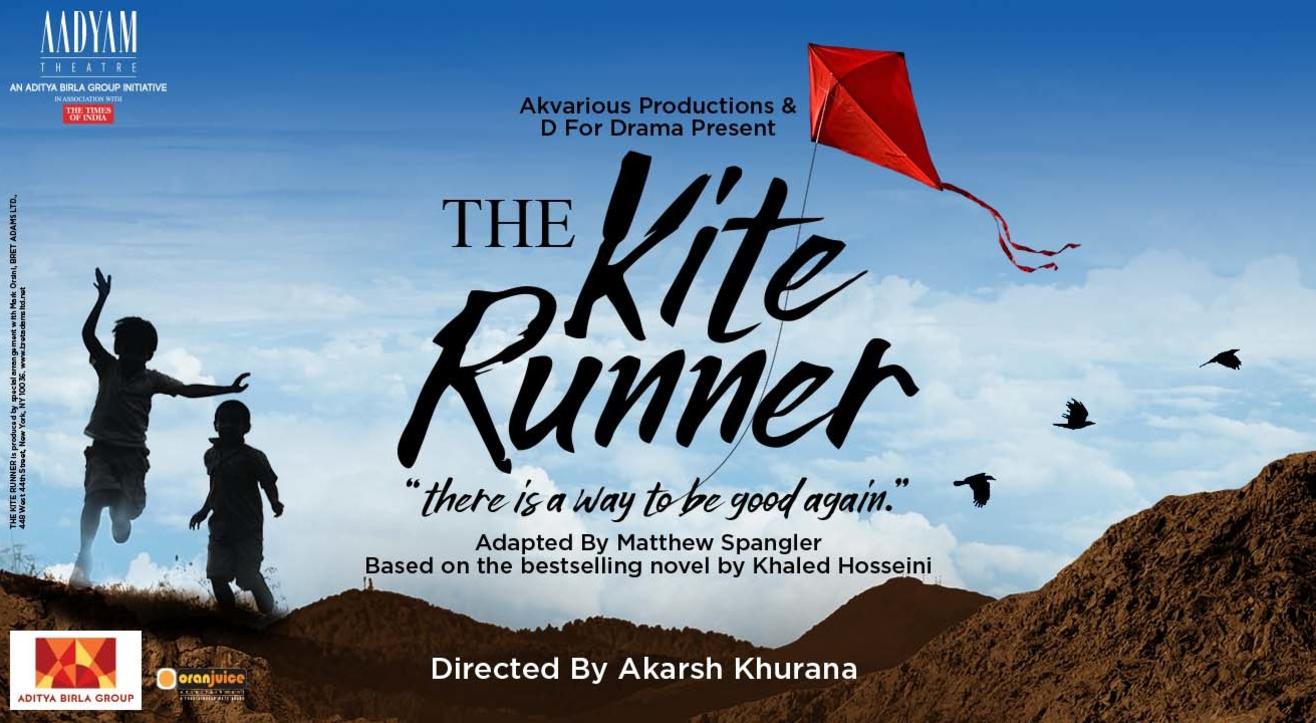 Drama
The Kite Runner
September 28 & 29 | 4PM & 7:30PM
Bal Gandharva Rang Mandir, Bandra
About
Akvarious Productions & D For Drama Present
The Kite Runner
"There is a way to be good again."
Adapted by Matthew Spangler
Based on the bestselling novel by Khaled Hosseini
Winter, 1975. Afghanistan is a divided country on the verge of war and two childhood friends are about to be torn apart. It's a beautiful afternoon in Kabul and the skies are full of the excitement and joy of a kite flying tournament. But neither Hassan nor Amir can foresee the terrible incident which will shatter their lives forever.
Khaled Hosseini's beloved international best-selling novel now adapted into a stunning stage play by Matthew Spangler is a sweeping saga of family, love, and friendship. It is an unforgettable and heart-breaking play about the price of betrayal and the possibility of redemption and an exploration of the influence of fathers over sons–their love, their sacrifices, their lies.
Director – Akarsh Khurana
Production Manager – Saatvika Kantamneni
Set Design – Ayaz Basrai & Siddhima Dubey
Light Design – Quasar Thakore Padamsee
Sound Design – Varun Bangerra
Costume Design – Khushboo Hemdev
Hair and Makeup – Tarannum Khan
Abhishek Saha
Adhaar Khurana
Akash Khurana
Kumud Mishra
Lisha Bajaj
Muskkaan Jaferi
Navendra Mishra
Nipun Dharmadhikari
Sarthak Kakar
Sumit Raj Yadav

Akarsh Khurana
One of the leading theatre producers in India, Akarsh Khurana has produced over 60 plays in the last 19 years, of which he has directed over 20. Akarsh won the award for Best Director twice at Thespo (India's premier youth theatre festival) for his early work and went on to be nominated five times at a national level for Best Director (at the Mahindra Excellence in Theatre Awards) and win once for Stage Design. He has written screenplays for a few feature films, including the very successful Krrish, on which he was also a direction assistant. He has also directed lots of web sketches, five cineplays, a television movie for Anurag Basu (Real FM), a web series for ALT Balaji (Boygiri), and two feature films including Karwaan, featuring Irfan Khan, Dulquer Salmaan, and internet sensation Mithila Palkar. He also co-wrote two seasons of Tripling, the hugely popular Indian web series. He also acts occasionally and can be seen in the hugely popular series Yeh Meri Family on Netflix.
Abhishek Saha
Abhishek Saha has often been described as an imp by his favourite directors. He has been successfully annoying the leading directors of Bombay theatre for the last fourteen years. It is a great mystery how he has worked with powerhouses like Satyadev Dubey, Arghya, Pushan, Quasar, Akarsh, Faezeh, and more, despite his lack of formal training. It is in rehearsal rooms that he received all his education, and eventually went on to direct kids in school plays. Kids seem to gel with him, which is why he is a regular director for schools like Riverside and Hasanat High School. He enjoys being pushed creatively to the realms far outside his comfort zone and pushing directors to saying his favourite line – "Not today, Saha!"



Adhaar Khurana
Adhaar Khurana, a graduate of Forensic Science from Glasgow, has acted in over 15 professional stage productions, ranging from a very popular cameo in The Interview to lead parts in the acclaimed comedy Rafta Rafta and the super-hit sentimental stage production of Tuesdays With Morrie. He has also directed Jumpstart, the hugely successful slice-of-life comedy Some Times, the urban rom-com Internal Affairs and most recently Bombed. He has also acted in Real FM, a television movie, Boygiri, a web series on ALT Balaji which he also wrote and is currently writing a few feature films and web series. He was recently seen in Karwaan and the Netflix series Ghoul.



Akash Khurana
In a span of over four decades in the performing arts, Akash Khurana has worked extensively with Satyadev Dubey, Sunil Shanbag, and Naseeruddin Shah, and is a core member of Arpana, Motley, and Akvarious Productions, three of India's foremost theatre companies. His production of Vijay Tendulkar's A Friend's Story was performed at the Shakespeare's Globe Theatre in London. For Aadyam's previous seasons, he directed The Hound of the Baskervilles and Under the Gypsy Moon. He was Managing Editor of the theatre journal OVATION and the Artistic Advisor to the NCPA Repertory Theatre. He was also part of Jennifer Kapoor's think tank that launched the Prithvi Theatre Festival and was a jury member at the Mahindra Excellence in Theatre Awards, 2019. He has acted in nearly 60 films and won the Nandi Award of Andhra Pradesh for playing the lead in the Telugu film Dr. Ambedkar. As a screenwriter he has written over 20 films, including Baazigar, for which he got the Filmfare Award. For television, he has written over 200 episodes and acted in 15 serials. As an avid musician, he has played the drums and the piano, and is a composer and lyricist.



Kumud Mishra
Kumud Mishra is a senior theatre actor who graduated from The National School of Drama in 1994. He has since moved to Mumbai and worked extensively in television, film and theatre. In theatre he has worked with Satyadev Dubey, Sunil Shanbag, Abhishek Majumdar and Akarsh Khurana. Together with writer-director Manav Kaul he started the theatre group Aranya which has staged successful plays like Shakkar Ke Paanch Daane, Ilhaam, Park and Bali Aur Shambhu. He is currently the president of D for Drama which has staged productions like Dhumrapaan, Kaand, Outsider and Open Cast



Lisha Bajaj
Lisha Bajaj commenced her acting journey at the age of 13 as an anchor in an educational TV show for Doordarshan, Delhi. Her passion to pursue the art form dragged her to Bombay 3 years ago. Since then she has been featured in a couple of television commercials, web series and cineplays. Being a creative and an inquisitive person and having no formal training, Lisha unearthed her fondness for theatre with Akvarious Productions as an actor and stage manager. It's been two years now and she has been a part of productions like Under The Gypsy Moon, Dhumrapaan, Dekh Behen, One Night Only.



Muskkaan Jaferi
Muskkaan Jaferi has been putting words in people's mouths since she was 15 years old; mostly hindi words, into the mouths of actors in many feature-films and Netflix shows. While she doesn't consider herself a princess, she sounds like 3 Disney ones: Moana, Vanellope (from Ralph breaks the internet) and Jasmine, Aladdin's Queen. She once decided that dubbing wasn't enough and then acted in QTP's Mother Courage and her Children, became a part of A Farming Story, and most recently acted in What Planet Are You On? Her first feature film, Noblemen, released earlier this year. She now frets over whether this bio makes her look cool enough to win your approval.



Navendra Mishra
Navendra Mishra has been performing on stage since 2011. He started his theatre journey with Alakhnandan Sinha and Irfan Saurav at Bharat Bhavan, Bhopal. While inn Mumbai, he has been active in the theatre community and continues to perform with D For Drama and other theatre groups.



Nipun Dharmadhikari
Nipun Dharmadhikari started his theatre journey as an actor in college productions in Pune. He acted in several acclaimed productions in Marathi like Cycle and Lose Control which he also directed. He is the founding member of Natak Company which is considered to be one of the frontrunners in experimental theatre in India. Nipun has found his calling in direction - be it in the medium of theatre or films. He has won several awards for direction including the META and the National Award. Recently, he acted in an English play Stand Up. He hopes to dabble more in acting.



Sarthak Kakar
Sarthak Kakar started his theatre journey as an actor in 2011 by doing street plays with Delhi-based theatre groups. In Mumbai, he has worked as an assistant to Atul Kumar and Manav Kaul. He has been acting on the professional stage since 2015 under the directors Shubhrajyoti Barat, Akarsh Khurana and Akash Khurana in plays like Dhumrapaan, Stand Up and Special Bond 3.



Sumit Raj Yadav
Sumit Raj Yadav started his acting career in 2016 in Jabalpur, Madhya Pradesh. He was previously associated with Vasant Kashikar. In 2017, he joined the D For Drama theatre group and continues to work with the group. He has acted in plays like It's About Time, Dogway, Open Cast, and Transfer Kid.
1. Are tickets available at the venue?
Only if we are not sold out. We advise patrons to book in advance as these shows sell out very quickly.

2. Would I be allowed in in-case I am late for the show?
Yes, Late Entry is allowed, however the auditorium doors are sealed during certain scenes. You will be allowed into the auditorium at the discretion of the organizers. We recommend that you arrive at least 30 minutes prior at the venue to pick up your physical tickets.

3. Can I go out & come back during the show?
Yes, re-entry is allowed. We do however recommend you try to keep movement in and out of the auditorium to a minimum to ensure that there is minimal disturbance to the actors on stage and your fellow audience members.

4. Do we get specific seat numbers or is it free seating?
Yes, you get to choose specific seat numbers & category while booking.

5. Will there be food & beverages at the venue?
Yes. Refreshments will be available for purchase at the venue. No food or drinks will be allowed inside the auditorium however.

6. How is the auditorium & seating?
The auditorium is fully air-conditioned with cushioned bucket seats.

7. Are wheel chair ramps or elevator facilities available at the venue?
Yes. We advise you to buy corner seats for the differently abled & senior citizens.

8. Is parking available at the venue?
Limited parking is available in the venue premises. Kindly plan to reach the venue well in advance to avail the same.

9. Can I buy tickets using cash?
Yes, you can buy tickets in cash from the box office counters. The counters will go live at the venue 5 days prior to the show.

10. Do you accept cards for purchase of tickets?
We accept all debit/credit cards including Master Card, Visa, Maestro, American Express and Diners Card

11. Can I upgrade my tickets?
Yes. Depending on Availability only.

12. Will I be able to get a refund for the tickets if I do not attend the play?
No refund will be provided for tickets.

13. Where can I read the ticketing `Terms & Conditions'?
All terms & conditions are mentioned in the T&C tab on the event page.
Venue
Bal Gandharva Rang Mandir, Bandra
Junction 24th and 32nd Road, Near Patwardhan Park, Off Linking Road, Bandra West, Mumbai, Maharashtra 400050, India