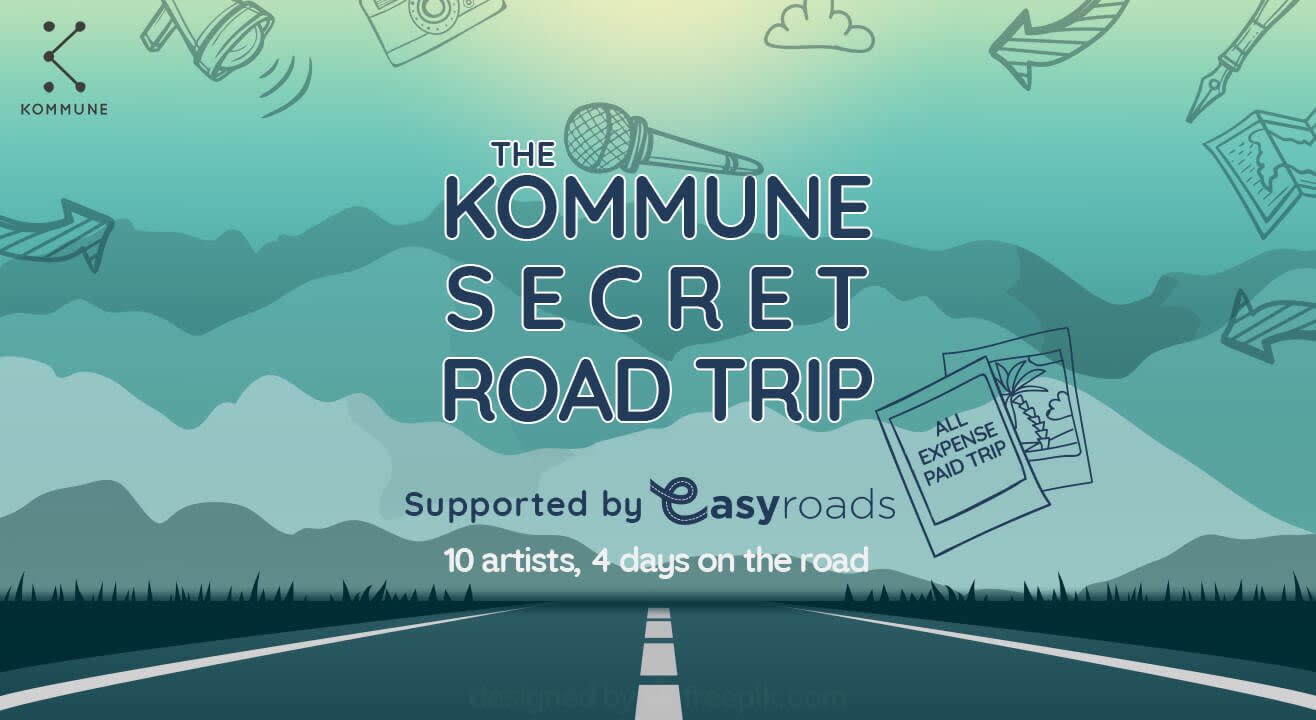 Experiences
The Kommune Secret Road Trip
About
Kommuneity, some of our favourite gigs have been away from Bombay―where our tellers travel and make new memories together. Where they write about their new memories together. So, in association with EasyRoads, we decided to become the Romads and go on our first ever Kommune Secret Road Trip― where 10 artists travel with us for an all expense paid road trip, full of workshops, performances, and experiences that'll make you fall in love with travelling if you haven't already. Kommune
And how do you get on board with Kommune and EasyRoads for these very special 4 days? Where you feel inspired and we at Kommune find a whole new lot of talented artists? Easy.
You send us your your on a theme we think fits this road trip very well: Journey.
To participate please read the rules carefully
- The theme of the competition is 'journey'. All submissions must reflect the theme.
- Please send your piece on the theme 'Journey' along with a screenshot of your ticket to kommuneroadtrip@gmail.com with the subject line 'Kommune Road Trip Entry'. Our team will get back to you.
- Participants can interpret the theme as they wish―it can be about travel, life, or even relationships.
- Spoken word pieces, stories (fiction and non-fictional) in both Hindi and English are allowed. Illustrations and photo-series will also be considered.
- If the entry is a spoken word piece or a story, please ensure it's between 3-6 minutes. Audio clips and written drafts are both accepted.
- If the entry is a series of illustrations and photos, please also send a small brief explaining how your entry is connected to the theme.
- One piece per registration is allowed.
- Unduly obscene language, sexist and racist work will not be entertained.
- The final date for submissions is 23rd September, 2018.
- The writers of the 10 best pieces will be selected by Kommune for an all expense paid road trip.
- This road trip will take place from the 29th of September to the 2nd of October. It is specially designed to help you break out of that writer's block and get creative.