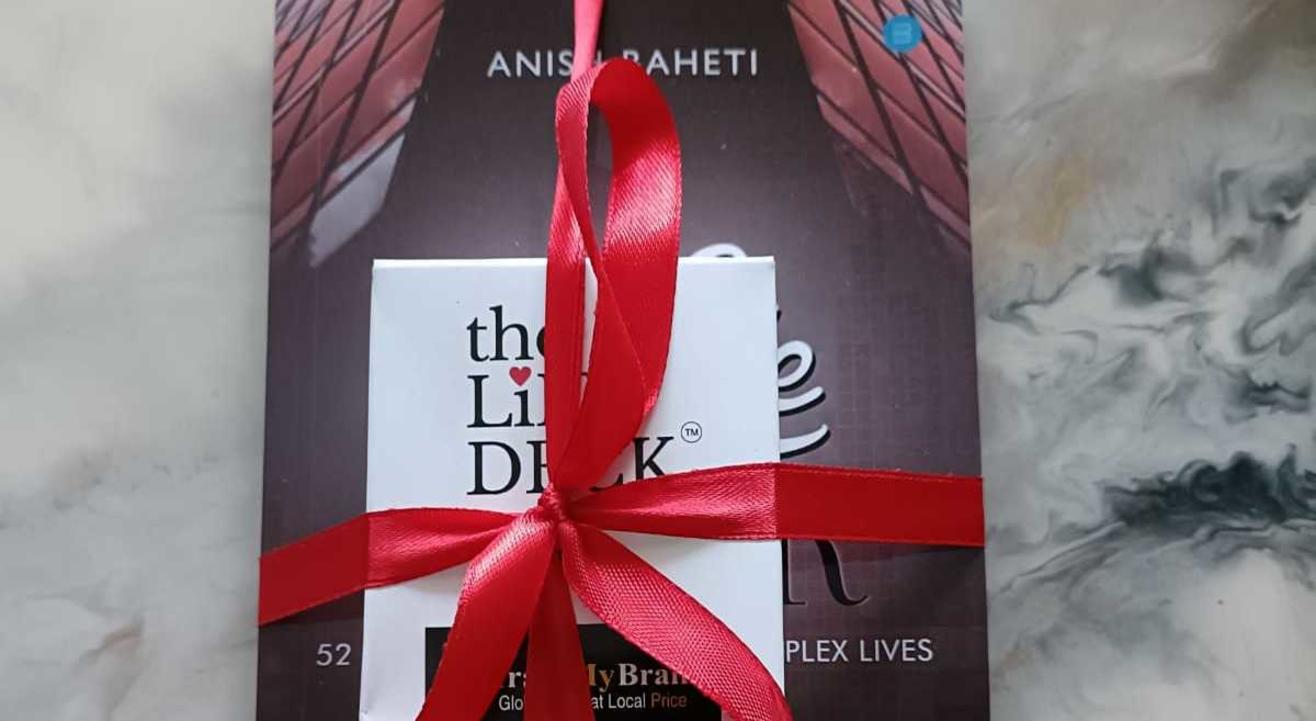 The Life Deck - 52 Simple Concepts for Complex Life (Book + Deck + Videos)
Enjoy this event from your home
Event Guide
Digital Event
Watch on Insider
Masterclass
Learn from an expert
Invite your friends
and enjoy a shared experience
The Life Deck - 52 Simple Concepts for Complex Life (Book + Deck + Videos)
Enjoy this event from your home
Event Guide
Digital Event
Watch on Insider
Masterclass
Learn from an expert
Invite your friends
and enjoy a shared experience
Event Guide
Digital Event
Watch on Insider
Masterclass
Learn from an expert
Invite your friends
and enjoy a shared experience
The Life Deck from Anish Baheti is a collections of handpicked 52 cards that help you lead a life full of awareness and secretly build self-love. Each concept is designed to give you a spark and is a must-experience for those on the journey of self-discovery while concurrently improving their life. It is a humble contribution for those who live the fast-paced western lifestyle as it provides them with a road map to put the ideas into practice and start living with more awareness.
Any individual who has achieved personal or professional success would have a high level of self-awareness. Being self-aware is one of the ways to develop your level of EQ.
Self-Awareness Toolkit using a 52-card deck is a step-by-step guide that can help you to:
1. Build your Emotional Intelligence (EQ)
2. Manage stress and anxiety
3. Give a new perspective to everyday life's challenges in 2022
4. Test self-defeating beliefs
5. Develop mental wellbeing
6. Measure your self-perception
Sign up now for the combo set (52-card deck plus the book plus the 52-Videos) to get a flat 25% discount and free shipping across India (limited time only)
"'The Life Deck' makes us ponder differently introspect to make our otherwise complex lives simpler. Anish's insights are open-minded engaging and incisive and his style is endearing. I highly recommend this set of book and the cards to anyone who is looking for a changed life." Dr. M. S. Shejul - Registrar Symbiosis International University
"Anish's book helped me finally understand LIFE. The concepts are so clear and easy to understand. I loved his unique way of explaining life through deck of 52 cards." Rajesh Shah – VP Human Resources Havmor
"A journey of self-introspection that makes imperative to think on the simple matters which are crying out attention in one's daily life". - feedback from working professional in India
"It's all about small things simple concepts that can make a big difference in your life in the current challenging scenario. This was indeed very useful to think forward for living a joyful life" - reviewed by an attendee from Australia
Key details:
Language: English
Content: 52 on-demand videos + deck of cards + book
Duration: 3hr 41min of video content published
Delivery: Online in video format. Deck of cards and book which will be shipped to your address in India
Mode: Self-paced learning
Fees: Combo price of INR 5999
Payment: Using the ticket link provided here.
What happens once you book your ticket: Once payment is received we will confirm your order and ship the Book and the Deck of cards to your shipping address in India. Please allow us 7 to 10 business days. For any queries relating to your order please email to info@trainmybrain.in
Disclaimer:
Use of any information or materials provided by Train My Brain during the course is entirely at the receiver's/ availer's own risk for which the Train My Brain shall not be held liable. It shall be the responsibility of the Participant/Attendee to ensure that any content or performance available through this course meet their specific requirements. The Participant/Attendee acknowledges that such information and materials may contain inaccuracies or errors and the Train My Brain is expressly excluded from any obligation or liability caused due to such inaccuracy or error to the fullest extent permitted by law.
The Life Deck - 52 Simple Concepts for Complex Life (Book + Deck + Videos)
Enjoy this event from your home
Event Guide
Digital Event
Watch on Insider
Masterclass
Learn from an expert
Invite your friends
and enjoy a shared experience