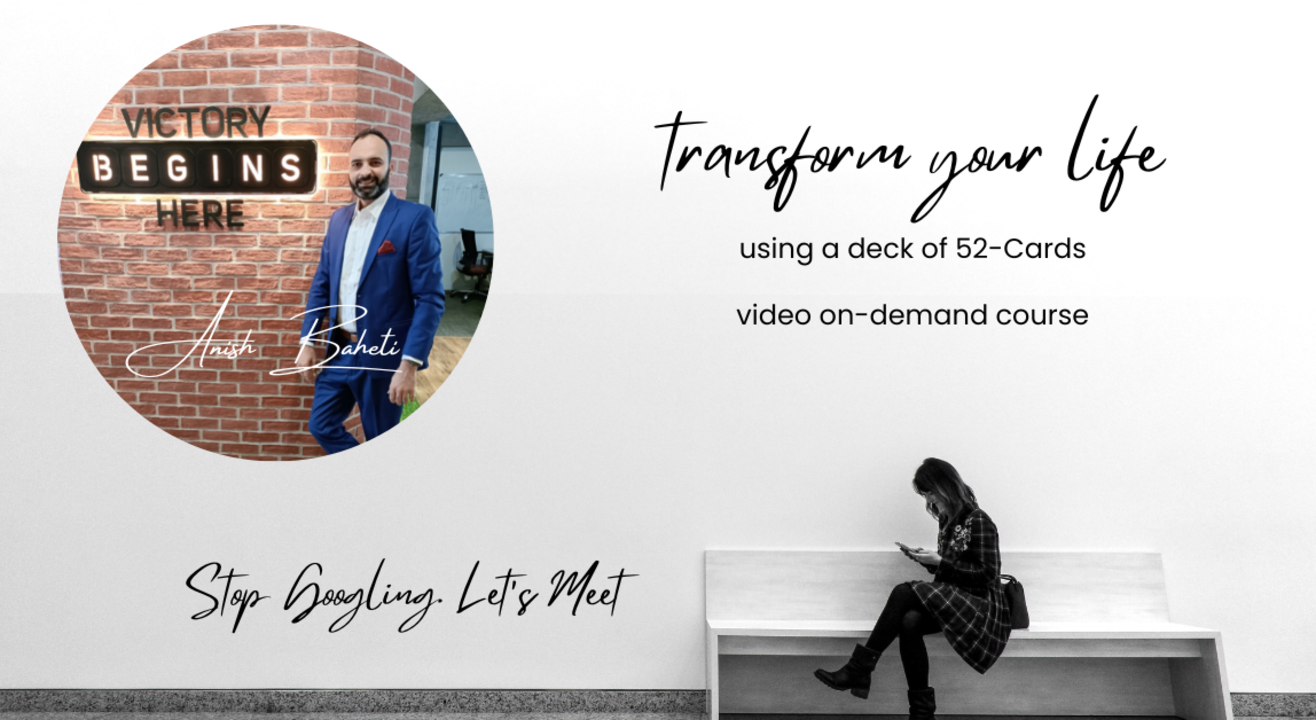 The Life Deck - 52 Simple Concepts for Complex Life (Book + Deck + Videos)
Event Guide
Digital Event
Watch on Insider
Invite your friends
and enjoy a shared experience
The Life Deck - 52 Simple Concepts for Complex Life (Book + Deck + Videos)
Event Guide
Digital Event
Watch on Insider
Invite your friends
and enjoy a shared experience
Event Guide
Digital Event
Watch on Insider
Invite your friends
and enjoy a shared experience
"Anish has put together a program that is very much needed in this day and age. I recommend that you check it out" - Reviewed by Charlene, an Author and Functional Nutritionist from the USA
Contents and Overview:
This on-demand video course is a collection of handpicked 52 cards that help you lead a life with full awareness. Each concept is designed to give you a spark and help you do self-introspection. The best part is that you can learn it at your own pace by watching each video and then practicing through self-reflection.
This is a simple yet powerful way to build your self-care as you go through each video, right from understanding needs (card 2) to finding purpose (card 52) and everything in between. Cards encourage real life application: stress handling, anger management, goal-setting, understanding needs, building focus finding purpose dissolving anxiety.
What you'll gain:
1. Increase your level of self-awareness and self-management in both your personal & professional life.
2. Build resilience and mindfulness in your life.
3. Develop healthy mental habit as you practice each of the 52-cards.
4. Enhance self-love.
Who is this course for?
Can be used by parents educators counselors and busy professionals.
Anyone who aspires to create a better version for themselves
Ideal for strengthening self-love, self-care and build self-motivation in any individual
Helping individual develop social and emotional learning (SEL)
Why the Deck of Cards?
Makes learning joyful and more engaging
Keeps it simple and more relaxed
Creates an experience and makes it more enjoyable
How you should take this course?
This unique course provides an inclusive entertaining and useful learning experience. Since there is no target date for you to finish this course, you can fit this around your current responsibilities and do it at your natural pace.
1. Listen to the introductory video
2. Watch 1 video each day, if you like, for the next 52 days
3. Do self-introspection and self-reflection after each video and stay mindful about it the entire day.
4. Next day pick the next video and repeat the above process
5. Listen to all the 52 videos in the same sequence (ideally)
Are there any course requirements or prerequisites?
1. A willingness to learn and experiment
2. A playful mindset
3. Open heart and open mind
This is what past attendees have to say:
"...I'm very impressed with the program going for card #2 today....I am looking to achieve my highest and best from your insightful guidance" - as shared by a US participant
"A journey of self-introspection that makes imperative to think on the simple matters which are crying out attention in one's daily life". - feedback from working professional in India
"It's all about small things simple concepts that can make a big difference in your life in the current challenging scenario. This was indeed very useful to think forward for living a joyful life" - reviewed by an attendee from Australia
Key details:
Language: English
Content: 52 on-demand videos
Duration: 3hr 20min of video content published
Delivery: Online in video format
Mode: Self-paced learning. On-demand video course
Fees: The course costs INR 9999
Payment: Using the ticket link provided here.
Please note: The course is made up of a series of 52-videos and to get the most out of this course you will time for self-reflection. The course video makes up a one day workshop so is equivalent to 6 hours of training including self-reflection time. Remember self-awareness can never be achieved just by watching videos. It's incomplete unless you do some role-plays get feedback from others and do reflective thinking on each of the 52-cards.
About the Speaker:
Anish Baheti - TEDx Speaker | Purpose Coach | Keynote Talks | Author
Inspirational Keynote Speaker Anish Baheti is an award-winning author and a purpose coach to professionals of all walks of life. He's often heard saying that God has been kind in showering him with two skills – Simplifying the Complex and Inspiring the Uninspired.
As the Founder and CEO of Train My Brain® (IND) & Concepts Coach® (AUS) Anish has delivered thousands of entertaining energizing and engaging sessions. Helping educational institutions corporate offices entrepreneurs teachers students and athletes alike Anish has formed a lasting presence in the world of life improvement.
Anish is passionate about simplifying the complex by creating an experiential learning deck of 52 cards making meaningful interactions with the audience and helping them connect the dots all that makes him a much sought-after speaker. Listeners love his byte-sized practical strategies that they can apply both personally and professionally.
Anish shows each participant how to delve deep into oneself and reconnect with what matters most so they can lead a life by design and not by default. His signature program The Life Deck® (52 cards from 'needs' to 'purpose') captures the journey from self-inquiry to self-realization beautifully and can be implemented by anyone in a self-paced way. The Numbers Deck® is another fun program to teach Accounting to Non-Accountants in less than 90 minutes just by making them play with a deck of 52-Cards.
Anish earned his Chartered Accountant degree from ICAI and his MBA from the University of Technology, Sydney. He's also a Certified Life Coach from Australia and a Certified Brain Mapping Practitioner from the UK. Anish's honors include winning the Outstanding Leadership Award in Las Vegas USA in 2022, being voted as one of the winners of the Education and Training Award in Australia, and has been named to BW Education 40Under40 list in 2020. Train My Brain® has also won the Best Companies Award in Dubai UAE in 2022.
Disclaimer:
Train My Brain® reserves the right to cancel or postpone the workshop in case of any emergency. No refunds on tickets once purchased. Pre-payment and pre-registration are required. The participation fee is non-refundable/ non-adjustable against any other program of Train My Brain. Attending the workshop or on-demand video courses means you have read and agreed to the Terms and Conditions listed on our website www.trainmybrain.in
Use of any information or materials provided by Train My Brain during the course is entirely at the receiver's/ availer's own risk for which the Train My Brain shall not be held liable. It shall be the responsibility of the Participant/Attendee to ensure that any content or performance available through this course meet their specific requirements. The Participant/Attendee acknowledges that such information and materials may contain inaccuracies or errors and the Train My Brain is expressly excluded from any obligation or liability caused due to such inaccuracy or error to the fullest extent permitted by law.
The Life Deck - 52 Simple Concepts for Complex Life (Book + Deck + Videos)
Event Guide
Digital Event
Watch on Insider
Invite your friends
and enjoy a shared experience