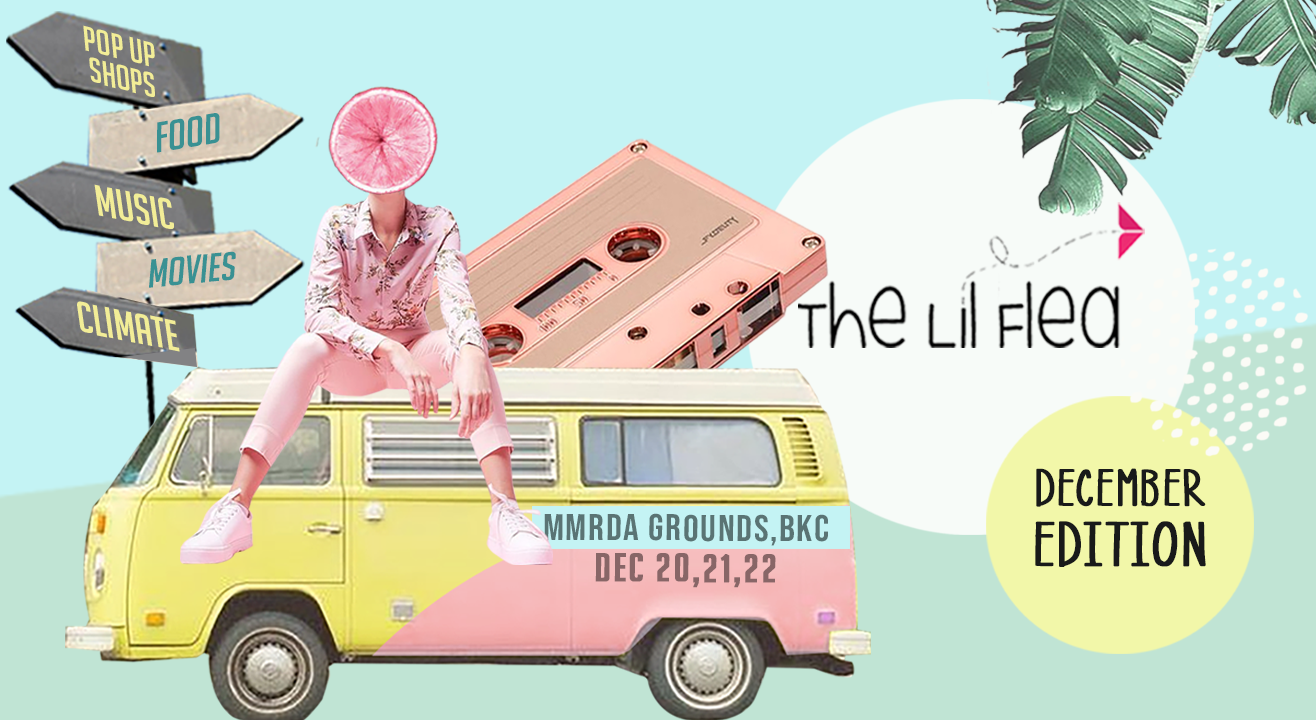 The Lil Flea December Edition, Mumbai 2019
December 20 - 22 | 11AM - 11PM
MMRDA Grounds, BKC, Mumbai
Step out and enjoy this event
Invite your friends
and enjoy a shared experience
The Lil Flea December Edition, Mumbai 2019
December 20 - 22 | 11AM - 11PM
MMRDA Grounds, BKC, Mumbai
Step out and enjoy this event
Invite your friends
and enjoy a shared experience
Invite your friends
and enjoy a shared experience
December is here, the best month of the year in Mumbai, and so is The Lil Flea with its December edition.
Save the dates and book tickets for a weekend full of all good things, from independent music to homegrown brands curated from across the country to food to movies to a whole lot of new things which The Lil Flea will be bringing in this edition. December is the month of celebrations and in keeping with the season and the vibes, the spirit in this edition is celebrations and community.
First up a lowdown on some of the new things on offer in this edition:
Lil Climate Circle at The Lil Flea
This edition of The Lil Flea will introduce a whole new space dedicated to community and conversations around the climate crisis that surrounds us. The Lil Climate Circle will see a celebration of the earth with screenings of some of the finest and even unreleased films by Sony BBC Earth Plus A Climate Stage, A Citizen's Pledge Wall, Some thought provoking installations, Crowdfunding and Conversations with amazing Changemakers and People's Assemblies intended to both educate and prepare a charter of demands for a people's petition for change.
A Celebration of The Lil Things
Indulge in some Story Telling Sessions, Book Exchanges, VR Games, Board Games, Carnival Games, Short Film Screenings, take your pick and do your thing by yourself or with your gang.
Or You could choose to learn something new from a lineup of amazing workshops like Grow Your Own Microgreens, Kitchen Garden Composting, Pottery,
Or Engage in Some Live Art, Get a caricature made, Paint Your Pot workshops and sustainable additions to look forward to like Hibiscus Juice and Bird Feeders!
Show Some Love To The Country's Homegrown Shops
To help you discover all things unique, beautiful, homegrown and limited edition. All the 250 pop up brands are carefully curated from across the country and many of these are rare finds you are unlikely to spot easily elsewhere! Come over to discover and take back some of the happiest finds of 2019!
Indulge Your taste buds with Mumbai's Best Upcoming Food Brands
Give in to your cravings with Mumbai's best upcoming food brands. With Over 50 Food Brand and hundreds of dishes, come make your holiday season merrier and tastier. Cheat days are here! All Food Brands at The Lil Flea have been carefully curated to give you brands that you won't find easily elsewhere.
Our favourites: Avocado tacos from Taco Lab, Melt in the mouth dumplings by Meeso, Jackfruit tawa toasty from Taftoon, Pizza from Fat Lulu's & many more.
Get A Sugar Rush at The Lil Desserts Bar
With some of the best handpicked Dessert brands from across the country, get ready to overdose on sugar and all things sweet. Our favourites: Acai Bowl from Acai Tribe, Oven fresh cookies from The Pink Truck, New Year Cheesecake from Pear and Walnut, Farm fresh strawberry cream from Bomberry & many more.
Groove to Fresh Original Music
The Lil Flea brings to you the best Indie artists for you to discover amazing new tunes for your playlists and enter the new year on a fresh note! In the lineup this time are: Fiddler's Green, Nikhil D'souza and a few interesting other artists.
Watch Some Classic Open Air Cinema
Bring you a selection of classic movies from across all cultures. The movie screenings are a one of a kind experience along with these all time favourite movies as we create the perfect ambience for you to snuggle up for a fun movie night!
Get A Drink. Get On Your Happy Vibe
Love Craft Beer? There's a choice of 6 amazing micro-breweries.
If not, then go for the gin & tonic bars, vodka bars or sip on a healthy sangria at the Festival Bar at The Lil Flea
Don't Forget To Bring Your Kids Along
A much bigger, brighter kids zone with Kahani trees, Ball Pits, creative activities & workshops, beautifully done up teepees that will serve as personal art studios for your lil ones to bring their imagination alive!
One Lil Tree For You
Calling out to those who would like to bring nature back into their lives. Collect seeds or adopt some happy new plants to take back home at The One Lil Tree!
Good Vibes, Open Skies And Happy Lights
Be ready to experience a festival with eye catching decor and amazing vibes. A place where the days are bright and the nights are full of lights.. Plus some super fun experience rooms, food pit stops & board games and a whole lot of lil things!
Come join us and add to the happiness..
Happy Lil Rules To Follow at The Lil Flea:
Rule #1 Don't forget to bring them positive vibes.
Rule #2 Be yourself. Do your thing. Ain't nobody judging you at The Lil Flea.
Rule #3 Get real with your style statement. The Lil Flea paparazzi will be on the lookout!
Rule #4 Save your appetite. Ditch the diet. Accept food with open arms!
Rule #5 Forget Mainstream. Mainstream music. Mainstream fashion. Mainstream anything.

20th December, Friday
6pm - Clive Vaz
7:15pm - Elysium
8:30pm - Clayton and Friends

21st December, Saturday
6pm - Neel Adhikari
7:15pm - Smalltalk
8:30pm - Fiddler's Green

22nd December, Sunday
5pm - Raghav Meattle
6pm - Boombay Djembe Folas
7:15pm - Taba Chake
8:30pm - Nikhil D'souza

MMRDA Grounds, BKC
R2 Ground, C-32, G Block BKC, Bandra Kurla Complex, Bandra East, Mumbai, Maharashtra 400051
GET DIRECTIONS
The Lil Flea December Edition, Mumbai 2019
December 20 - 22 | 11AM - 11PM
MMRDA Grounds, BKC, Mumbai
Step out and enjoy this event
Invite your friends
and enjoy a shared experience