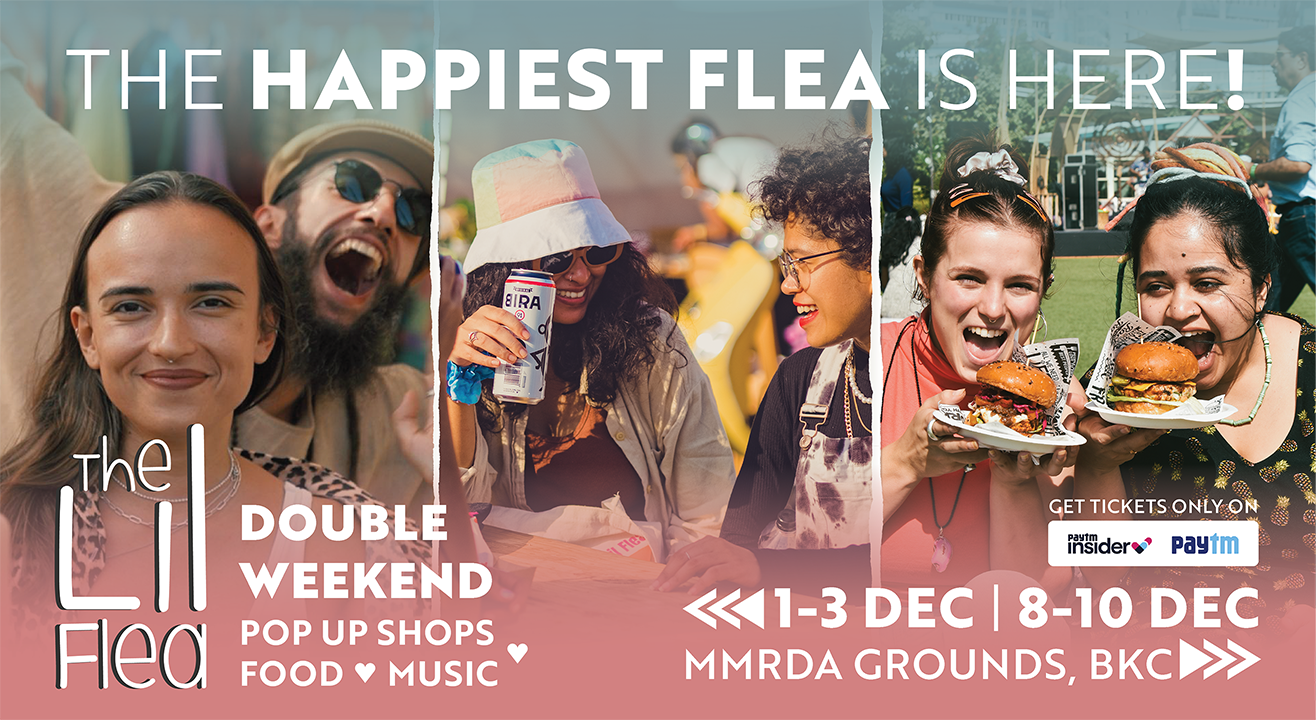 The Lil Flea | Mumbai 2023
December 1st to 3rd & 8th to 10th
MMRDA Grounds, 5&6 BKC, Mumbai
Invite your friends
and enjoy a shared experience
The Lil Flea | Mumbai 2023
December 1st to 3rd & 8th to 10th
MMRDA Grounds, 5&6 BKC, Mumbai
Invite your friends
and enjoy a shared experience
Invite your friends
and enjoy a shared experience
The Lil Flea | MMRDA Grounds BKC, Dec '23
Mumbai's happiest flea market, The Lil Flea is back in Mumbai with its signature Double Weekend show this Weekend at MMRDA Grounds, BKC (Near Asian Heart Institute)
With over 400 homegrown curated brands from across the country to delectable foods, desserts and bakes to a fantastic line up of Indie & original musicians and a host of workshops and experiences to choose from, this is one festival you don't want to miss!!
So book your tickets now
Pair up to save more and use these discount codes if you are planning to come by with your friends or family:
TLF10 for 10% off when you buy two or more tickets.
TLF20 for 20% off when you buy four or more tickets.
Why Visit The Lil Flea?
400 of The Country's Best Homegrown Pop-Shops & Collectives
After carefully curating brands from Mumbai and beyond, The Lil Flea brings you a diverse variety of homegrown brands that offer beautiful products that are crafted with love to help you shop till you drop :)
Don't forget to look out for some beautiful brands like Sazo, PHUE, The Half Done, Stushe, Simrasa, Rad Routine, Pean & Pip,Tuvisha Jewels, Miris Mohrut or spend your day exploring the curated collectives ranging from Pottery to Health and Beauty to Conscious Products, Art or Brands from Goa
Over 50 Delicious Food Brands
To fuel you up after all that shopping, there's also a massive and delectable line up of food brands and artistic bakers. Indulge in some of the most delectable food with cuisines varying from Persian, Asian, Lebanese, Mexican, Korean, American Casual, Traditional Bohri, & Japanese and of course Indian and Regional foods to complete the mix
And then there are these desserts to spoil you silly ranging from artisanal ice creams to croissants to artisanal bakes
Music Stage With The Country's Best Indie Bands
Come evenings and you have a stellar line up of original Indie Live music to groove to and to help you update your playlist. The Lil Flea in this edition has a main stage and a Busking space in the Festival Bar and you are going to have a tough time choosing what to listen to and what to miss
Artist Line-up: Music Stage | Week 1
1st December:
The Lojal Experience
Prem Joshua
Desmadre Orkesta
2nd December:
Ditty
The Friendly Neighbours
Chizai
Bombay Bassment
3rd December:
Miserable Man
Drum Circle
All Yellow
Tajdar Junaid
Tejas
Music Stage | Week 2:
8th December:
Shyreyas Iyengar
Sambucada
Suman Sridhar & the Black Mamba
9th December:
Indian Ocean
Boombay Djembe Folas
Bawari Basanti
10th December:
Roz Angon
Abdon Mech
Easy Wanderlings
The Busking Space will also help you discover several stars from tomorrow alongside two very special showcases from Amplify and Goa Sunsplash


20+ Engaging Workshops & Experiences
At The Lil Flea, it's all about building a community that enjoys different experiences together and you can use your days to choose from a beautiful assortment of fun experiences
Busking Poetry: Find our busking artists, Mariyam, Vee, & Ruby, at The Lil Flea who will be on-ground to interact and write a few beautiful lines of poetry for you on the spot!
10-minute Board Games: Play some really fun & interesting games & puzzles by the Bored Game Company with your friends or strangers!
Community paint-by-number: Bring a mural to life together, bit by bit! Everyone visiting the flea can grab a brush, a color of their choice, and paint a community mural for the Green Terraces of Bombay
Hula Hoop: Swirl and twirl, tune into your rhythm, and let Shivani Dhopawkar teach you how to flow with hula hoops!
Dapo workshop: Unleash your creativity, one spin at a time. Join us as we dive into the mesmerizing world of flow arts with Dapo star - Pramod Yadav.
Pottery workshop: Pottery is known for its meditative effects and grounding characters. Get your hands dirty and mold clay into anything you want with Tiny Clay Inn!
There are many more experiences and workshops lined up for you at our flea. Please note that while some of the workshops are free, some might be chargeable and their costs are not included in the ticket price.
Movies Under The Stars
Plant yourself in the cozy ambience we've created for you and enjoy some of the best of world cinema every night at The Lil Flea. Movies are free with your ticket, but don't forget to pre-register as there are limited seats for every show! You can also register on the spot at the Venue itself at the help desk at the entry
Go to The Lil Flea's Instagram handle for the full lineups of movies, experiences and music
A Festival Bar
To make your evenings even more happy, there's a massive festival bar at The Lil Flea with an eclectic collection of the best micro-breweries, new-age Indian liquors, gin bars, a choice of wines and whiskeys, and festival cocktails. And to make it more fun there's happy hours from 12 -5 PM every day
Book Exchange
Read a book and love it? Share it with a stranger! Drop your favorite books at our book exchange and take with you some of the interesting books that intrigue you!
Book your tickets now and come join in to add to the happiness!
When: December 1st - 3rd & December 8th - 10th
Where: MMRDA Grounds, BKC (Next To Asian Heart)
Happy Lil Rules To Follow at The Lil Flea :-
Rule #1 - Don't forget to bring them positive vibes.
Rule #2 - Be yourself. Do your thing. Ain't nobody judging you at The Lil Flea.
Rule #3 - Get real with your style statement. The Lil Flea paparazzi will be on the lookout!
Rule #4 - Save your appetite. Ditch the diet. Accept food with open arms!
Rule #5 - Forget Mainstream. Mainstream music. Mainstream fashion. Mainstream anything.
FAQ - Frequently Asked Questions
Q: What time do the gates open?
A: 11 am
Q: Is re-entry into the venue allowed?
A: The Tickets allow you a Single Entry but you can get a re-entry band from the exit Gate at a nominal fee in case you want to step out for a bit and come back again later
Q: What is the minimum age to buy the tickets?
A: Children below 8 years (Our benchmark is 4 feet in height :) and Adults above 60 get free entry.
Q: Is parking available at the venue?
A: Yes, there's a big Parking area right next to The Lil Flea venue
Q: Is the venue wheelchair accessible?
A: Yes
Q: Will food & alcohol be available at the venue?
A: Yes
Q: At what time will the event start?
A: 11 AM
Q: At what time will the event end?
A: Live music stops at 10PM but the rest of the festival continues for some more time
Q: Is there a designated smoking area?
A: Smoking is not allowed inside the venue because of the fire safety risks involved.
MMRDA Grounds, 5&6 BKC
MMRDA Grounds 5&6, Near Asian Heart Institute, BKC
GET DIRECTIONS
The Lil Flea | Mumbai 2023
December 1st to 3rd & 8th to 10th
MMRDA Grounds, 5&6 BKC, Mumbai
Invite your friends
and enjoy a shared experience