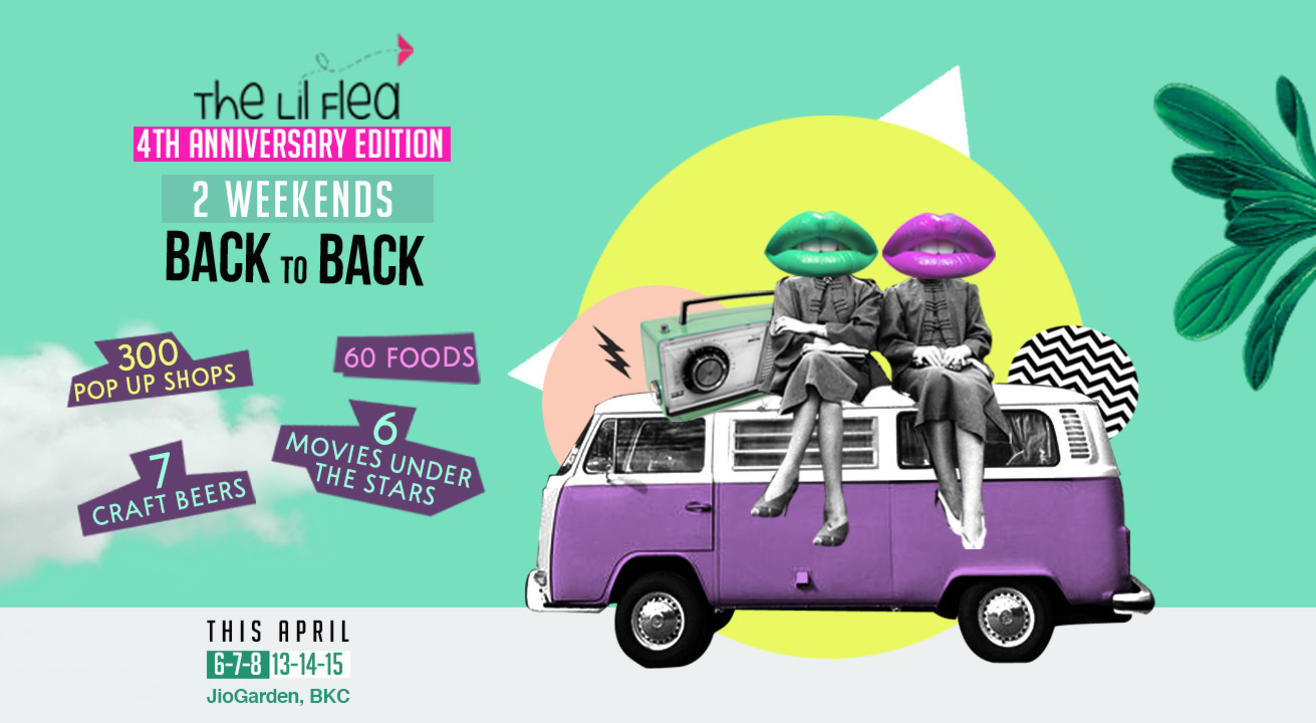 Flea Market
About
One of India's favorite weekend makers, The Lil Flea are all geared up to host their 4th anniversary edition at JioGarden, BKC this April. Entry to the festival will be granted from Gate No. 10


There's food, there's music. There's shopping. And, some more. This edition calls for some really bigger, prettier, happier times and here's a long list of promising experiences it entails:

1. Festival of Shopping:
If you love shopping or simply exploring what's buzzing in the market, then The Lil Flea has to be on your bucket list. 300 curated & homegrown brands from across the country on each weekend are bringing you contemporary apparel, quirky printed shoes, chic bags, handmade jewelry, digital pop art and heaps of cool things to keep the shopper in you spoilt for choice.

2. Festival of Experimental & Fusion Foods: 
Being a discovery platform, the people of The Lil Flea are always on the lookout for amazing upcoming food chefs, bakers and niche food brands. At this edition will bring you hundreds of options from over 60 food brands. Make sure to build up an appetite.

3. Festival of Indie Music:
Catch a live gig, on all evenings at The Lil Flea! There's an amazing lineup of some of the coolest indie bands to keep you grooving on all days: Including Ankur & The Ghalat Family, Sidd Coutto Experience, Tejas, Marshall & The Mischief, Clayton & Friends, Jazz Jams and All-Star Jams!

4. Movies under the stars:
From classics to cult films, they're screening all-time favorites you've been waiting to watch (or perhaps, even re-watch) every night from 10pm onwards. So, why be a couch potato when you can have a mad time at The Lil Flea…under the stars? Take your friends, make it a date, get you your fam-jam or just go solo with your happy own vibe. Pre-register for these sessions if you are wise, as the numbers of headphones are limited.

5. Festival Bar:
If the weekend calls for a drink or two, make sure you drop by to The Lil Flea's Festival bar. There's 7 micro-breweries including the likes of Brewbot, White Owl, Independence Brewing Co, Plus wines of the world Plus Super fun cocktails plus sangrias, alcohol golas and slushies. Enough to keep you buzzing!

6. The Happy Lil Book Exchange:
Not only can you swap a book for another and give your book-shelf an upgrade, the Lil Book exchange lets you have conversations with fellow bibliophiles over some chai and cult classics.

7. Awesome Carnival games & Board Games:
Allow the kid in you to surface and jump on the trampoline, play the giant Jenga, do a little hula hoop, throw some dart, ring some rings or just cheer your friends as they try their hands at the heady assortment of carnival games that take you back a few years. For the board game lovers, borrow some board games from the board games booth! We heard there's Catan too. Enough said.

8. One Lil Tree:
Join this small but amazing movement to help improve the way we live and the air we breathe. Collect your free seeds to plant in your home, adopt a plant or learn the art of organic gardening.

9. Art:
The Lil Flea loves discovering new, upcoming and edgy artists who have something to say in a way that we all 'wow' over. There's live art for a cause, there's art on display by some cool up & coming artists and there's also collaborative art. Join them to further the art scenes in our beautiful city. 

10. Happy Vibes
And of course, there's always the happy in the air vibes when you visit The Lil Flea. Happy sellers, happy visitors, fun sit outs, beautiful bohemian décor all come together at this festival to make it one weekend to remember.
Music Schedule at The Lil Flea
Happy Lil Rules to follow at The Lil Flea, Mumbai
Rule #1 Don't forget to bring in them positive vibes.
Rule #2 Be yourself. Do your thing. Ain't nobody judging at The Lil Flea.
Rule #3 Get real with your style statement. The Lil Flea paparazzi will be on the lookout.
Rule #4 Save the appetite. Ditch the diet. Accept food coma with open arms!
Rule #5 Forget mainstream. Mainstream music. Mainstream fashion. Mainstream anything.

10 Reasons to be at The Lil Flea's 4th Anniversary
The Lil Flea 2018 Schedule
April 6, Friday - 12 Noon - Midnight
April 7, Saturday - 12 Noon -Midnight
April 8, Sunday - 12 Noon - Midnight
April 13, Friday - 3PM - Midnight
April 14, Saturday - 3PM - Midnight
April 15, Sunday - 3PM - Midnight
Brands to check out at The Lil Flea
There are over 300 brands to check out, but here's a selection of 25!
B:Kind | Blue Baksa | Aureole | Arabella | Angiya | LMNO | New leaf | Urban Suburban | Wandering Whites | Desi Hangover | Lola's Closet | Closet Code | Satva Living | Chaakmaati | Faaya Gifting | Soul Works | Suta | AmbarEla | Boriya basta | HappyBooch Kombucha | The Black Canvas | Swarang Designs | Whistle snacks | Coral Haze | The Linen Way

To read more about these brands, head here!
Throwback to the The Lil Flea April 2017
Venue
JioGarden, BKC, Mumbai
Pt No: RG1A, G Block, Bandra Kurla Complex, Bandra East, Mumbai, Maharashtra 400051