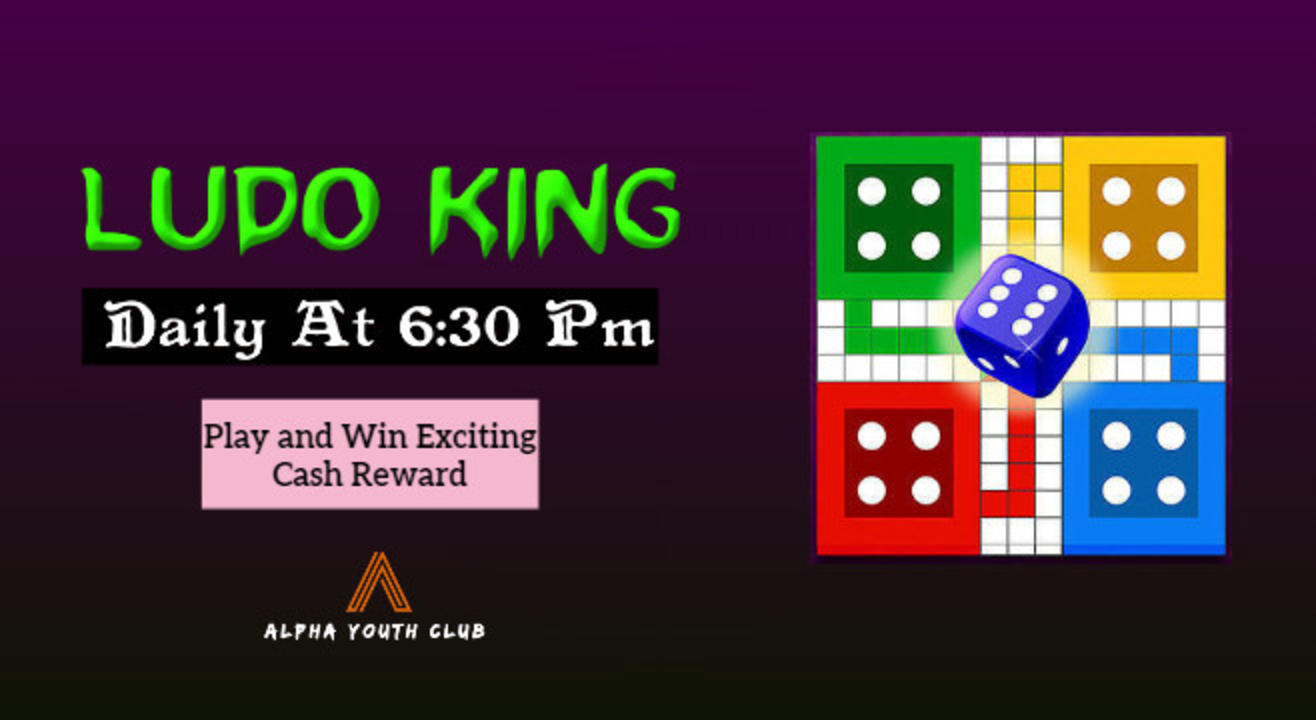 Enjoy this event from your home
Invite your friends
and enjoy a shared experience
Enjoy this event from your home
Invite your friends
and enjoy a shared experience
Invite your friends
and enjoy a shared experience
TIME TO PLAY LUDO FROM HOME !
To start off quarantine game nights we're hosting a series of LUDO.
Who doesn't love a good-online game of LUDO after a long day of work (and house work!)?
Join us for an online version of one of everyone's favourite game. Whether it's to take your mind off all the conference calls or between Netflix shows we're sure you'll have a great time.
Ludo Rules:
We will be sharing a unique Friend Code for you to join the game , before 10 min to the slot.
You have to open Ludo king App and enter a code in play with friend section which we will be share by us on whatsapp group.
Once you sign up, we will email you a link of the WhatsApp Group.
There will be Three rounds, winners from first round will play against each other in the 2nd round and winner of the second will play in final to find the Ludo Champion.
you will receive a room code before 10 min to the slot time on the day of event.
Further details will be communicated our WhatsApp.
PLAYERS IN PER SLOT
1. MINIMUM 12 to 16 Players in PER Slot, in which 4 player in per group.
2. Example : if total 16 player in slot then 4 group will made of 4-4 players.
3. In this 3 round will be played :
ROUND 1 :4 GROUP OF 4-4 PLAYERS FROM EACH GROUP 1ST 2 PLAYER WILL BE QUALIFY FOR NEXT ROUND .
ROUND 2 : 4 GROUP OF 2 - 2 PLAYER IN WHICH PLAYER KNOCKOUT WINNER QUALIFY IN FINAL.
ROUND 3 : IN FINAL 4 PLAYER WILL BE PLAYED AND SELECT TOP 3 WINNER.
*Subject to 16 player formate.*
IMPORTANT NOTE:
1). If you book ticket in your preferred time zone however the slot is full then your ticket will automatically be transferred to next available slot.
2).Tickets booked after the slot time will be shifted to next available Slot.
3).If your booked slot is not filled with minimum No. Players then your ticket will automatically be shifted to next slot it happens rarely.
4).Show details are subject to change as per the organiser's discretion.
5).No refunds on purchased ticket are possible even in case of any rescheduling.
6).Please ensure good internet connection so as to not hamper with your experience.
7).You may not be able to attend the live game if you are late.
8).Please be ready at least 10-15 mins prior to the time mentioned so that you don't miss the beginning!
9).Organizer shall not be responsible for any app crash due to client's end.
10).Admin call will be final. No arguments will be tolerated.
Leave all other work and be there for the whole session for a wholesome experience
Time to bring out your lucky charms! Join in!
FAQs:
Q: What is the age limit?
A: There is no age limit.
Q: How long will the event be?
A: Around 1 Hour.
Q: What are the things that will take place at the event?
A: Once you register our team will get in touch with you.
Family who plays together, stays together.
Enjoy this event from your home
Invite your friends
and enjoy a shared experience