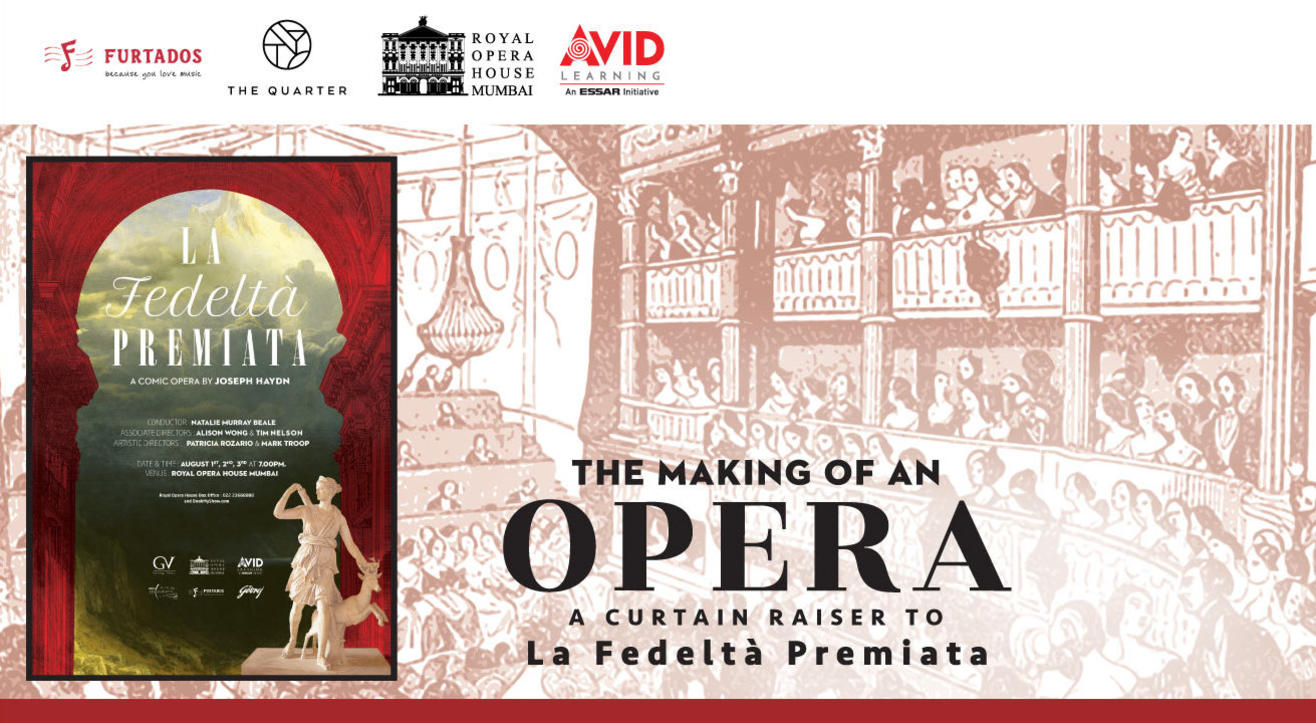 Music
The Making of an Opera with Mark Troop
The Royal Opera House, Mumbai
About
Royal Opera House, Mumbai in association with Avid Learning, Furtados and The Quarter is set to encore a third workshop in our Opera Appreciation series with Pianist and Opera Accompanist Mark Troop.
This workshop follows the success of our previous two workshops on the subject, which aim to provide rare glimpses into the world of this fascinating and hauntingly beautiful musical genre. Having laid much-needed historical and critical groundwork, Mark will now turn to more practical aspects of actually realising an Opera on stage- using our upcoming annual in-house production, Josef Haydn's La Fedelta Premiata, as a working example. This is an exciting opportunity for those who have only seen or heard recorded versions of opera to experience how it comes alive on stage. From production elements to costuming, from musical direction to set design this workshop will give you a complete behind-the-scenes peek into how an elaborate Operatic production is conceptualised, painstakingly put together and eventually becomes a living performance on stage.
Historical Production- discover Opera in the time of Haydn and Mozart
Contemporizing Opera – discover how an 18th century drama is made relevant for the 21st century Mumbaikar.
Live demonstration of Opera techniques with cast members to illustrate their roles (acting vs singing) and talk about the process.
Making opera real – Production Elements, Costuming, Set Design

Whether you are an enthusiast, connoisseur or just simply curious, do not miss this rare opportunity to witness an Opera coming to life!
Mark Troop, pianist, broadcaster and writer, is the founder of The Chamber Music Company, a creative performance group. As a solo pianist, he recorded Beethoven for BBC Radio 3, but soon branched into chamber music and song, founding the Chamber Music Company (CMC) with his wife, soprano Patricia Rozario, in the 1990s. The first of their festivals was the CMC Summer Solstice, which fused classical, new music and jazz and became the Ronnie Scott's of Classical Music (The Guardian). The Latin American Roadshow was the live version of a ground-breaking series of BBC recordings exploring Spain, Portugal and Latin America through music, literature, mime, dance, performance poetry and art. The CMC Rare Music Series restores unjustly neglected masterworks to public view, and works by Volkmann, Fibich, Rozycki, Jadassohn and even Mozart have been rediscovered. Second Glance Festival – a festival of second performances – was another ground-breaking festival, bringing new music more generally to public attention. It ran twice and toured British new music in South Africa, and is awaiting its own third glance. Mark Troop's excursion into European culture continued with I'm A Stranger Here Myself, a theatre piece featuring German Jewish cabaret between the wars. Following the China Now Festival in 2008, Mark Troop formed Yin Yang Collective, a collaborative East-west band featuring Chinese, Korean and Japanese instruments, traditions and musicians. Mark Troop's work in India, with his wife, has been to encourage interest in western music. Their foundation, Giving Voice Society, trains Indian vocalists of the future and provides opportunities for them both abroad and in India. The group has produces operas with entire Indian casts, a first in the sub-continent, and generates real excitement about western arts. In 2012 Mark Troop was invited to become a guest lecturer at Goa University, renewed in 2017, lecturing on music; and in 2015, with Indian pianist Parvesh Java, founded In Good Form, a high-level piano course training the next generation of Indian pianists and teachers.
About the Opera Production
In August 2018, Giving Voice Society, Royal Opera House and Avid Learning will stage 'La Fedeltà Premiata', a sparkling classical comedy by Austrian composer, Joseph Haydn. As is our practice, we shall be sourcing the cast from present and ex GVS students, and other talented Indian singers.

The opera in three acts was first performed at Eszterháza on 25 February 1781 to celebrate the reopening of the court theatre after a fire. This is Haydn's twelfth opera with a deliciously subversive plot. In the unlucky town of Cumae, faithful couples are sacrificed to a lake monster, making infidelity a good emotional life plan! After many amorous mix-ups involving local nobility and the monster's own High Priest, a solution is found, and the town can return to its happy monogamous ways.
The Quarter, the city's newest cultural headquarters comprises four distinct venues situated at the iconic Royal Opera House. Live at The Quarter (a live music venue), Drink at The Quarter (a cocktail bar), Café at The Quarter (an all-day café). The venues are a collaboration between four partners who have all contributed to the rise of the city's cultural scene - legendary musician Ranjit Barot, musician and entrepreneur Ashu Phatak (of Blue Frog and True School of Music), restauranteur Nico Goghavala (of Nico Bombay and Farmer & Sons) and businessman and investor (he's invested in Cafe Zoe and other restaurants) Nakul Toshniwal.

Avid Learning, a public programming platform and cultural arm of the Essar Group, has conducted over 900 programs and connected with more than 100,000 individuals since its inception in 2009. Driven by the belief that Learning Never Stops, AVID's multiple formats like Workshops, Panel Discussions, Gallery Walkthroughs, and Festival Platforms create a dynamic and interactive atmosphere that stimulates intellectual and creative growth across the fields of Culture & Heritage, Literature, Art and Innovation.

The Royal Opera House, Mumbai is widely touted as Mumbai's Cultural Crown Jewel and India's only surviving Opera House. The original idea for the space was conceived of in 1908, inaugurated in 1911 by King George V, and eventually completed in 1916. The design incorporated a blend of European and Indian detailing. The space became a cinema in later years before falling into disrepair and shutting by the 1990s. Fittingly, the space has been owned by the Royal Family of Gondal since 1952 and was eventually restored by conservation architect, Abha Narain Lambah under the leadership of the current Maharaja of Gondal, Shri Jyotendrasinhji. The Royal Opera House Mumbai, now one of the last remaining Baroque structures in the city, reopened after 23 years in October 2016. The building was included on the 2012 World Monuments Watch to raise awareness about its history and significance, and support preservation efforts. The building has since been recognized with an Award of Merit in the 2017 UNESCO Asia-Pacific Awards for Cultural Heritage Conservation. The restored facilities feature a 574-seater 3-level auditorium with an orchestra pit and state of the art technological upgradations, including acoustics, stagecraft, lighting and air-conditioning, alongside retaining the old world charm of the proscenium stage, the royal boxes and the magnificent regal chandeliers. Some more enhancements to the venue include a motorized screen, co-axial ceiling speaker system, Four-zone volume control and all round wifi access. Today, it stands as a key performance and creative hub in the city's cultural landscape, while being a premier heritage landmark. Facebook: www.facebook.com/royaloperahousemumbai/ Twitter: @MumbaiOpera Instagram: @mumbaiopera

Established in 1865, Furtados has always been a leader in the field of Western music education and knowledge in India. From musical instruments & accessories to print music and digital equipment, having a complete spectrum of musical instruments in the Western and Indian categories. Furtados has grown into a household name in the music business and are spread across Mumbai, Pune, Delhi, Chandigarh, Bangalore, Ahmedabad, Mangalore, Dimapur, Panjim and Margao. It has a growing retail network (17 showrooms) and over 350 dealer outlets. Furtados also holds a record number of international dealerships for top-of-the-line brands in music. www.furtadosonline.com is the quintessential Musical Instruments e-commerce site for India. In January 2011, Furtados launched a publishing joint venture with one of the world's leading music book publishers, Music Sales Ltd, UK. Music Sales Furtados (India) Pvt Ltd, is focused on publishing Indian editions of best-selling Music Sales books and special local content. Furtados School of Music (www.fsm.net.in) was launched in June 2011 to provide quality and organized music education to students and aspiring musicians across India. With the help of a path breaking international curriculum for the Piano, Keyboard, Guitar, Drums and Violin, they have been able to bring music to and currently teach over 25,000 students in over 70 points of presence. Furtados invests in developing musical knowledge through training workshops, master classes, clinics, demonstrations and exhibitions, and the sponsoring of local talent and artistes. Furtados also invests in community development and supports several organizations across the country, including school and college events, musical activity in religious and charitable organizations, festivals as well as social upliftment projects involving a musical element.