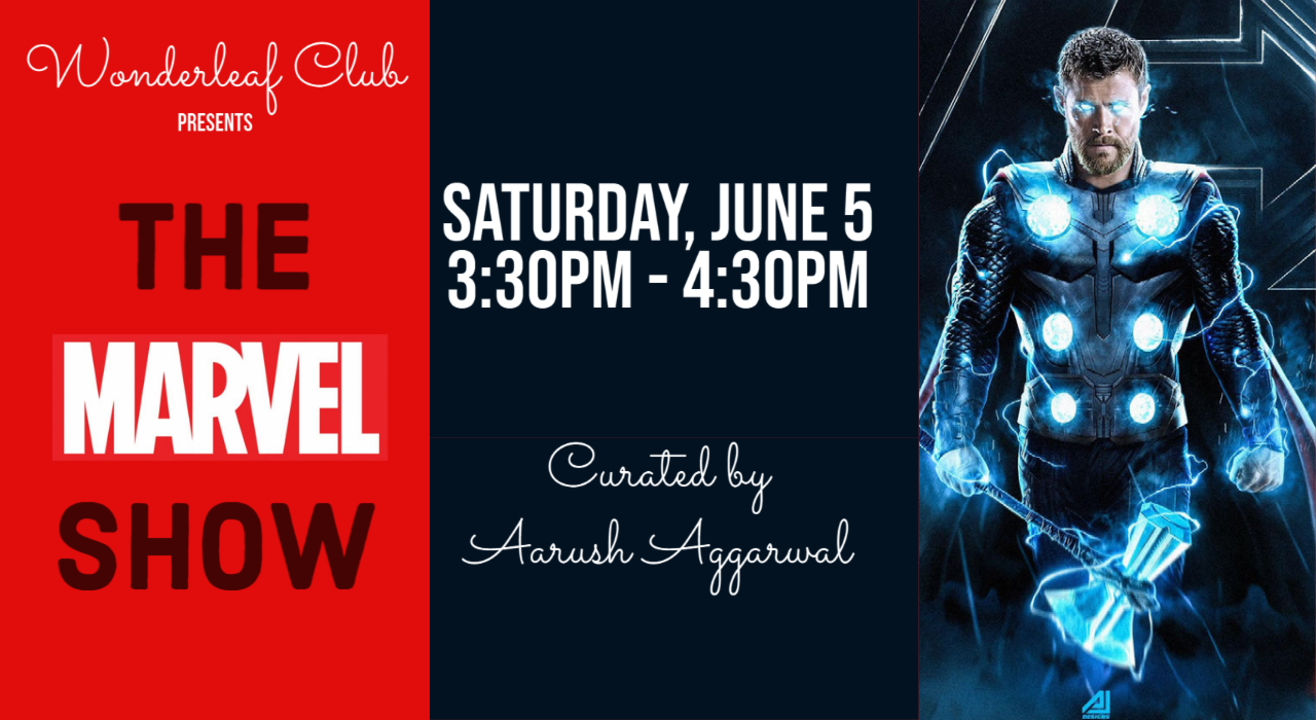 The Marvel Show by Wonderleaf Club
Event Guide
Interactive show
Be a part of the show
Invite your friends
and enjoy a shared experience
The Marvel Show by Wonderleaf Club
Event Guide
Interactive show
Be a part of the show
Invite your friends
and enjoy a shared experience
Event Guide
Interactive show
Be a part of the show
Invite your friends
and enjoy a shared experience
The Marvel Show under Contrive Series by Wonderleaf Club
Games, Stories, Quiz and Fun
ON SATURDAY, JUNE 5
3:30pm-4:30pm
ONLINE ON ZOOM
Curated and Hosted by Aarush Aggarwal
Aarush is 14 years old, studying in Grade 10. He has been a part of Wonderleaf Club for 4 years. He has an avid interest in Marvel. The MARVEL SHOW is all about MARVEL and how and why it is so captivating.
Join HIM and talk all about Marvel and increase your interest and knowledge in one of the most fascinating topic ever.
ABOUT CONTRIVE BY WONDERLEAF
Contrive means ' to Create using a skill' Our young members curate and host the Saturday Wonderleaf Meetup based on theme of their choice.
->Contrive by Wonderleaf are paid sessions with nominal fee of Rs. 99
->Funds collected will be 'DONATED to CHARITY'
Funds will be DONATED to Parichay Abhigyan Society, NGO in Bhajanpura New delhi
For supporting the education of the children of migrant workers
https://parichayonline.in/
About Wonderleaf Club
Wonderleaf Club is a creative learning oasis for children.
It is a community initiative for engaging children creatively.
The focus is reading and related activities like story writing, read aloud, vocabulary enrichment, art and craft
Do Follow us on Social Media
https://www.facebook.com/wonderleafclub/
https://www.instagram.com/wonderleafclub/
The Marvel Show by Wonderleaf Club
Event Guide
Interactive show
Be a part of the show
Invite your friends
and enjoy a shared experience