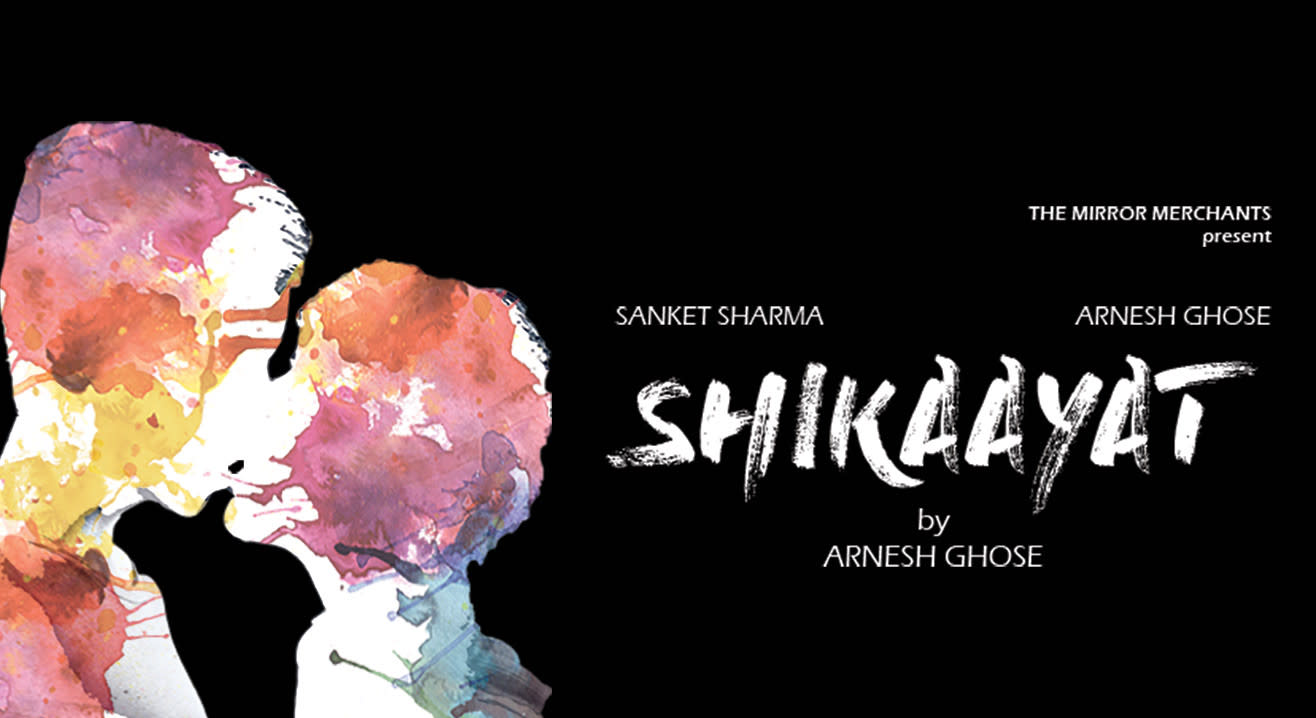 The Mirror Merchants Present Shikaayat
September 9 | 10 | 16 | 6PM & 8PM
Harkat Studios, Versova, Mumbai
Step out and enjoy this event
Invite your friends
and enjoy a shared experience
The Mirror Merchants Present Shikaayat
September 9 | 10 | 16 | 6PM & 8PM
Harkat Studios, Versova, Mumbai
Step out and enjoy this event
Invite your friends
and enjoy a shared experience
Invite your friends
and enjoy a shared experience
Yahaan se bahaut door,
Sahi aur galat ke paar,
Kuch nahi hai.
Yahaan raho mere saath,
Milkar raita phailatey hain.
Liaq was watching Waiting For Godot and wasn't enjoying it. He was bored. So, he leaned over to the guy next to him, Ved, and pestered him to leave the play and step outside for chai and cigarettes. Ved grudgingly agreed. Once outside, over chai and samosas, Liaq asked Ved out.
Spanning across ten years, Shikaayat is not a comfortable love story. Told through music, poetry, dance and letters, Shikaayat is an intimate journey about love and heartbreak, pain and happiness, detachment and desire. It explores the lives of Liaq and Ved, their budding romance and painful separation. Will Liaq and Ved ruin everything they have to be together? Will they go against society and their families to reunite? Will they succeed and survive – or just end up destroying each other, driven by unbridled passion, hunger and longing?
Who decides what is right and what is wrong? And what do you do when you crave someone more than anything else in this world?
Shikaayat is a two-actor play with live music, poetry and dance performances.
Arnesh Ghose
Arnesh Ghose is the founder and creative director of The Mirror Merchants. He has been working professionally on stage from the age of four, first as an actor and then as a writer in various theatre companies in Calcutta and then in Mumbai. He has also acted in some TMM productions.

Sanket Sharma
Sanket Sharma is a cast regular with The Mirror Merchants. He has starred in most of the recent productions of the company, playing the lead actor in plays like MURGISTAAN, CHAARPAAI and ANDHERI.
Harkat Studios, Versova, Mumbai
HARKAT STUDIOS, BUNGALOW 94, FIRST FLOOR, ARAM NAGAR 2, VERSOVA, ANDHERI WEST, 400061-MUMBAI
GET DIRECTIONS