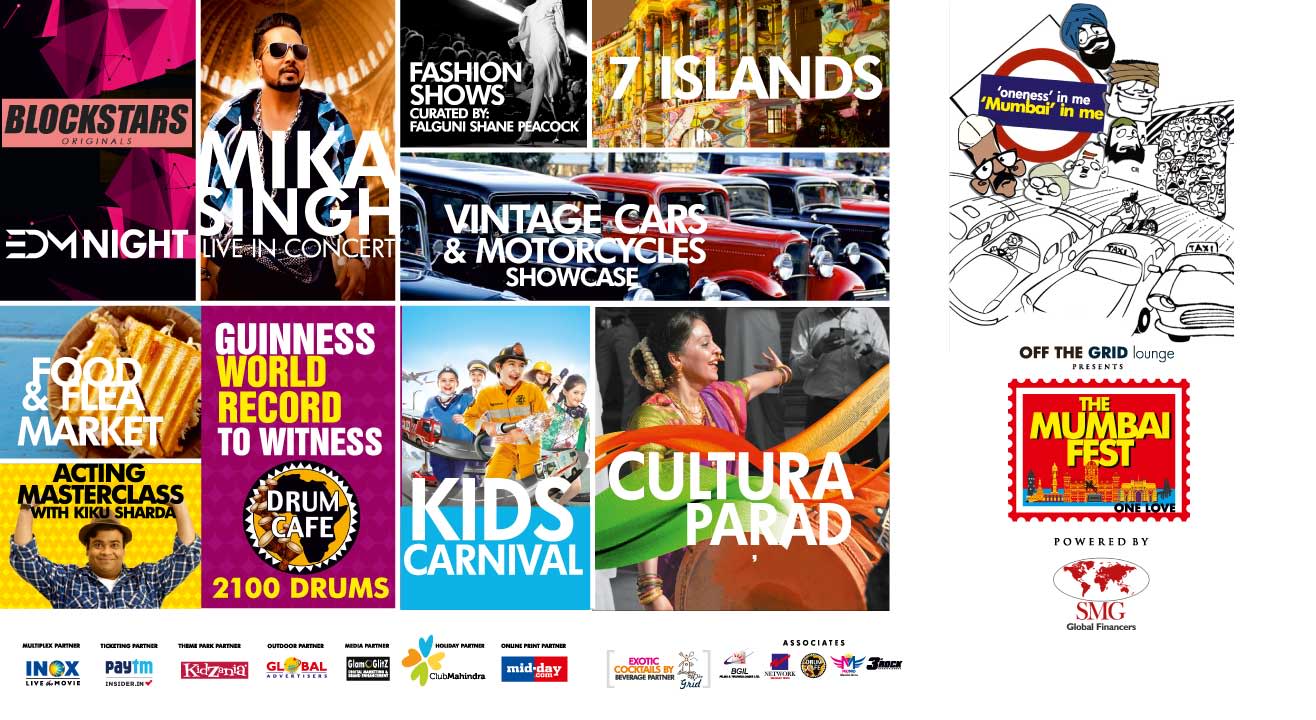 Music
About
A first of it's kind THEME FEST with a magnificent set of SEVEN ISLANDS!
Start your year with the BIGGEST thing happening in the city - THE MUMBAI FEST! It is a first of its kind fiesta that celebrates the soul of Mumbai. On the 26th, 27th & 28th of January get a chance to experience a dynamic blend of the city's culture on a magnum opus re-creation of the city's SEVEN ISLANDS - Art, M.A.D (Music and Dance), Heritage, Bollywood, Street food, Central and Mumbaikars Island. The festival will be hosted at MMRDA grounds, BKC spread over 2 lakh sq. ft. of ground breaking excitement! Drum Café – World's Number One interactive drumming company is all set to break a world record. Imagine! The sound of 2100 drums orchestrating at once!
Feel, See, Hear and Taste more of Mumbai as the city comes together to indulge in mouth-watering flavours and glamour in all its glory. The Cultural Parade at the opening ceremony is definitely not something to be missed! Witness The Mumbai Fest Parade with 7 Islands Culminating onto the Central Stage in a Cultural explosion of Lavani, Lezim, Dhol, Tasha, Garba, Bhangra and Gidda. With Kidzania on board, the 13,000 sq.ft kid zone will be nothing short of a Child's Paradise. Join us in our initiative of a HUNGER FREE, SHARING AND CARING, PLASTIC FREE SWACCHA MUMBAI. In the wake of the need to conquer current day alienation, The WORLD PEACE CHARTER will be signed by religious leaders from the world over to promote a common message of peace. Get the best MUMBAI EXPERIENCE at THE MUMBAI FEST!
Mika Singh
Live In Concert on January 26, 2018 @ The Mumbai Fest
Catch the crowd favorite star setting the stage on fire at THE MUMBAI FEST on January 26, 2018 at 7PM! Join Mumbai at MMRDA grounds, BKC for a first of its kind theme fest #themumbaifest!