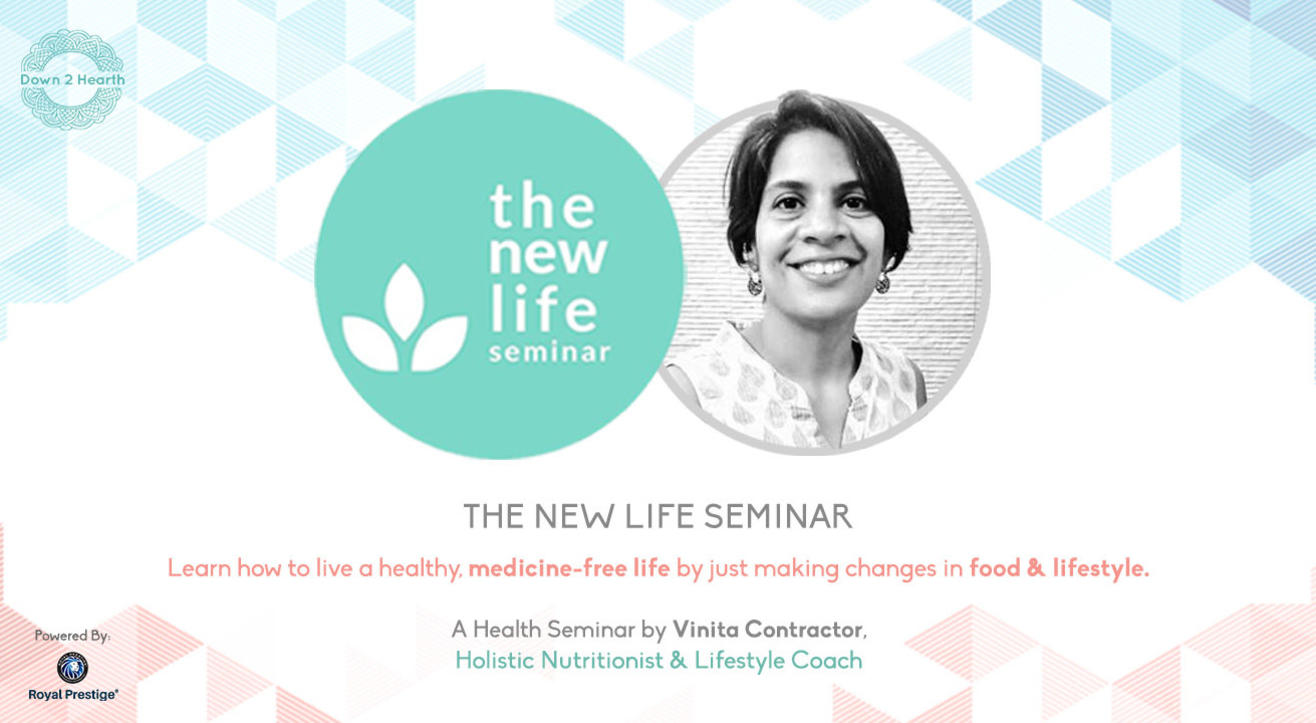 Health
The New Life Seminar
The Integral Space, Lower Parel
About
The NEW LIFE SEMINAR is a unique, day-long Health Seminar, by Vinita Contractor, Holistic Nutritionist & Lifestyle Coach and Founder of Down 2 Hearth (www.down2hearth.com).
his seminar is designed to empower individuals with all the key tools and simple methods to:
Lose weight easily in a healthy and sustainable way
Reverse lifestyle diseases such as Diabetes, Hypertension, Cholesterol, Obesity etc. or to never get them in the future
Live a life without medicines
Experience boundless energy and vitality
Provide a sound nutritional foundation for their children
all this just through changes in FOOD & LIFESTYLE....
The seminar includes:
5 sessions – comprising of lectures, videos and interactive activities covering key topics of Nutrition, Lifestyle, Reconnecting with nature & a lot more (with 4 breaks in-between sessions)
4 food tasting sessions
A sumptuous NEW LIFE lunch
THE NEW LIFE SEMINAR Journal
The seminar will be followed by The New Life Master Cooking Class on Sunday July 28th - where you will learn about all the methods and recipes to bring nutritious and flavourful food into your kitchen. Please note it is mandatory to purchase a ticket. Entry will not be permitted without a ticket. You can purchase your ticket here - https://bit.ly/2Y8IEan
Vinita Contractor, is a Holistic Nutritionist, Lifestyle Coach and founder of Down 2 Hearth. She is certified in Plant- based Nutrition, US, Raw Food Nutrition, UK and Wellness Culinary, US, Nature Cure and Ayurvedic Diet, India. She is based in Mumbai where she regularly conducts cooking workshops and offers health consultations. She has been featured several times in newspaper publications such as Mumbai Mirror, Midday. Hindustan Times, Asian Age, The Hindu etc. She has also taken cooking demos and workshops in other cities in India as well as in Bali, Indonesia, Singapore and in the UK. She offers health consultations for weight loss and disease reversal of lifestyle diseases through WFPB foods and other holistic approaches. She also has a YouTube Series of Vegan Cooking which offers in- depth and easy substitutes as well as interesting dishes to support all those who would like to adopt this lifestyle.
Is it better to come alone or with my family?
We prefer you come along with a family member. Please sign up with your spouse/parents/children or even a buddy for this workshop. It makes switching to the NEW LIFE much easier when you have the support and the company of your loved ones.

Who is the speaker?
Vinita Contractor, Holistic Nutritionist & Lifestyle coach. To know about Vinita, follow this link https://down2hearth.com/about.asp

What language will the Seminar be conducted in?
English

Is there a parking space nearby?
Yes but it is not provided by the venue. You can use a pay and park facility at High Street Phoenix, Palladium. It would more convenient to use Uber/ Ola or public transport.

Is there wheel – chair access to the venue?
Unfortunately the seminar will be conducted on the 1st floor of the venue where there is no wheel- chair access.

Can I bring my kids? Is there an extra charge for them?
The content of the seminar is not of the nature which a young child would connect to. Also it is maintain a certain learning atmosphere during the seminar. The price of the ticket for children above 12 is same as that of an adult.

Can I buy tickets on the day of the Seminar at the venue?
No. All bookings have to be made in advance, through our website.

What is meant by food tasting?
The portions have been predetermined and will be sufficient for a light meal (not lavish buffet style) and will give you a good idea of how the NEW LIFE food is.

How can I contact Down 2 Hearth?
Please send us a Whatsapp on +91 93726 18873
The day is split into 5 sessions by Vinita Contractor, 1 long lunch break& 4 short food tastings breaks.

10.00 – 11.15 am - Session 1
(1 hour 15 minute)
- Understanding what is health
- Disease and why does it occur
- The natural healing power of the body
- Reasons for today's health scenario

11.15 to 11.30 am - Food Tasting 1
(15 minutes)

11. 30 to 12.30 pm - Session 2
(1 hour)
- Lifestyle changes & reconnecting with nature
- simple and effective methods.
-Digital overload & how to handle it
-Mindful eating
-Impact of habits & the way out

12.30 – 12.45 pm - Food Tasting 2
(15 minutes)

12.45 to 2.00 pm - Session 3
(1 hour 15 minutes)
- Nutrition
-The NEW LIFE Food Principles
-Diet Chart
-How to reverse lifestyle diseases & hormonal issues

2.00 to 3.00 pm - Lunch Break
(1 hour)
The NEW LIFE lunch

3 to 4.15 pm - Session 4
(1 hour 15 minutes)
- Gut health
- Acid & Alkaline balance
-Vitamin D3, B12& Omega 3
- Guidelines for children

4.15- 4.30 pm - Food Tasting 3
(15 minutes)

4.30 to 6.00 pm - Session 5
(1 hour 30 minutes)
- Mental Wellbeing
- Q & A
- How to proceed & get support

6.00 pm - Food Tasting 4

Book any workshop ticket and get a 7-day cult.fit pass FREE. Offer valid till 31st September. (T&C apply) Click here for more information
Venue
The Integral Space, Lower Parel
14, Janata Estate , Opp. Palladium Mall, Lower Parel West, Lower Parel, Mumbai, Maharashtra 400013