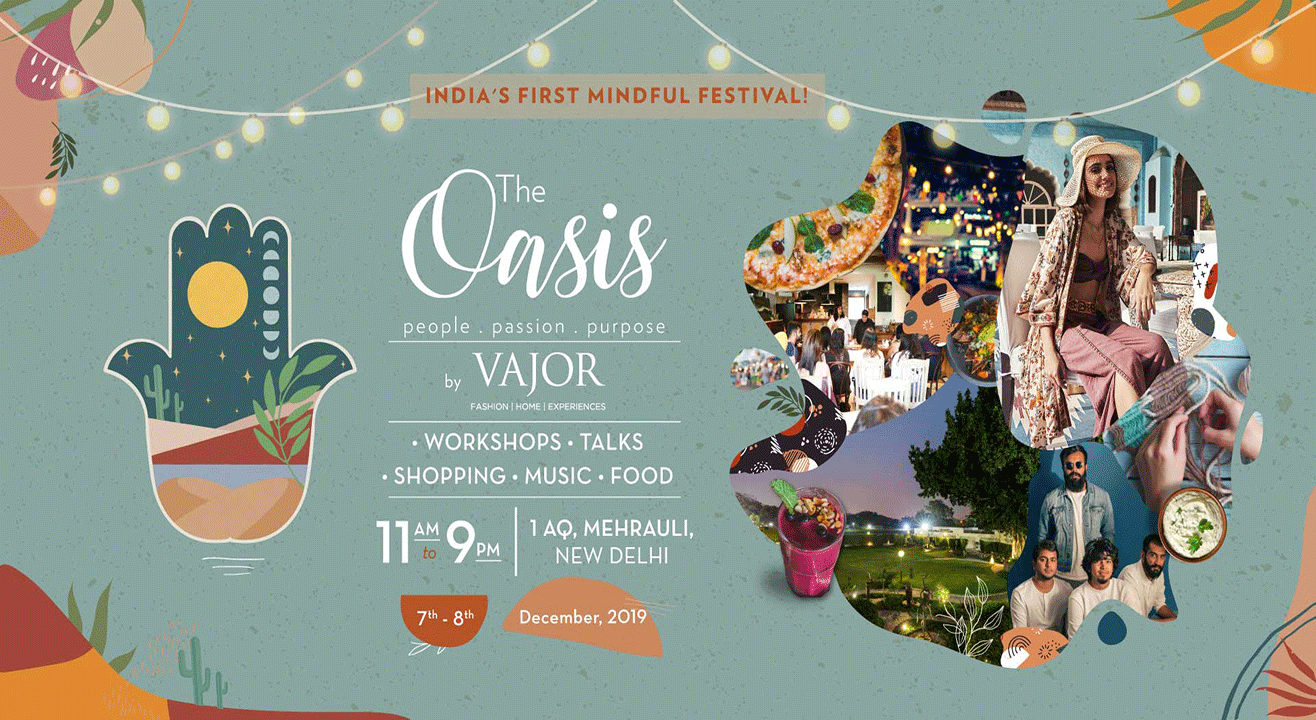 Gallery 1AQ, opposite the Qutub Minar
Step out and enjoy this event
Invite your friends
and enjoy a shared experience
Invite your friends
and enjoy a shared experience
About the Event
Set in motion by the power of a tribe! The Oasis by Vajor is a two-day celebration of arts, music, mindful fashion and home decor, collaborations, cultures and cuisines but most importantly, it is a celebration of a conscious lifestyle. More than just a festival, it is aptly an 'Oasis' for the like-minded, the conscious modern bohemians to come together to create, cultivate & collaborate. It's a place where you can come along with friends, family & kids because there is something for everyone.
What to expect over the two days to have an amazing weekend?
Talks: Bringing great thinkers & influencers on one stage & listen to them advocate, express and engage in meaningful conversations
Music & Entertainment: Celebrate music & immerse yourself in the tunes of some of your favourite homegrown indie bands
Workshops: Get hands-on experience from passionate artisans on rich and super fun artistry workshops
Pop-ups: Shop through a flea of our local fiesta concocted with mindful food, fashion and brands
Food & Beverages: Pamper yourself with some of the best curated brands and scrumptious food and beverages
Mindfulness: Witness an ecosystem that grows in harmony and facilitates each other's growth by carving a lifestyle that is conscious, balanced and soulful.
Musical acts to look forward to
Day 1 - 7th December
A Knotty Affair: Macrame Workshop
Learn the relaxing art of knotting Macrame, one stitch at a time, to add beautiful contemporary bohemian vibes to your space.
Live Gently: Upcycling Workshop
Don't let your old clothes wear out the world. Learn how to use up cloth scraps to create your own lamp in an upcycling workshop.
A Clayful Date: Pottery Workshop
Therapeutic and enriching, learn slab building & pottery without the wheel. What's more? Take your self-curated 'work of art' home.
The Fluid Art: Resin Workshop
Fluid, experimental and aesthetically pleasing, learn & explore the trending epoxy resin art to make magnificent 'beach coasters'.

Day 2- 8th December
Painted Pages: Journaling Workshop
No rules! No expertise! Explore art journaling as a place of free-expression of all that you see, hear, smell & feel in unique colorful ways
Reverse Decoupage
Decoupage with all the fun & none of the fuss! Unlock this exciting DIY on a plate to be used for serving or unique home decor.
Brush Strokes: Lettering Workshop
Handmade is special! Learn the art of pen lettering & calligraphy and personalise gifts for loved ones or take home a hobby.
Earth's Bounty: Mindful Eating Workshop
Have a lot on your plate? Develop a healthy relationship with food & take home some organic on-the-go recipes to eat mindfully.
Anamika Singh

Tea Sommelier and Founder of Anandini Himalayan Tea is a boho at heart. She loves travelling & hosting tea tasting ceremonies & events. Anamika brings on the table, knowledge and passion in a delicious brew. Navigating between Dharamshala and Gurgaon she has kept traditional 'purist' roots as well as the rapidly evolving market of demanding expats and the Indian tea 'connoisseurs'. Her brand 'Anandini Tea' today finds place at a multitude of places from PVR complexes to leading hotels, cafes across the country.

Deeba Rajpal

A compulsive baker​, food stylist & photographer​, Deeba shares her creativity, idea, recipes & food styling tips & hacks one her blog passionateaboutbaking.com. Tracing her philosophy of 'food that looks great as much as it tastes', she has accumulated a scrapbook of some of the best food styling & photography. A locovore, as her fans call her, Deeba is a string believer of baking from scratch using whole foods. She's also recently signed her first dessert cookbook with Penguin Random House to be released in 2020.

Angel Bedi

Always found doodling in her notebook while the teacher gave notes, Angel Bedi a.k.a. The FIlmy Owl of Instagram, is unapologetically & passionately in love with doodling & the HIndi cinema. Calling Amrish Puri her muse, Bedi is famous for her quirky witty doodles. Making a living out of romancing art? This woman is doing it right!

Himmat Anand

A well placed name in Indian travel industry, he started his own chain of luxury hotels and resorts 'Tree of Life Hotels & Resorts' in 2008. He has also recently in October'19 started 'A dog's story' one its kind exclusive pet properties in India. Himmat's experience and eye for detail for domestic and inbound travellers has led to his collection of boutique experiences. With several awards and accolades at global and India level, Himmat with 30 years of travel experience keeps curating & surprises markets with his creativity in the travel scene.

Mansi Shah

A significant part of the Bombay Hemp Company (BOHECO), Mansi comes from a background in fashion communication (NIFT, Mumbai), and footwear design. Her tryst with sustainability began when she watched 'True Cost' and started reading up about the ill-effects of the fashion industry. Today, her goal is to make the textile industry more responsible and less wasteful through educating and enabling people from different parts of the textile supply chain.

Nayantara Parikh

A cinematography student, Nayantara Parikh made the shift to still photography in 2014. She has worked with the best minds in film from Nike, Jimmy Fallon to Mumford & Sons Gucci, Dior, Burberry to name a few. Her work has been published in Raghu Rai's Creative Image Magazine, Elle, Harpers Bazaar Bride, Verve Magazine and Vogue.
Gallery 1AQ, opposite the Qutub Minar
Qutub Minar Complex Rd, Seth Sarai, Mehrauli, New Delhi, Delhi 110016
GET DIRECTIONS