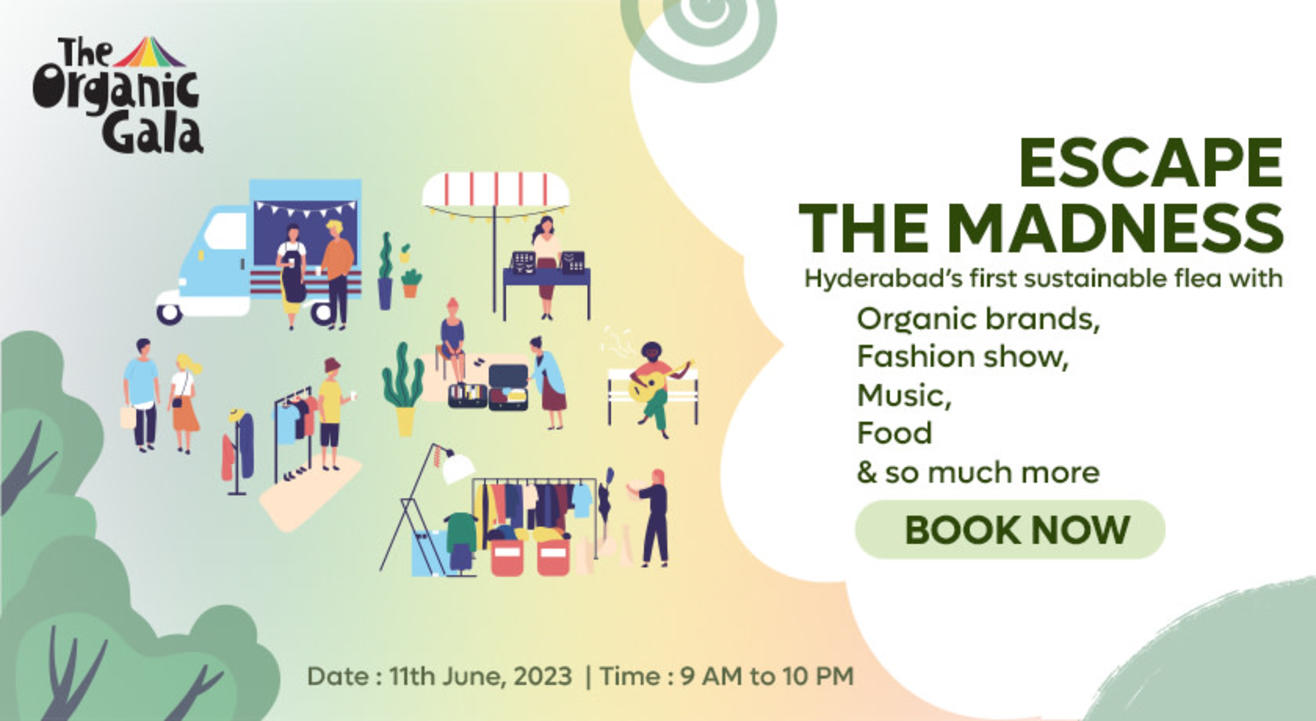 Invite your friends
and enjoy a shared experience
Invite your friends
and enjoy a shared experience
Invite your friends
and enjoy a shared experience
The Organic Gala is a rejuvenating mix of the most soul-enriching activities like Yoga, Meditation, Music, Dance, Planet-friendly Shopping, and so much more. It's a day to escape the madness, embrace sustainability, and just flow with the good vibes as you rediscover joy through the most earthy and natural experiences ever. It's really The OG of all fleas! The evening will conclude with a sustainable fashion show by Asmita Marwah and Live Performance by Threeory Band.
The Organic Gala is an annual fundraiser for Democratic Foundation an organisation working to forge social transformation in rural India through its flagship Rural Women's Leadership Program and The Right to Education Campaign.
*Tentative Day Schedule:*
- 8:00am to 9:00am - Meditation & Sound Bath by Shama Meghe
- 9:00am to 10:00am - Hatha Yoga by Regina Cassandra and Sharmila Hirendranath
- 10:00am to 10:30am - Breakfast & 70+ Sustainable Brands' Stalls open for Public
- 10:30am to 11:30am - Revered Daaji (Kamlesh D Patel) in conversation with Regina Cassandra and Sri Charan Lakkaraju
- 11:30am - Ecstatic Dance by Bharathi K Jaisingh
- 12:30pm - Kids Arena Opens
- 12:30am to 1:30pm - Natural Dyes Workshop by Manya Cherabuddi
- 1:00pm - Other Art Workshops Open
- 2:00pm to 4:00pm - Soap Making Workshop by Saaka Organics
- 4:00pm - Nutrition Workshop by Sridevi Jasthi
- 5:00pm - Herbal Beverages Opens
- 6:30pm to 7:30pm - Sustainable Fashion Show by Asmita Marwah, Rajyalakshmi Gubba and Shashank Chelmilla
- 7:45pm fo 8:00pm - Natu Natu Live by Rahul Sipligunj
- 8:30pm to 10:30pm - Threeory Band Live
Please Note: The Sustainable Stalls and Food Courts are open throughout the day
This is an event for you to revel in pure and organic fun. By attending this event you will contribute your bit to sustainability, climate action, social change and women empowerment.
Plastic is strictly prohibited here. So please avoid carrying any plastic items.
N Convention
Lane opposite, Diagonally Opposite Cyber Tower, Madhapur, Plot 2-92/1, N Convention Rd, Near Shilparamam, Hyderabad, Telangana 500081, India
GET DIRECTIONS
Invite your friends
and enjoy a shared experience