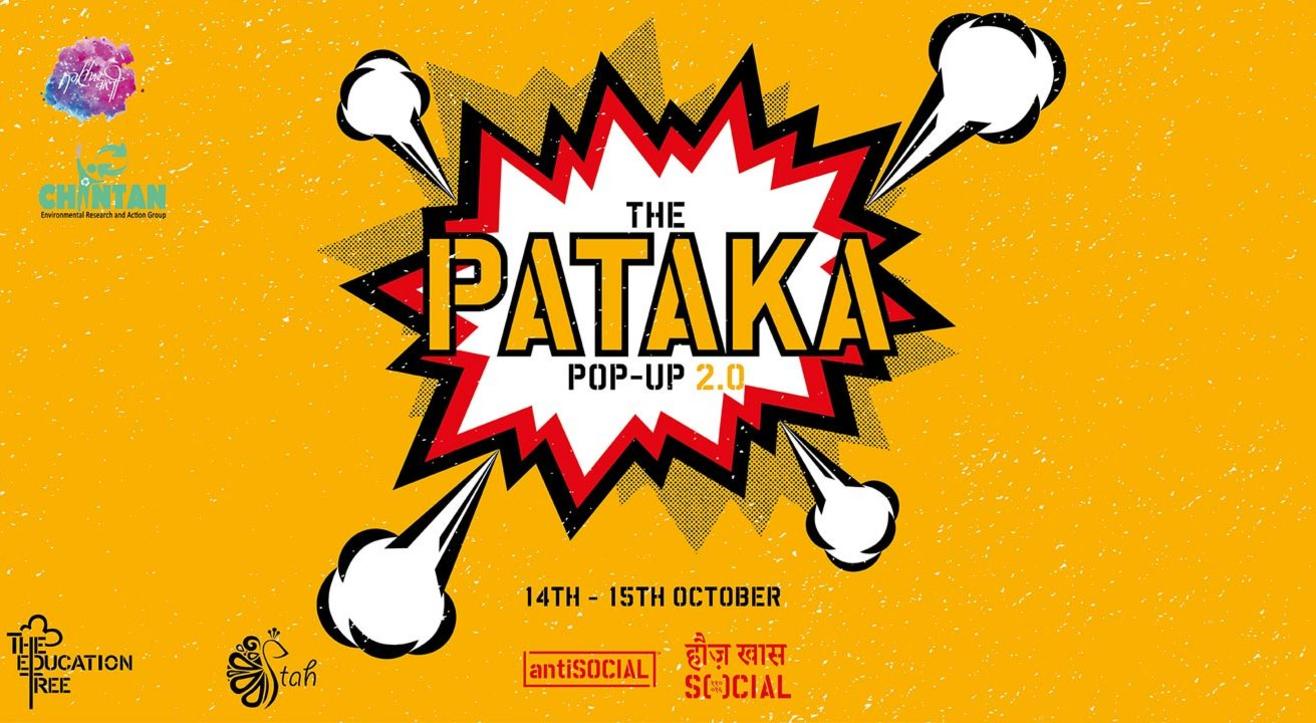 Drinks & More
The Pataka Pop-Up 2.0
Antisocial, Hauz Khas Village
About
This Diwali, we suggest indulgence in shopping & drinks, as opposed to crackers that cause health issues, noise pollution, air pollution & wastage.
Imagine spending a Sunday shopping from quirky brands like Nakhre Waali & sipping a really cool drink called a Laxmi Bomb. Come on over, a week before Diwali to tick all your boxes! We have a #GetOffline on Air pollution with Chintan, an artsy workshop with Ptah Workshops & a stand-up act with your favourite comedians too! What's more? The Education Tree & Chintan are putting up a gallery with all-you-can-know facts & photos about the consequences of a cracker filled Diwali.
Partnering with The Education Tree, Chintan, Ptah & Nakhre Waali
The Education Tree: TET is India's fastest growing youth community, operating across a network of different schools and universities. It aims at providing a platform to the youngsters to follow their passion and enhance their skills.
Nakhre Waali: Indian handcrafted contemporary jewelry.
A thought. An idea. A woman
Chintan: Chintan Environmental Research & Action Group works for environmental sustainability in partnership with people and groups from diverse sections of society. Their focus is on ensuring equitable and sustainable production and consumption of materials, and improved disposal and management of waste.
Ptah: Ptah organizes rare ART & CRAFT workshops by great ARTISTS and MASTERS in uncharted tranquil spaces. They Paint. They Sing. They dance. They're all about the creativity!
About Social: Remember when being "social" meant that you actually MET people? Come rediscover the joy of being Social. Offline.
What if your workspace looked more like a super cool café rather than a cubicle? What if your boardroom had a bar attached?
Social blends the best of the office and the café. Social is the land of the free(lancer) and home of creative souls looking for an exhilarating alternative to a typical work day. In Bangalore, Delhi and Mumbai, Social is a path-breaking urban hangout that's designed to take you offline while still keeping you connected; a place where networking can happen even if the net's not working (don't worry, the net's always working).
Social is a collaborative workspace, a hub for artists, designers, and innovators. It's where entrepreneurs meet photographers, writers meet web developers, creative independents meet to bounce ideas off like-minded peers.