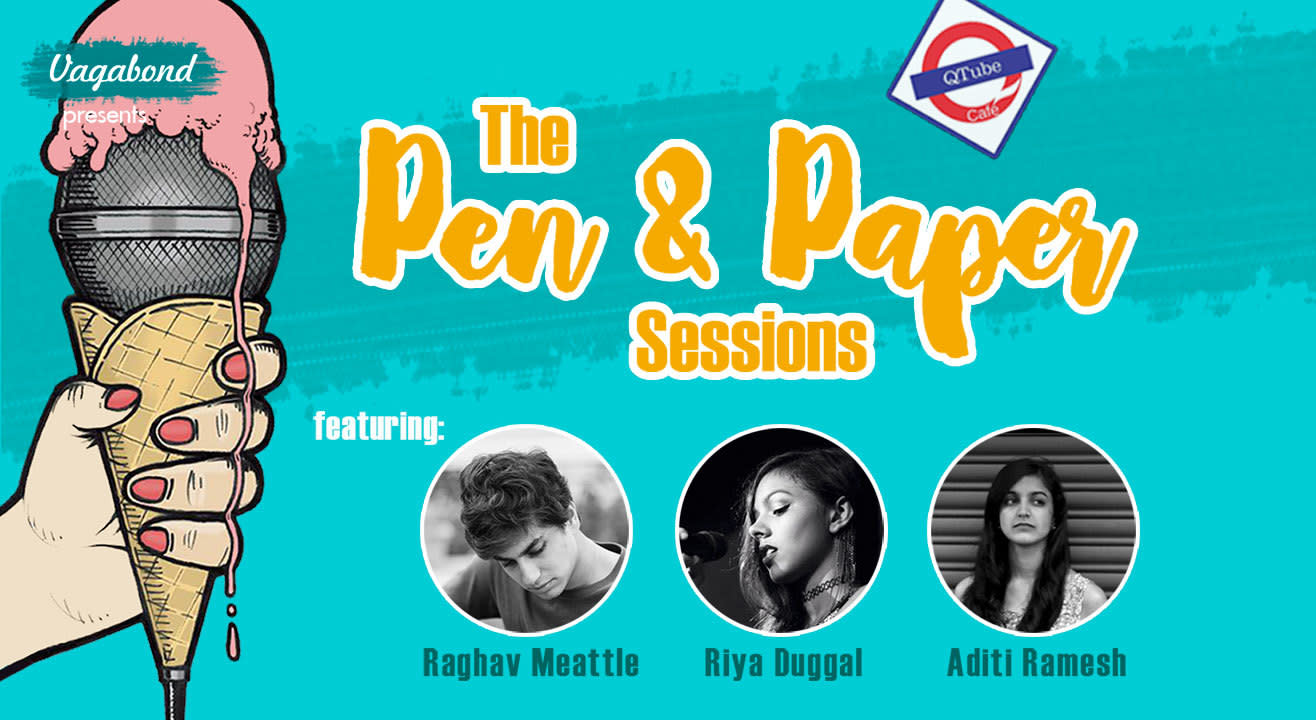 Comedy
The Pen and Paper Sessions 2.0 - A Singer/Songwriter Showcase
About
This is a stage for the makers of music to take the spotlight. The Pen and Paper sessions in their second series, want to bring together singers, songwriters, and musicians from all over the city.
This is the place to discover new artists, hear them share their stories and learn from the older and the wiser.
It's free entry and promises great people and positive vibes.
There is limited seating but unlimited free coffee, so make sure you turn up early.
Raghav Meattle
He's a singer-songwriter who just moved to Mumbai to give music that one shot. Raghav was the semifinalist on the second season of 'The Stage', an English reality TV show airing on VH1 and Colors Infinity. It was the show that made him realise he wanted to do music, something that he'd enjoyed and worked with from school and college but had always taken a back seat. Prior to moving to Mumbai, he was working at an early stage startup in Bangalore. With a lot of emphasis on lyrics and melody, 'simple and catchy' would be the best way to describe his music. Head over to his YouTube channel to hear more of his stuff!

Aditi Ramesh
Aditi Ramesh is an exemplary vocalist, songwriter, and producer with a herculean voice complimented by a range of techniques and tonal modulations. Having been inspired by the blues, jazz, and traditional Carnatic music, in which she was trained in her childhood; her organic exploration into different genres ever since has been a hallmark of her development. Formerly a corporate lawyer at AZB, the top law firm in the country, since quitting at the end of 2016, her musicality has experienced exponential growth in her soundscape, with her performance incorporating electronic drums and live keys, in which she has been classically trained through western music theory for about a decade. Also known to hone extraordinary culinary skills, she's a favourite at fleas, integrating her pop ups with exhilarating music performances.

Riya Duggal
Riya Duggal is a 20-year-old singer-songwriter and is one-half of the pop duo, Simetri. She began writing songs when she was 14 years old to put her feelings to words and realised that it was something she wanted to do for the rest of her life.
Since then, she has performed with her band at a number of venues- Blue Frog, Hard Rock Cafe Andheri, Tuning Fork, The Stables, etc. and has been featured in VH1 Music Diaries.
She has sung in the Filmfare-winning background score of Kapoor and Sons and also Baar Baar Dekho, apart from numerous ad jingles. Her songs have enchanting but catchy melodies. She writes about love and heartbreak, and the intricacies of human nature.