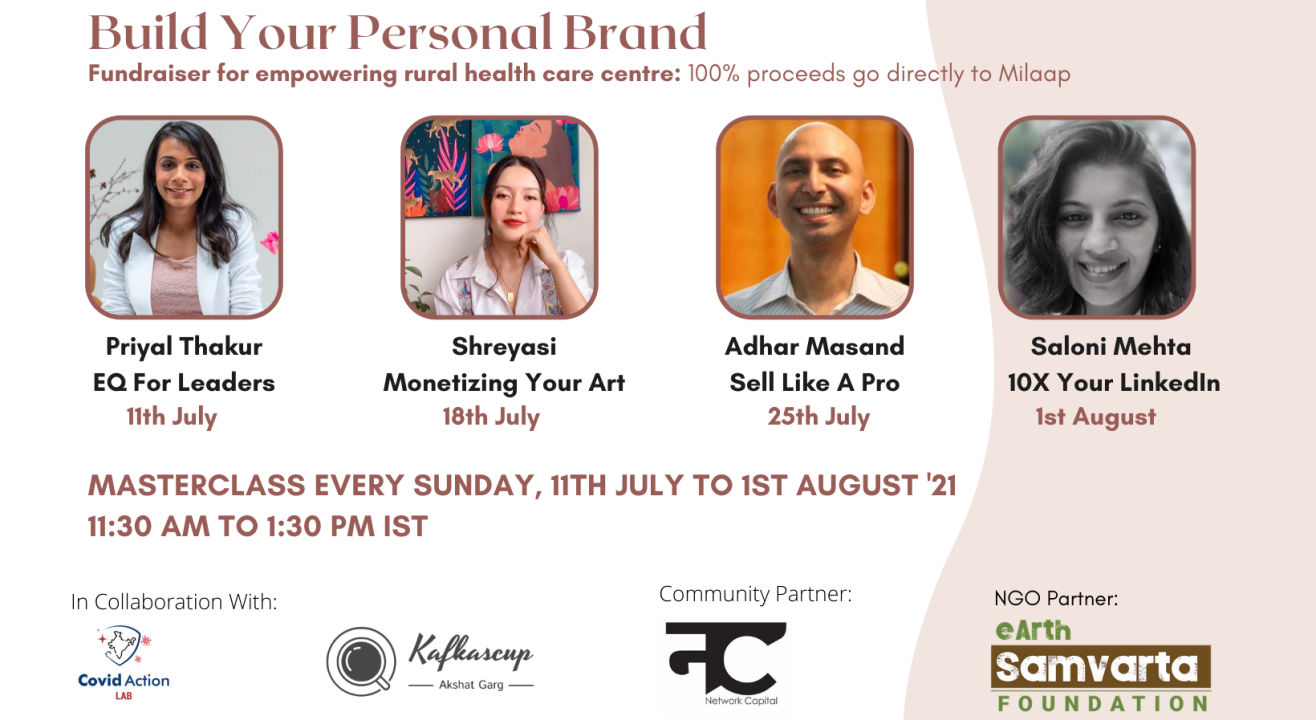 The Personal Brand Bootcamp
July 11 | 11:30AM - August 1 | 1:30PM
Enjoy this event from your home
Event Guide
Masterclass
Learn from an expert
Invite your friends
and enjoy a shared experience
The Personal Brand Bootcamp
July 11 | 11:30AM - August 1 | 1:30PM
Enjoy this event from your home
Event Guide
Masterclass
Learn from an expert
Invite your friends
and enjoy a shared experience
Event Guide
Masterclass
Learn from an expert
Invite your friends
and enjoy a shared experience
All funds raised through the workshop will go towards empowering the health centres in rural India. An 80G will be issued to you by eArth Samvarta Foundation. Please provide the Pan card details and address for the same.
Here we are - It's "Back to work" time. As we adapt to new contours of the times, and industry - we bring to you the 4 essential workshops every professional must attend:
Here is the expert lineup:
Priyal Thakur: Emotional Intelligence Coach | Ex-Scientist, Biopharmaceuticals: Priyal helps purpose-driven individuals, innovators, entrepreneurs and youth use key EQ skills to follow their intentional goals and build empathy, collaboration and connection! Catalyze your personal and professional growth as a leader, learn about why EQ is important in 2021, equip yourself with practical EQ tools to implement and practice right away. Get your free Unlocking EQ report when you sign up!
Shreyasi: A self-taught artist, I started my career in 2015 as a content writer at Vajor, a fashion & lifestyle brand and over the years evolved into Head of Content and an in-house Artist. Losing my job to the pandemic in 2020 inspired the right turn that led me to freelance and licensing my art globally. In April 2021, I launched my own Art & Decor label called April Moon. Art for me is a tool of self-expression. I believe with the right combination of resources, awareness and tenacity, "struggling" doesn't have to be a prefix for all Artists.
Adhar Masand: Adhar will provide a hands-on session about sales tactics and how to apply them. In the workshop, you will learn how to think about sales the right way, create a draft plan and key actions on how to put it in play. Be it a product, a service, or your own brand, I'll walk you through the steps to put your sales journey into action.
Saloni Mehta: Founder | Amateur Poet | Adrak Chai Aficionado: I quit corporate in 2019. I had no clue what next. 2 years later – I help people find their authentic voices and own their narratives. An ex- LinkedIn employee, I specialise in helping folks get leads, get hired and build their personal brand with a special focus on LinkedIn. My clients include CXO's and Directors, VP's and mid-career professionals from top MNC's to small enterprises. 6 industries and 5 avatars later I realised: "In a world of orange oranges, I just need to be a blue orange"
About the fundraiser:
https://milaap.org/fundraisers/support-foundation-1
All funds raised through the workshop will go towards empowering the health centres in rural India.
Cause: With the COVID second wave crisis, the entire nation realised that there is a need to uplift the healthcare infrastructure. People from rural areas suffered and succumbed in silence with only Community Health Centers operating at a very basic level and a lot of resources lacking to battle this pandemic.
Implementation partner: eArth Samvarta Foundation (eSF) is one of the designated nodal NGOs for COVID 19 relief under NITI Aayog. Throughout its COVID 19 relief efforts since the pandemic broke last year, special attention has been given to empowering health infrastructure, especially for rural India.
This fundraiser aims to empower a Community Health Centers (CHCs) as a MODEL CHC with critical equipment like oxygen beds with Oxygen concentrators and Cylinders and equipment like refrigeration systems to store Vaccine doses safely and reduce vaccine wastage..
The Personal Brand Bootcamp
July 11 | 11:30AM - August 1 | 1:30PM
Enjoy this event from your home
Event Guide
Masterclass
Learn from an expert
Invite your friends
and enjoy a shared experience