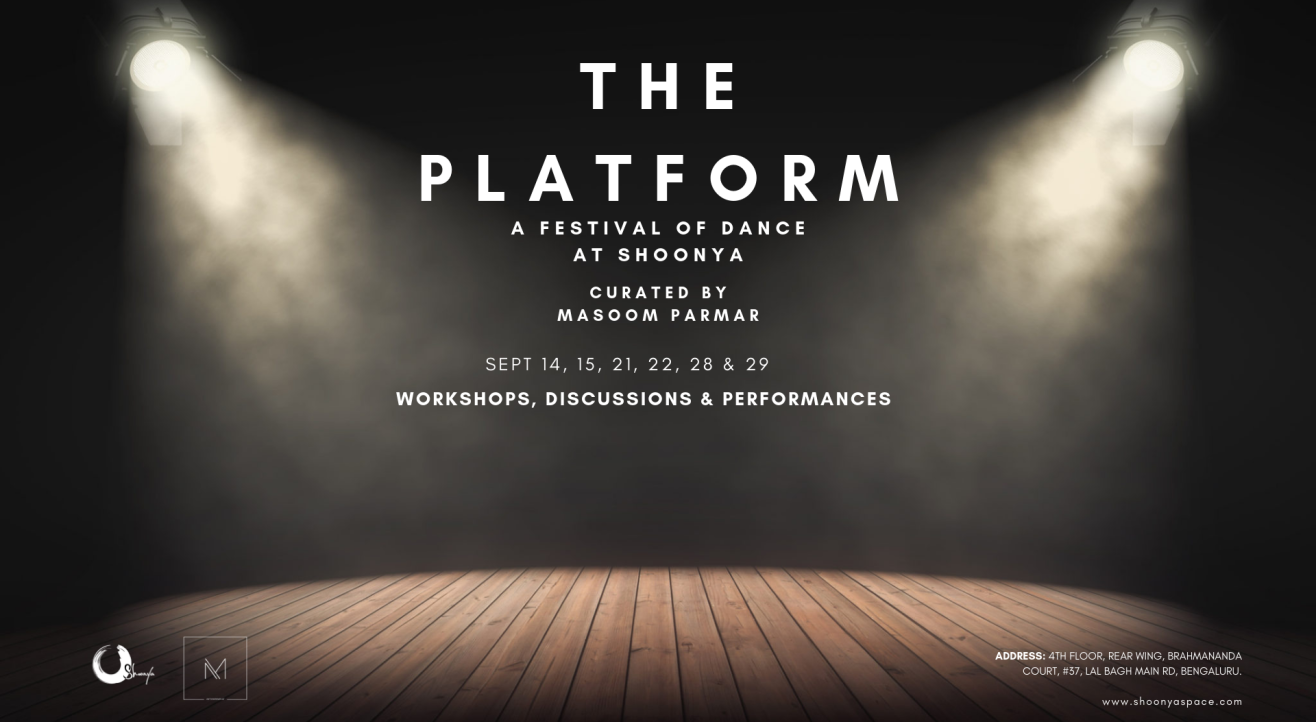 Dance
The Platform
September 14 - 29 | 10AM & 7:30PM
Shoonya - Centre for Art and Somatic Practices, Bangalore
About
THE PLATFORM, as the name suggests, showcases works of young dancers from across the country. 12 artistes will share their work every Saturday and Sunday evening of September 2019. Performances will span a variety of dance forms – contemporary, folk and classical – to give audiences a truly holistic experience of Indian dance.
The performances are preceded by panel discussions by and conversations with senior artistes on wide-ranging topics and workshops by some of the performers, aimed at art connoisseurs and patrons, aspiring students and lovers of dance in the city and region.
The aim of this festival is to bring all the dancers of the city – students, emerging professionals and senior artists – under one roof, to organise the dance sector, showcase excellence in Indian dance to a large audience, educate audiences and raise awareness of various dance forms, and build a community for the arts. And to give a stage to rising talent, seeding and nurturing the future of our arts ecosystem.
FESTIVAL SCHEDULE
14 Sept 2019 | 10 AM – 12 PM
Manipuri Basics Workshop with Ivana Sarkar
7.30 – 9.30 PM – Performances
Seher Noor Mehra, Contemporary
Meghna Das, Odissi
15 Sept 2019
10 AM – 12 PM
Classical dance in Contemporary times – Rukmini Vijayakumar and Mridula Rao in conversation with Meghna Das
7.30 – 9.30 PM – Performances
Roopa Murthy, Kathak
Ivana Sarkar, Manipuri
21 Sept 2019
10 AM – 12 PM
Choreographic Tools – A workshop with Ainesh Madan
7.30 – 9.30 PM – Performances
Pritika Krishnakumar, Bharatanatyam
Ronita Mookerji, Contemporary
22 Sept 2019
10 AM – 12 PM
Dance Journeys – Jayachandran Palazhy and Mayuri Upadhya in conversation with Aranyani Bhargav
7.30 – 9.30 PM – Performances
Ainesh Madan, Contemporary
Meghna Rao, Kathak
28 Sept 2019
10 AM – 12 PM
Prime Movers – A contemporary technique with Joshua Sailo
7.30 – 9.30 PM – Performances
Vinaya Narayanan, Mohiniyattam
Dayita Nereyeth, Contemporary Ballet
29 Sept 2019
10 AM – 12 PM
Funding the Arts – Menaka Rodriguez in conversation with Dipankar Panth
7.30 – 9.30 PM – Performances
Priyanka Chandrasekhar, Bharatanatyam
Akshiti Roychowdhury, Odissi
Venue
Shoonya - Centre for Art and Somatic Practices, Bangalore
4th Floor, Rear Wing, Brahmananda Court, #37 Lal Bagh Road, Bangalore
GET DIRECTIONS