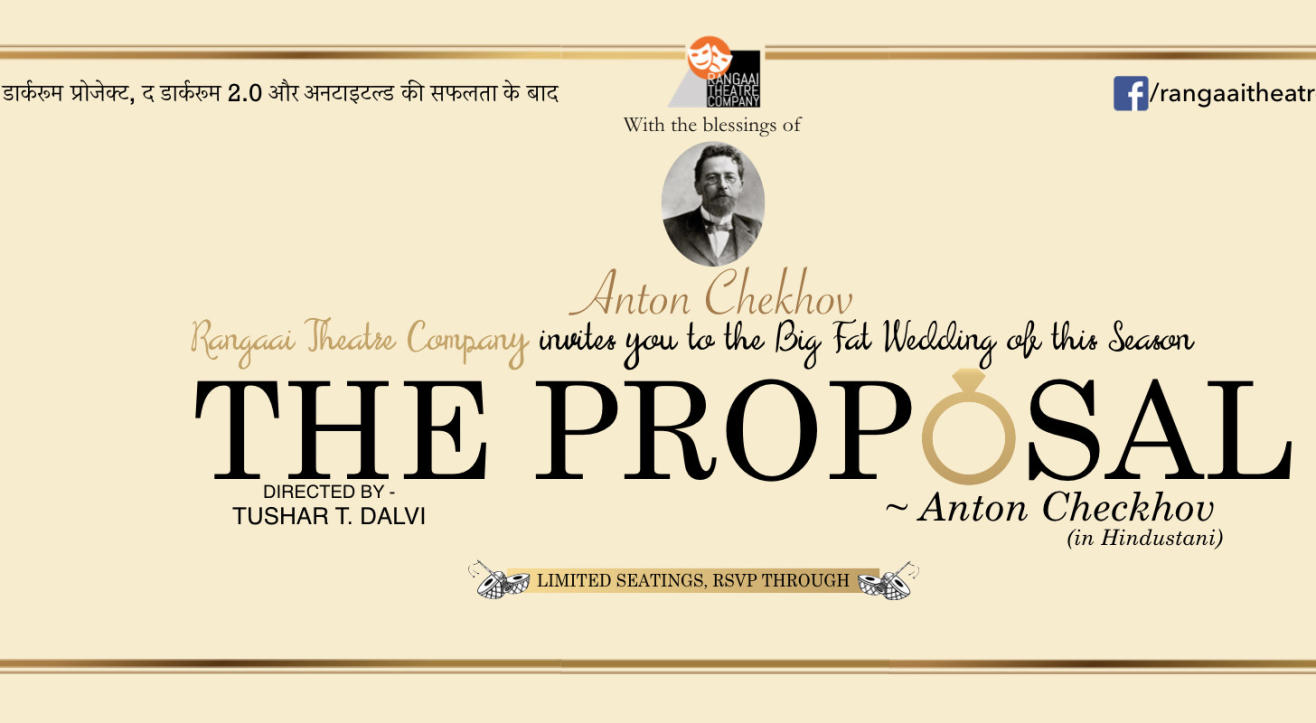 The Proposal by Anton Chekhov
The Cuckoo Club, Mumbai, Mumbai
Step out and enjoy this event
Invite your friends
and enjoy a shared experience
The Proposal by Anton Chekhov
The Cuckoo Club, Mumbai, Mumbai
Step out and enjoy this event
Invite your friends
and enjoy a shared experience
Invite your friends
and enjoy a shared experience
The Proposal by Anton Chekhov - Now in 360 Immersive Format
One fine day our very promising and feeble, sorry .... eligible bachelor Mr. Barkhurdar decides to finally confess his love for his childhood friend ,who also happens to be his neighbour Mr. Janab's beautiful daughter, Miss Mohatarima.
What could have been a romantic evening with beautiful lighting, some nice music and some very fine champagne, turns out to be a hilarious comedy where all three of them continue to fight over some of the most unromantic subjects like ancestral land and dogs!
Well we, Rangai Theatre company can at least assure you of the beautiful lights and music, the scintillating immersive experience that we provide to our audience and incidentally we are the first and only theatre company in Mumbai to start this culture of sensory immersive theatre(Champagne...umm.. We're still trying to figure out our budgets ). As to how the proposal goes, it's best to leave that to the three characters.
Please join us while we bring to you this classic written by Anton Chekov and experience the beauty of being one with the characters in the very mesmerising concept of 360 degree immersive theatre where in the audience is very much a part of the play as the actors are. So be there for the big fat wedding's proposal….
About the Theatre Company:
Rangaai Theatre Company is Mumbai's only immersive sensory experience theatre company which is best known for their play The Darkroom Project and The Darkroom 2.0. These plays have been rated 4 stars by Times of India and have been extensively published in all major English dailies. Rangaai Theatre company has performed more than 65 shows of their play The Darkroom 2.0 across all intimate theatre venues in Mumbai.
Currently they are working on 2 other new experimental productions namely UNTITLED - The narrations of an ordeal, a complete immersive sensory experience performance art piece and A romantic drama Vaapsi ki Barish - A multi-media performance piece which is specifically designed for a unique Host-A-Play concept.
The Cuckoo Club, Mumbai
5AA, Pali Hill Road, Next to Candies, Bandra West, Mumbai, India 400050
GET DIRECTIONS
The Proposal by Anton Chekhov
The Cuckoo Club, Mumbai, Mumbai
Step out and enjoy this event
Invite your friends
and enjoy a shared experience