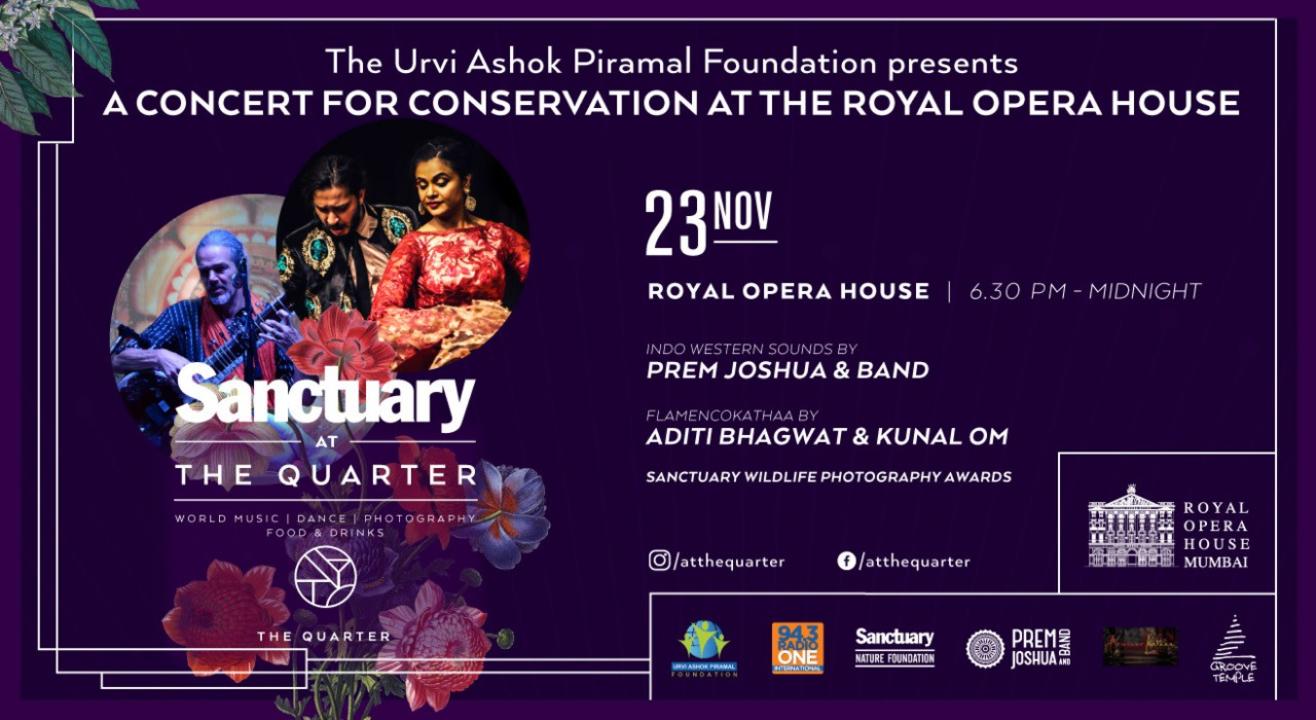 Music
Sanctuary At the Quarter: A Concert For Conservation
Friday | November 23 | 6:30PM
The Royal Opera House, Mumbai
499 - 2,749 (Prices subject to change)
About
**Explore Artists Profiles In The Tabs Below
An extraordinary evening of dance and live music, featuring 'Flamenco Kathaa' by Aditi Bhagwat & Kunal Om, and the irresistible Indo-Western crossover ensemble, the Prem Joshua band.
Sanctuary@The Quarter brings another uniquely crafted experience with World Music I Dance I Photography I Food and Drink
Brought to you by The Urvi Ashok Piramal Foundation.
About the Sanctuary Wildlife Photography Awards:
"Sanctuary Asia magazine and the Sanctuary Nature Foundation promote conservation photography as an article of faith. Amazing, evocative images have the power to draw out supportive human responses. Photography is an art form that has helped protect wildernesses since its beginning. Conservation photography is a blend of technical skills, natural history knowledge, field experience and an innate desire to protect wild nature. At Sanctuary, we marry still images and stirring words to activate human hearts and mind and keep the sense of wonder alive.
For almost two decades, Sanctuary's Wildlife Photography Awards, coalesce multitudes of people behind the objective of turning wildlife photography into an effective conservation tool. "
About the Sanctuary Nature Foundation's Concert For Conservation:
Sanctuary Asia (est. 1981) is India's leading wildlife magazine. Sanctuary metamorphosed into Sanctuary Nature Foundation, as a natural evolution of 40 years of wilderness conservation. The express vision is to help shape a world with abundant biodiversity, a sustainable climate and an equitable future for all. (www.sanctuaryasia.com)
The Sanctuary Nature Foundation is working with all sectors of civil society, to celebrate, savour and protect the only home we have.
The Concert For Conservation is an amalgam of nature-conservation, art, photography, and music.
The proceeds from this evening will go towards protecting our wildlife and the communities living right next to India's most precious wildernesses.
Pioneers of an eclectic sound that draws its essence from the depth of India's musical traditions as well as the innovation of contemporary Western music, multi-instrumentalist and composer, Prem Joshua and his international band are a leading light in the world of Indian contemporary music. Unmistakeably rooted in Indian Ragas and rhythms, his signature sound embraces a variety of cultures and conventions from across the world. Interweaving rhythms from Morocco with beats from London's dancefloors, experimenting with Eastern European rhythms and jazz, and splicing together chillout and sufi verses, his search for synthesis continues to flourish at the meeting point of genres and influences.

The music is original, immersive and emotional; it pulsates with energy, resonates with contemplation, throbs with vibrancy and basks within an unmistakeable global appeal. The band combines disparate musical styles such as electronica, jazz and funk into an original and virtuoso sound – one that is intricately detailed by a masterful blend of Indian and western instruments. By virtue of their dexterity over numerous instruments, such as the sitar, tabla, soprano sax or bamboo flutes, Prem Joshua & Band have continued to distil and fuse the essence of various musical forms into one organic and distinctive whole.

Artists
Prem Joshua: Sitar, Bamboo Flutes, Soprano Saxophone, Vocals
Dondieu Divin: Keyboards
Raul Sengupta: Tabla, Darbouka, Cajon, Congas, Percussion, Laptops, Vocals
Satgyan Fukuda: Electric Bass, Percussion, Vocals
Sukriti Sen: Vocals



Prem Joshua - Sky Kisses Earth
FlamencoKathaa with Aditi Bhagwat & Kunal Om
Kunal Om began his journey with Flamenco five years ago in Spain. Currently he is the only professional male Flamenco artist from India and a perfect cultural link between India and Spain. He unites the two cultures through his experiments with Indian music like Sufi, Rajasthani Folk and Kathak dance.
A truly versatile artist, Kunal's hard work and dedication have brought him a long way!
A Kathak and Lavani exponent of par excellence, Aditi Bhagwat has been in service of dance and music for the past two decades. Having started as a professional very early in life, her expertise in her craft is evident from her grace, movements, precision of rhythm and a keen sense of music. Aditi is known for her collaborations with Jazz and world music and her recent work is a collaboration with the Spanish Flamenco. Aditi received the Onebeat fellowship which was an initiative of the US State Department of Educational and Cultural Affairs in 2012. She collaborated as a foot percussionist with 30 artists from various parts of the world while on this fellowship program.
Kunal and Aditi together present FlamencoKathaa, a Flamenco and Kathak collaboration tracing the common cultural roots and similarities of the two dance forms. The roots of Flamenco go back to Rajasthan, India and the Kathak style Aditi performs hails from Jaipur, Rajasthan; hence the commonalities in the two forms. The project also features Aditya Kudtarkar on Cajon, Shruti Bhave on Violin and Deepak Verma on Flamenco Guitar.
The dancing duo will present swift footwork duets, choreographies and a lot of playful interaction making the trade off an enthralling experience!

Artist
Aditi Bhagwat - Kathak-
Kunal Om - Flamenco
Aditya Kudtarkar - Cajon
Shruti Bhave - Violin
Deepak Verma - Flamenco Guitar
FlamencoKathaa "Showreel"- Kunal Om & Aditi Bhagwat
7:00pm - 7:30pm - Sanctuary Photography Awards
7: 30pm - 8: 15pm - FlamencoKathaa by Aditi Bhagwat & Kunal Om
8:45pm - 10:00pm - Prem Joshua & Band
Venue
The Royal Opera House, Mumbai
Mathew Rd, Charni Road East, Opera House, Girgaon, Mumbai, Maharashtra 400004
GET DIRECTIONS