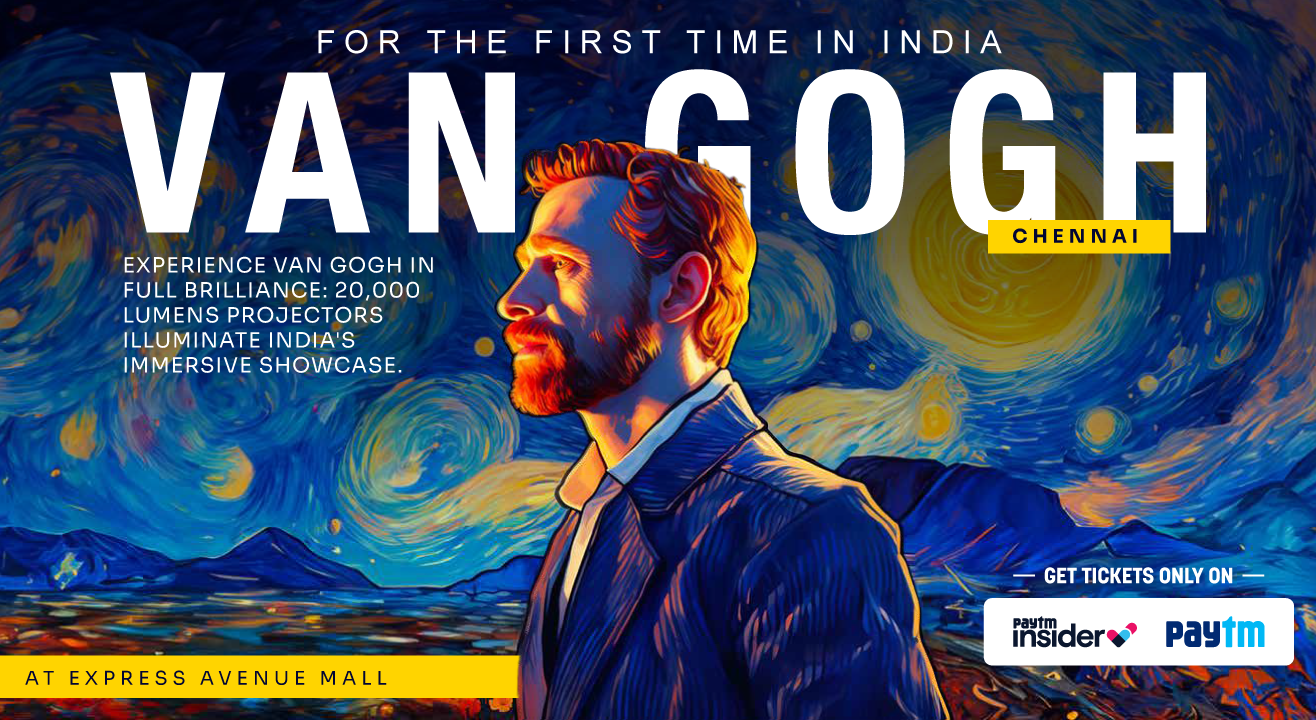 The Real Van Gogh Immersive Experience - Chennai
5 - 20 January | 10AM - 10PM
Express Avenue Mall, Chennai
Event Guide
For Age(s)
Family Friendly
Invite your friends
and enjoy a shared experience
The Real Van Gogh Immersive Experience - Chennai
5 - 20 January | 10AM - 10PM
Express Avenue Mall, Chennai
Event Guide
For Age(s)
Family Friendly
Invite your friends
and enjoy a shared experience
Event Guide
For Age(s)
Family Friendly
Covid 19 Safety Measures
This event adheres to the following

Health & safety measures
Limited Capacity
Contactless Service
Sanitisation before the show
Invite your friends
and enjoy a shared experience
Covid 19 Safety Measures
This event adheres to the following

Health & safety measures
Limited Capacity
Contactless Service
Sanitisation before the show
Experience the world of art like never before!
For the first time in India witness Van Gogh in Full Brilliance: 20k Lumens Projectors Illuminate India's Immersive Showcase.
The Real Van Gogh Immersive Experience takes visitors on a mesmerising journey through Van Gogh's complex life and extraordinary body of work, offering a unique and engaging way to interact with the works of Vincent Van Gogh.
While the 19th-century artist may not have been appreciated in his lifetime, his work has the capability of sparking joy in the mind's of all viewers. The bright colours and swirls of paint captures the hearts of people and transports them to their happy places; this immersive exhibit is a great first step for falling in love with art.
As the play of visuals and sound synchronize to create this one-of-a-kind experience, The Real Van Gogh Immersive Experience aims to go beyond the traditional gallery setting with the amalgamation of cutting-edge technology and Van Gogh's timeless artistry. Witness an unforgettable sensory experience that transcends traditional boundaries of art appreciation.
It's more than just art, it's magical!
Things to keep in mind:
1) Requesting you to arrive 15 minutes prior to you chosen slot time.
2) The show goes on for approximately 30 minutes.
3) We recommend dedicating about an hour of your time to get the best out of The Real Van Gogh Immersive Experience.
Ques. What is the date and time of the event?
Open from 10AM to 10PM only. Last entry slot is at 9pm.
Ques. Where is the event taking place?
The Real Van Gogh Immersive Experience, Chennai is happening at Express Avenue Mall.
Ques. How do I purchase tickets for the event?
The tickets are available on PayTm Insider only.
Ques. Is there an age restriction for the event?
No, there are no age restrictions for the event, however, children below the age of 16 must be accompanied by their parents or guardians.
Ques. Will there be food and beverages available?
Will be available at the exclusive Van Gogh Cafe.
Ques. Can I bring my own food or drinks?
No, outside food is not permitted at the experience.
Ques. Is there parking available?
Yes, ample parking space is available at Express Avenue Mall.
Ques. Are there accommodations for individuals with disabilities?
The exhibition is wheelchair accessible. However, wheelchairs are not available at the exhibition.
Ques. What items are prohibited at the event?
The following items are prohibited:
Weapons: Firearms, knives, or any other potentially dangerous weapons are not allowed.
Illegal Substances: i.e. drugs, narcotics, or any illegal substances are strictly prohibited.
Alcohol and alcoholic beverages
Outside Food and Beverages
Laser Pointers: These can be disruptive and may pose safety risks.
Drones: For security and privacy reasons, drones are not allowed.
Animals (Except Service Animals): Pets are not allowed at the experience.
Fireworks or Explosives: Any items that can cause explosions or create fire hazards are not allowed.
Hazardous Materials: Any items that are considered hazardous or pose a safety risk are prohibited.
Ques. Is date shift allowed?
No.
Ques. Is ticket transfer allowed?
No, you cannot transfer your tickets.
Ques. Can I get a refund if I can't attend the event?
No, refunds are not provided under any circumstances.
Ques. Is there a schedule or program for the event?
Currently this is not applicable. For more updates, follow our instagram page @vangogh.global
Ques. How do I get updates or notifications about the event?
Any updates will be shared via email or WhatsApp to the registered details shared at the time of ticket booking. Alternatively, you can also follow @vangogh.global for more details!
Ques. What security measures are in place for the event?
Bags will be checked at the entry point.
Ques. Can I bring my camera or recording equipment?
Recording equipment/professional photography is prohibited. Phone cameras are allowed.
Ques. Is there a lost and found area at the event?
There is NO lost and found area at the event. Organizers will not be held responsible for theft or any items lost.
Ques. How can I contact the event organizers for further questions or assistance?
For any queries you can email us at immersive@thesillyfellows.com or DM us via Instagram @vangogh.global
Ques. Can I bring my children to the event, and is there a childcare service available?
Yes, children are allowed at the event. There is no childcare service.
Ques. What COVID-19 safety measures are in place?
The venue ensures social distancing and sanitisation protocols.
Express Avenue Mall
17, Pattullos Rd, Express Estate, Thousand Lights, Chennai, Tamil Nadu 600002, India
GET DIRECTIONS
The Real Van Gogh Immersive Experience - Chennai
5 - 20 January | 10AM - 10PM
Express Avenue Mall, Chennai
Event Guide
For Age(s)
Family Friendly
Invite your friends
and enjoy a shared experience