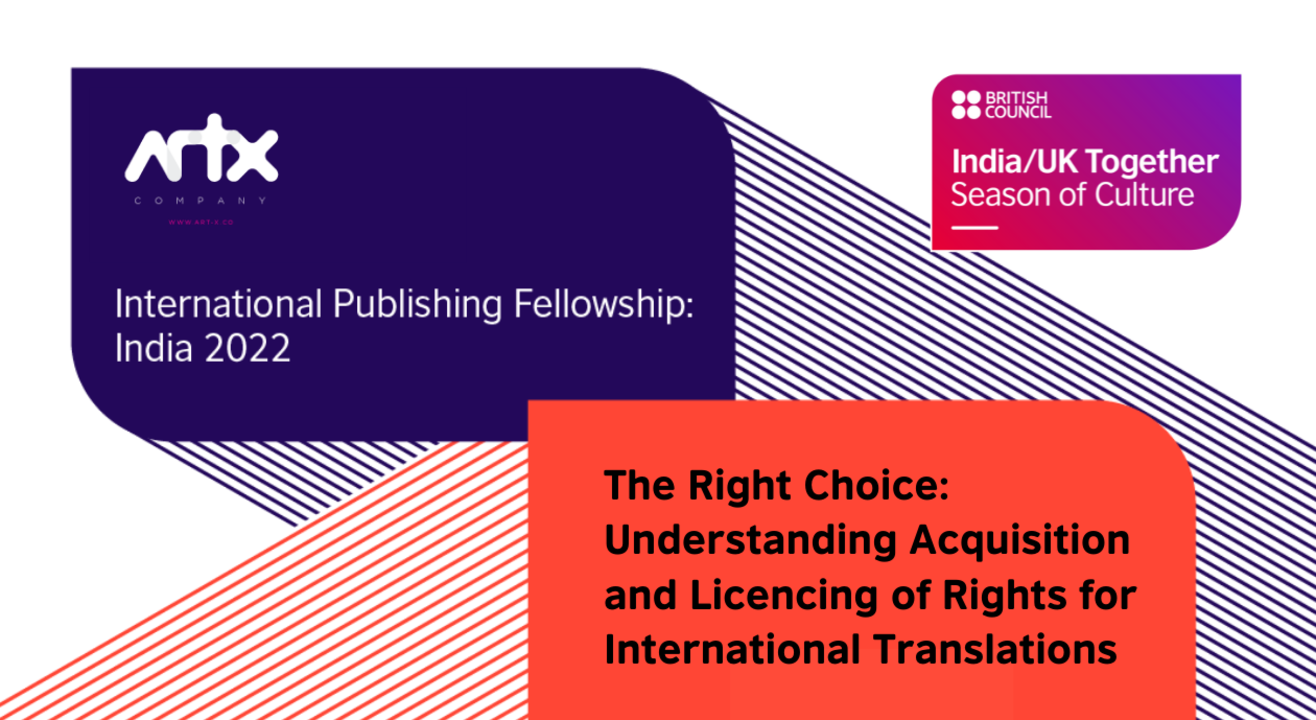 The Right Choice: Understanding Acquisition and Licencing of Rights for International Translations
Enjoy this event from your home
Event Guide
Masterclass
Learn from an expert
Invite your friends
and enjoy a shared experience
The Right Choice: Understanding Acquisition and Licencing of Rights for International Translations
Enjoy this event from your home
Event Guide
Masterclass
Learn from an expert
Invite your friends
and enjoy a shared experience
Event Guide
Masterclass
Learn from an expert
Invite your friends
and enjoy a shared experience
Presented by the British Council and The Art X Company, the first event of the year-long International Publishing Fellowship is designed as a Masterclass and will respond to the challenges emerging from the knowledge gap in rights acquisitions of titles from India and the UK.
Date: 30 June 2022
Time: 6 p.m. - 7:30 p.m. IST / 1:30 - 3:00 p.m. BST
Duration: 90 minutes
Tickets: INR 499 / GBP 5
ABOUT THE SESSION
One of the challenges identified early in the 'India Publishing and Literature Sector Study' (2021) was the lack of training in the area of rights acquisitions for international writers and translations, especially in India where there is no formal training available for this sector. The context and processes of rights acquisition and licensing vary in formality across India and the UK, coupled with limited knowledge, networks and access to databases of translated works available for rights acquisition of international titles.
Led by Arpita Das and Sussana Nicklin, this session will foreground copyright laws, essential steps in rights selling, various aspects of rights acquisition and share pathways to learning and honing related skills:
The legal processes involved in acquiring and licencing a translation — contract negotiation, laws and regulations, royalties and payments, and related legal issues
Scouting and contacting international agents, international publishing houses, and building networks
Different modalities, platforms and methods of acquiring rights — book fairs, personal contacts, visits to publishing houses, and networking events among others.
ABOUT THE SPEAKERS
Arpita Das
Founder-Publisher - Yoda Press,
Visiting Faculty and Senior Writing Fellow - Ashoka University,
South Asia Series Editor - Melbourne University Press
Arpita Das has been part of the Indian publishing industry since 1998. She is the founder-publisher of the award-winning independent publishing house, Yoda Press, which she founded in 2004. She is a Board member of PublisHer (womeninpublishing.org) and South Asia Series Editor at Melbourne University Publishing. Apart from her publishing work, she is also Visiting Faculty (Creative Writing Programme) and Senior Writing Fellow (Undergraduate Writing Programme) at Ashoka University.
Susanna Nicklin
CEO – The Marsh Agency and Indigo Books
Susanna Nicklin is the owner and founder of The Marsh Agency, an international literary agency specialising in selling translation rights for English language books. She is also the owner and founder of The Indigo Press, an independent publishing house with a focus on internationalism, feminism, and social justice. She is the former Director of Literature at the British Council, where she created international partnerships, projects and programmes for British writers and their international peers. She is also a former director of English PEN, where she founded the PEN translates programme, which selects texts from all over the world to receive funding for English-language publication. She has also owned an independent bookshop and directed many literary festivals and events. She is Deputy Chair of The English Association, the learned membership society for teachers and learners of English at all levels in UK education.
This event aims to be accessible to all. Any interested participants who need a fee waiver can write to us with their reasons for the same at admin@art-x.co.
The Right Choice: Understanding Acquisition and Licencing of Rights for International Translations
Enjoy this event from your home
Event Guide
Masterclass
Learn from an expert
Invite your friends
and enjoy a shared experience