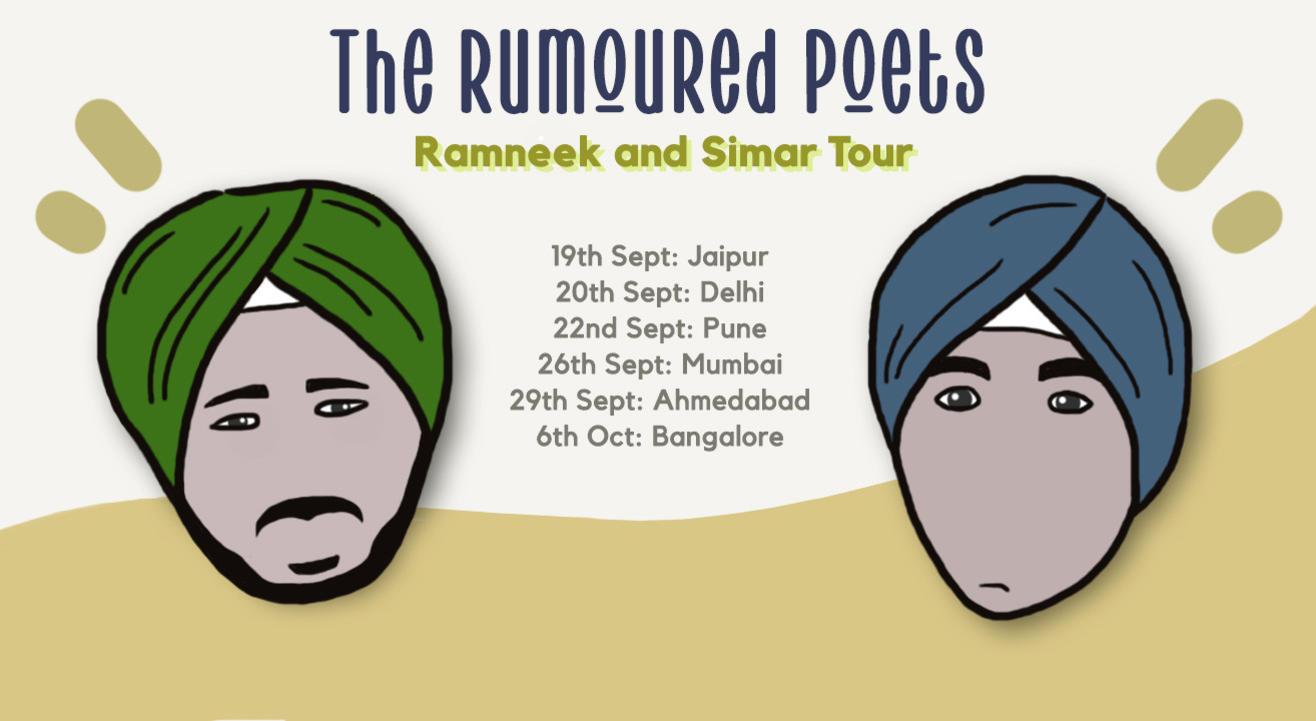 The Rumoured Poets: Ramneek & Simar Tour | Pune
Raah A Litreacy and Cultural Centre, Pune
Invite your friends
and enjoy a shared experience
The Rumoured Poets: Ramneek & Simar Tour | Pune
Raah A Litreacy and Cultural Centre, Pune
Invite your friends
and enjoy a shared experience
Invite your friends
and enjoy a shared experience
"We have been rumoured to be poets by people around us and most people who have heard our rumoured poems have denied these rumours."
'The Rumoured Poets' is a six city tour by Ramneek Singh & Simar Singh through the end of September and first week of October.
The tour covers the following cities on the following dates:
19th September, Thursday, 8:00 pm: Kalaneri Art Gallery, Jaipur
20th September, Friday, 7:00 pm: A Little Anarky Films (Bedlam), Hauz Khas Village, New Delhi
22nd September, Sunday, 3:00 pm: Raah - A Literary & Cultural Centre, Pune
26th September, Thursday, 9:00 pm: The Cuckoo Club, Bandra, Mumbai
29th September, Sunday, 4:00 pm: Ouroboros Art Hub, Ahmedabad
6th October, Sunday, 5:00 pm: Lahe Lahe, Bangalore
If your city is rumoured to be a part of this tour, then humour yourself by buying tickets to it. We shall see you and let you judge if the rumours are true or not.
Raah A Litreacy and Cultural Centre
Office no 730,marval vistal ⅞ floor,lullanagar junction,pune
GET DIRECTIONS
The Rumoured Poets: Ramneek & Simar Tour | Pune
Raah A Litreacy and Cultural Centre, Pune
Invite your friends
and enjoy a shared experience