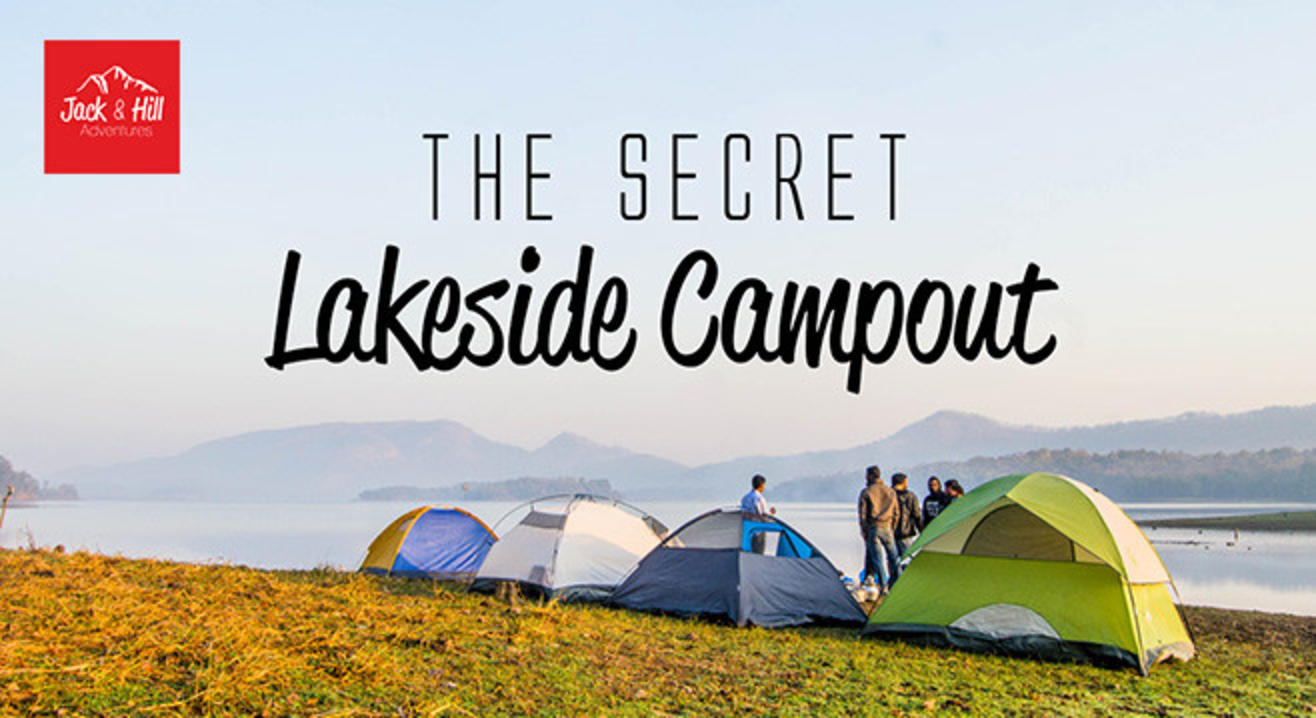 The Secret Lakeside Campout
Invite your friends
and enjoy a shared experience
The Secret Lakeside Campout
Invite your friends
and enjoy a shared experience
Invite your friends
and enjoy a shared experience
Do you sometimes imagine if you could camp by a lakeside on an undiscovered unknown location, cozy up in tents, warm your toes at the live bonfire, eat to your heart's content with the barbecue specials while gazing at a night's sky full of stars? If you do and have been craving for this and more, then Jack & Hill Adventures' most heavenly property - The Secret Lakeside Campout is perfect for you.
About the location:
The Secret Lakeside Campout is a destination only 55 kms away from the bustling city of Mumbai. This location is untouched by civilization to such an extent that you will not find a trace of plastic anywhere, even if you were to go searching. It is because of its purity that Jack & Hill Adventures consider this location a sacred camping destination.
Apart from that, The Secret Lakeside Campout offers the most scenic lakeside camping views you will ever come across. For the very same reason, Jack & Hill Adventures wants to keep this campground a secret, once in you will know why!
Bookings close at 6 PM, 14th April 2017.
Meet at Borivali Station at 3.30 PM, 15th April
Take the local train to a particular station on the western line (1hr journey)
Board a private taxi to the Secret Campout Location (Half hr journey)
On reaching the campout destination, explore the pristine location
Tent pitching session
Bonfire
Barbeque
Dinner
Breakfast
Return to Mumbai (Borivali station)

Barbecue - 8 PM, Saturday
Dinner - 10.30 PM , Saturday
Breakfast - 8 AM, Sunday
Participants are required to carry 1-2 liter of water.
Restrooms / Toilet (The Loo with a View)
The campsite is truly based in the wilderness. In a corner of the campsite, will be setup a portable toilet tent that will hold a poo pit in the ground.
The campsite is designed to deliver a raw experience.
Transport from Borivali to Campout location and back
Dinner and Breakfast
Tent accommodation and sleeping bags
Bonfire
BBQ

A 4 person tent will be shared amongst 4 Individual Pass participants. Tent weight will be shared amongst the 4 participants till the destination and back.
Each participant shall receive an individual sleeping bag that will be provide at the beginning of the trip at Borivali and must be returned at the end of the trip.

Bookings close at 6PM on 14th April.
75% Refund if your booking is cancelled before 6PM 14th April.
50% Refund if your booking is cancelled after 6PM 14th April.
To cancel your booking, send us an email on info@jackandhilladventures.com

Once your booking is made, you will receive a mail containing guidelines on how & what to pack. For queries or assistance, feel free to get in touch with us at info@jackandhilladventures.com or buzz us at +91 9833376765.
The Secret Lakeside Campout
Invite your friends
and enjoy a shared experience