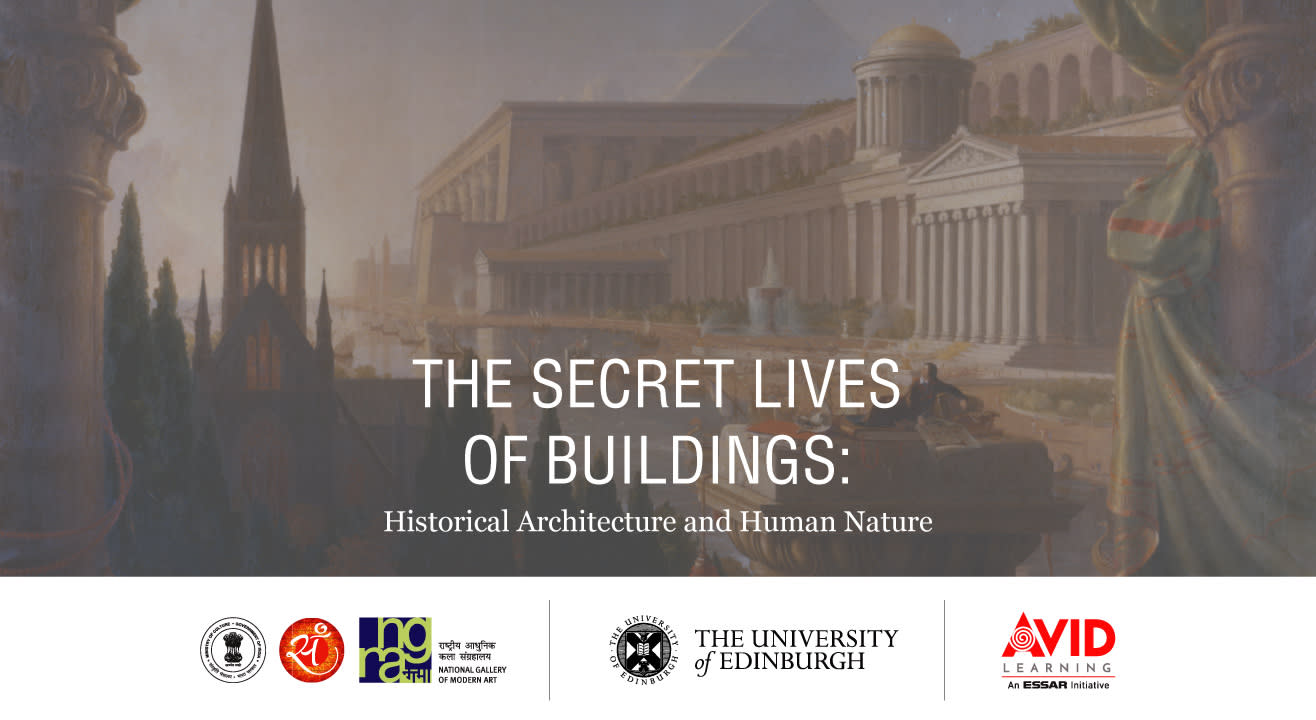 Learn
The Secret Lives of Buildings: Historical Architecture and Human Nature
National Gallery of Modern Art, Mumbai
About
Architecture at its loftiest is often about man's immortality as well as an expression of vast imaginations. NGMA Mumbai, Ministry of Culture, Government of India, Avid Learning and the the Edinburgh College of Art, University of Edinburgh present a fascinating panel discussion on whimsical, monumental and personal aspects of buildings and utopian and historic spaces that are testaments to human endeavor, dreams and accomplishments.


This program is part of a series of events curated with the university in which distinguished faculty and professors from the university's varied departments seek to engage with practitioners, alumni, cultural organizations and academics, developing networks and dialogues. Personal chair, interior design, University of Edinburgh Prof. Ed Hollis and author and architect Meera Godbole-Krishnamurthy will be in conversation with architect and urban conservationist Kamalika Bose. What do monuments like The Taj Mahal, the Roman Coliseum, Crystal Palace, Notre Dame and even the Mumbai Sea Link or the Las Vegas Strip say about man? How did architecture become so central to the experience of being human? What is the interconnection between spaces and memories? And how is that link being eroded?


These experts will discuss the intrinsically human nature of architecture itself, how it relates to culture and, within wider ranging contexts, will probe topics like society and identity, how buildings influence lives and heritage conservation.

Join in for a unique perspective on how to re-evaluate the built heritage.
Professor Ed Hollis is personal chair, interior design, University of Edinburgh. He studied architecture at Cambridge and Edinburgh Universities, and practiced as an architect for six years, first in Sri Lanka, in the practice of Geoffrey Bawa, at that time the "grand old man" of Sri Lankan architecture, famous for his garden of follies and ruins at Lunuganga; and then in the practice of Richard Murphy, well known for his radical alterations to ancient and historic buildings in and around Edinburgh. In 1999, Edward Hollis began lecturing in interior architecture at Napier University, Edinburgh, working with students, both in the design studio, and in more theoretical disciplines. In 2004, he moved to Edinburgh College of Art, where until 2012, he ran undergraduate and postgraduate programmes in interior design.
In 2012, Hollis became deputy director of research across Edinburgh College of Art, co-ordinating the submission to the Research Excellence Framework 2014 in art, design and history of art. He is now director of research at ECA, working across the school assisting staff in developing research interests and projects of their own.

Meera Godbole-Krishnamurthy has lived in the Philippines, France, and the United States. She studied art and architecture at Oberlin College and Columbia University, and received a masters of architecture from the University of Virginia in 1992. She has studied writing in workshops at Stanford University, the University of Iowa Summer Festival, UCSD, and the La Jolla Writers Conference. She has taught at the New School of Architecture and Design in San Diego. Since moving to India in 2006, she has been an architecture educator, conducted writing workshops, and has been a contributor to Metropolis Magazine. She now lives in Mumbai and is editor-in- chief of Saffronart. She is the author of two novels: Balancing Act (Zubaan/Penguin 2009) based on architecture and motherhood, and Gardens of Love (Speaking Tiger 2018), an unusual combination of interconnected illustrated stories. Her next architecture themed novel is presently under construction.

Kamalika Bose is an urban conservationist with experience in heritage-oriented planning and advocacy, education and research. She is a Fulbright Scholar, a SAH-Getty International Fellow and was assistant professor at CEPT University, Ahmedabad. She obtained a master's in historic preservation planning from Cornell University. Kamalika has worked at Historic Districts Council, New York and Cooper Hewitt Smithsonian Design Museum, New York. She has authored three books, including "A History of Interior Design in India, Vol 1: Ahmedabad," published by CEPT University. She was a research associate for "Architecture in India: Since 1990" by Rahul Mehrotra, which informed the seminal exhibition "The State of Architecture: Practices & Processes in India" in 2016, where she was project manager. Her independent work focuses on architectural and urban heritage - currently as consultant to The Cha Project for Kolkata's Chinatown and the Murshidabad Heritage Development Society. Kamalika is a consulting expert to the ICOMOS World Heritage Unit, is on the advisory of Kolkata Architecture Foundation and is a visiting faculty at KRVIA, Mumbai.
The National Gallery of Modern Art (NGMA) Mumbai, Ministry of Culture, Government of India is a repository of the cultural ethos of the country and showcases the changing art forms through the passage of the last 160 years starting from about 1857 in the field of visual and plastic arts.

The first NGMA was opened in New Delhi at the historic Jaipur House, in the presence of Prime Minister Jawaharlal Nehru and artists and art lovers on March 29, 1954. The National Gallery of Modern Art, Mumbai was opened to the public in 1996. It hosts various exhibitions and also has its own art collections comprising paintings, sculptures and graphics with a focus on Indian and international artists. It is located in the precinct of the former auditorium the Sir Cowasji Jehangir Public Hall and the Institute of Science. This architecturally marvellous building was designed and built by the famous British architect George Wittet which has been completely redesigned keeping only the facade edifice that was Public Hall.

It has hosted eminent artists like, K.H. Ara, F. N. Souza, Gaitonde, S.H. Raza and M.F. Hussain and contemporary artists like, K.G. Subramanyam, Sudhir Patwardhan, Nalini Malini, Atul Dodiya and Sudarshan Shetty. The NGMA in Mumbai is run and administered as a subordinate office to the Ministry of Culture, Government of India, which has two branches one at Mumbai and the other at Bengaluru. Avid Learning, a public programming platform and cultural arm of the Essar Group, has conducted over 750 programs and connected with more than 65,000 individuals since its inception in 2009. Driven by the belief that learning never stops, AVID's multiple formats like workshops, panel discussions, gallery walkthroughs, and festival platforms create a dynamic and interactive atmosphere that stimulates intellectual and creative growth across the fields of culture & heritage, literature, art and innovation.
About The University of Edinburgh
The University of Edinburgh, established in 1583, is ranked 23rd in the world and is one of the world's top universities. For more than four centuries, the university, which is rooted in Scotland, has been influencing the world – exploring space, revolutionizing surgery, winning Olympic medals, publishing era-defining books, cloning a mammal from an adult cell and much, much more.

The University of Edinburgh has been linked with India for nearly 250 years, with the first Indian graduate in 1876 and the UK's first Indian Student Association. The South Asia office in Mumbai (2010) and Edinburgh India Institute (2014) seek to extend the university's relationship with India. The university's partnerships span family medicine, conservation medicine, animal welfare, renewable energy; digital communications; structural engineering, gender issues, technology and society.

The Edinburgh College of Art is a leading international art college which traces its history to the 1760's. As the University of Edinburgh's cultural and creative hub, offers architecture and landscape architecture; art; history of art; design; and music.
Venue
National Gallery of Modern Art, Mumbai
Sir Cowasji Jahangir Public Hall, M G Road, Fort, Mantralaya, Fort, Mumbai, Maharashtra 400032