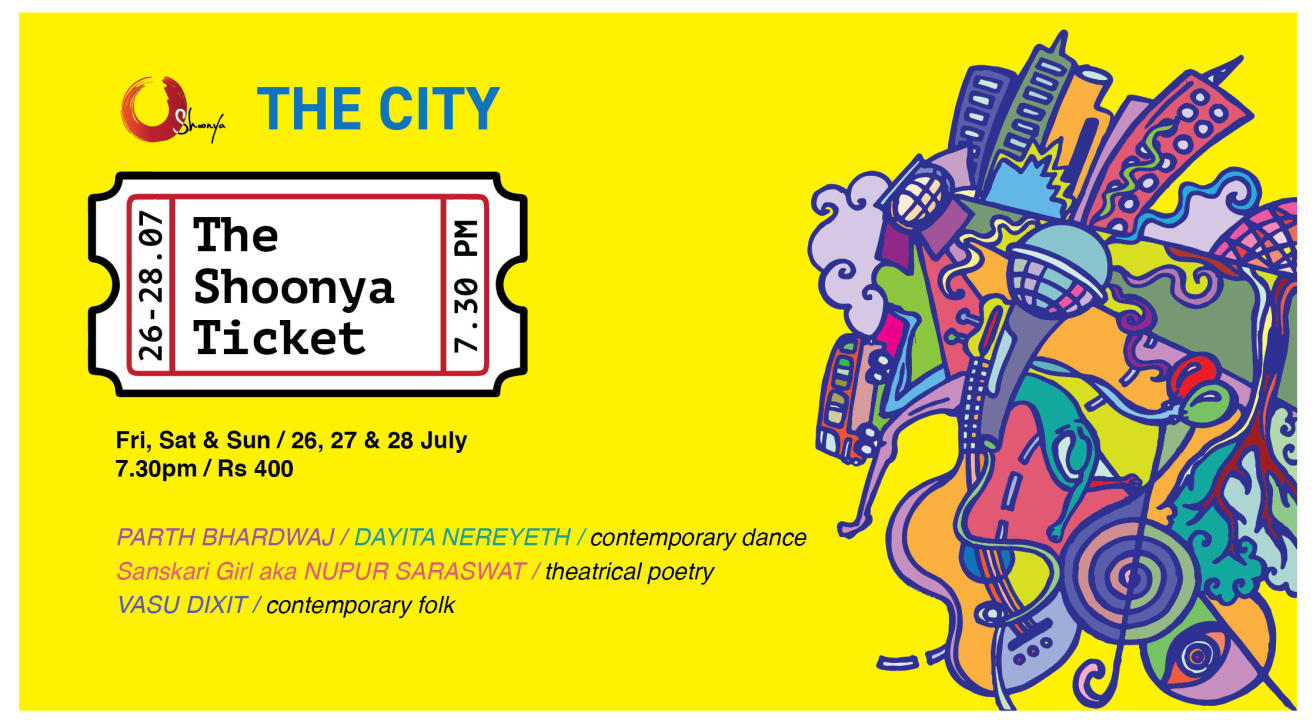 Performance
The Shoonya Ticket
Shoonya - Centre for Art and Somatic Practices, Bangalore
About
The Shoonya Ticket
Friday, Saturday & Sunday | July 26- 27-28
Time: 7.30PM
Duration 1.5 hours
As a next step to this multi-arts engagement, we present The Shoonya Ticket, a set of curated performances, bringing together different genres of performance art that are usually not seen at the same event, offering you the audience, a mixed bill quite unlike any other.
The Shoonya Ticket is a platform for these dedicated and talented artists to showcase their work to local audiences and a chance for audiences to be exposed to a variety of performance art.
Each edition will have a running theme. The second one is: The City.
Art is powerful and beautiful, true and real. And performance art even more so, because it's live! All the magic is in the moment. We have four amazing acts lined up for the first set. All local artists, who have been sharing their work with Indian audiences for some time now, but are coming together in this unique cultural and sensorial constellation for the first time
We at Shoonya had made the choice to be a multi-arts space early on in our journey. A choice that we are increasingly excited about and that is affirmed by the work being created, rehearsed, taught and performed here. It is the reason so many different artists meet, liaise and collaborate at the space. We absolutely love the dynamic and fresh energy this brings and we hope to be a home, laboratory and venue to many more emerging and established humans of the arts and somatics world.


Artist Line-up:
Parth Bhardwaj | Dayita Nereyeth : Contemporary Dance
Sanskari girl aka Nupur Saraswat: Theatrical Poetry
Vasu Dixit: Contemporary Folk
Our café, Nayla, headed by cook (yes, she's a cook, not a chef) Nayantara, will be running as well, serving cold beverages (sweet and not), desserts and savouries, all made with fresh ingredients, and filled with stories and earthy homemade goodness.
We invite you to join us for our second curation, support local artists and enrich your evening with some live performance art, sure to leave you with something beautiful, to carry on into the rest of your evening, weekend and week.
Venue
Shoonya - Centre for Art and Somatic Practices, Bangalore
4th Floor, Rear Wing, Brahmananda Court, #37 Lal Bagh Road, Bangalore