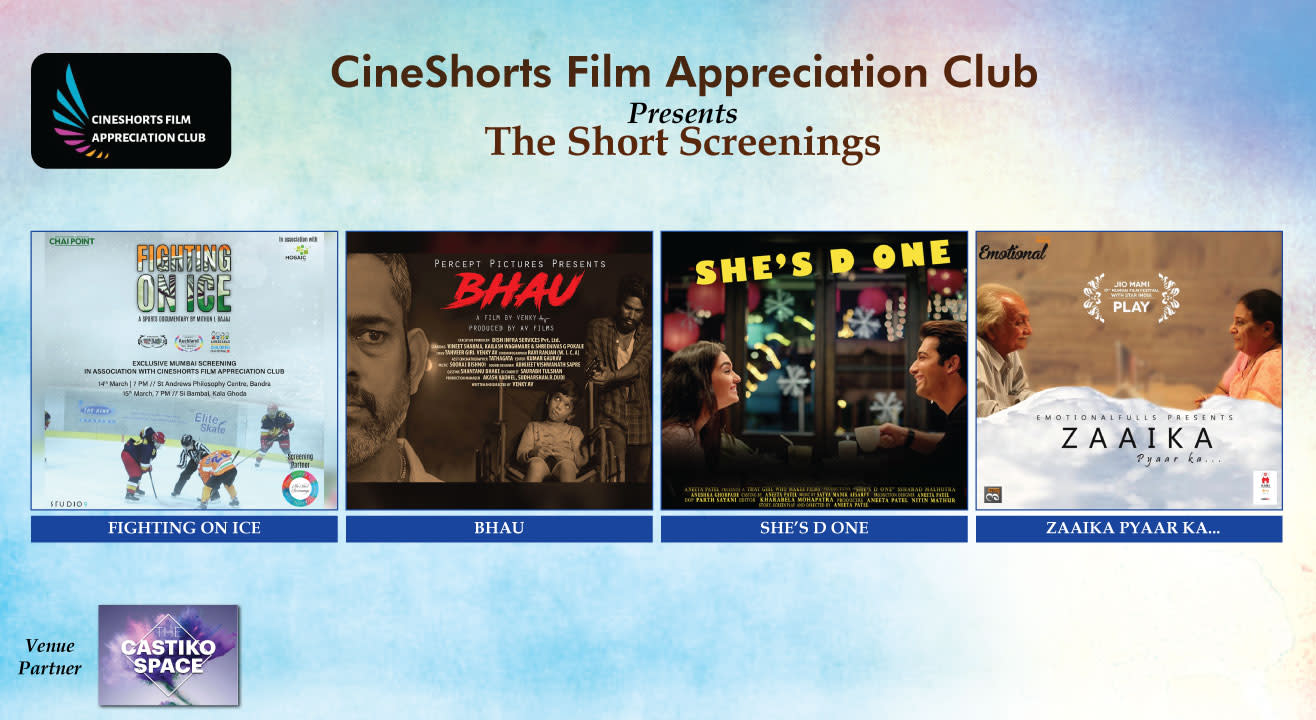 Screening
About
CineShorts Film Appreciation Club brings you an evening of Indie Short Film Screenings where we Meet, Network, Discuss just Films. The idea is to showcase some briliant films & a get together with people of like minded interests is surely a delight, what say?. If that's what you're a person like then we at The Short Screenings welcome you to come & Join us on the 22nd of March 2019 as we sail you through an array of some really interesting short films followed by an interactive session with the makers / cast & crew of the film. So come over enjoy the films, Meet & Network with new people over a cup of tea/coffee.. It's surely an evening you wouldn't like to miss!! Below are just few spoilers for your interest to manoeuvre
Just Kidding!! See you at the Screenings
Fighting On Ice - Directed by Mithun Bajaj
Fighting on Ice is not an ordinary sports documentary - it's hard hitting and real - revealing the true fight between passion and Struggle.Fighting on ice follows the life of the team, the association and innumerable passionate people - who believe in the future of ice hockey in India, who believe in themselves and their dreams and who's passion for this sport is beyond the closed doors of the government. Without official support, without funding, without equipment, ice hockey is still surviving - primarily because of this fabulous group of people who are giving it their all - just to make their country proud!
She's D One - Directed by Aneeta Patel
Shaurya finds love after a long sabbatical, He meets Shruti over a coffee date and is absolutely smitten by her wit and tongue and cheek humour. They enjoy their evening and sparks fly. Shruti falls head over heels for Shaurya and wait to start the rest of her life. with him.
Bhau - Directed by Venky AV
When a trusted henchman is ordered by his formidable mafia boss to kill a disabled child in his care, he is forced to make a difficult decision- To choose loyalty over compassion or be ready to face the consequences.
Zaaika Pyaar Ka - Directed by Sameer Mishra, Sandeep Jha
Its never too late to have that perfect beginning ...
See you at the Screenings
Venue
The Castiko Space
Bungalow 121, Aaram Nagar II, Versova, Andheri West, Aram Nagar Part 2, Machlimar, Versova, Andheri West, Mumbai, Maharashtra 400061