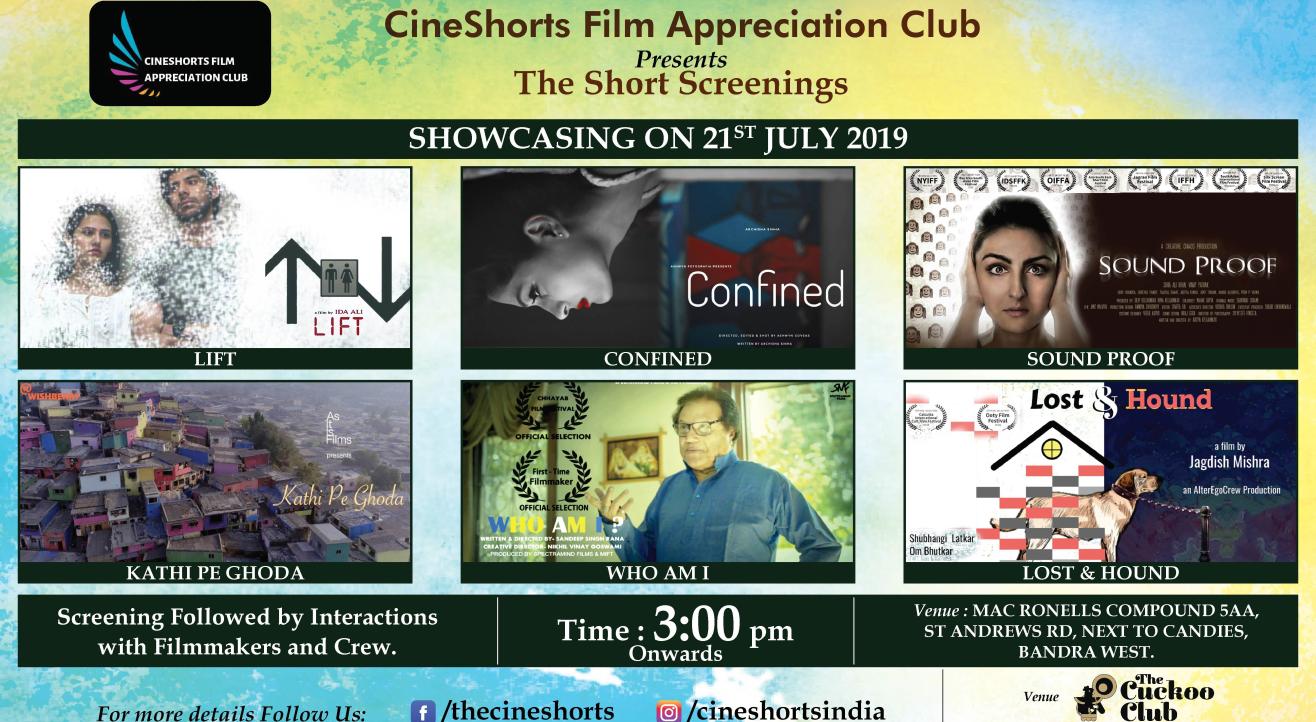 Screening
About
CineShorts Film Appreciation Club brings you an evening of Indie Short Film Screenings where we Meet, Network, Discuss just Films. The idea is to showcase some brilliant films & a get together with people of like minded interests. If you resonate the same thought then we at The Short Screenings welcome you to come & Join us on 21st July 2019 as we sail you through an array of some really interesting short films followed by an interactive session with the makers / cast & crew of the film. So come over enjoy the films, Meet & Network with new people over a cup of tea/coffee.. It's surely an evening you wouldn't like to miss!! Below are just few spoilers for your interest to manoeuvre ;)
Just Kidding!!
lift - Directed by Ida Ali
The smallest of events, the simplest of things can sometime contain within themselves experience of a lifetime. Watch one such experience unfold in this sweet short film
SoundProof - Directed by Aditya Kelgaonkar
A young divorced woman, Sana, rents an apartment in Mumbai hoping for a new independent life...But instead, she finds herself caught in a maze of peculiar occurrences. Her attempts to unearth the mystery makes her run into a society that has insulated itself. A society that's become rigid with fear by serving the powerful..
Kathi Pe Ghoda - Directed by Ashish Choudhary
Story about an ordinary man, who is faced with the idea of travelling back in time & writing his wrongs.
Confined - Directed by Ashwin Goveas
Rumi, a woman suffering frm body dysmorphic disorder, narrates her struggle & ordeal with it in a poetic manner
Who Am I - Directed by Sandeep Singh Rana
A story that focuses on how we set our priorities in life. A general conversation leading to a path of discovery for the son in life.
lost & hound - Directed by Jagdish Mishra
In the scenic backdrop of the hills, a lone woman lives in a cottage with her dog. But this place is also a cradle to a crime, borne out of fear and insecurity.
See you at the screenings