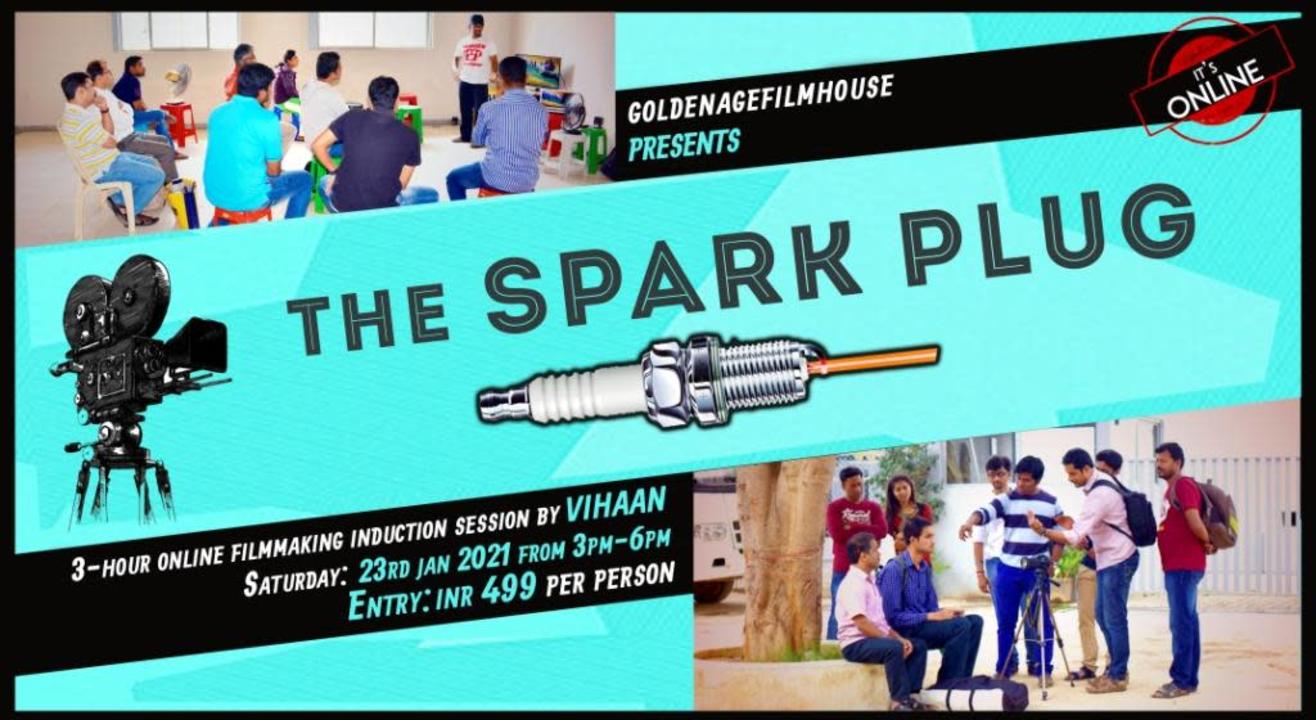 Enjoy this event from your home
Invite your friends
and enjoy a shared experience
Invite your friends
and enjoy a shared experience
About the Event
"The Sparkplug" – A 3-hour session to get you started with your filmmaking journey.
Similar to how a spark plug provides the spark to ignite your vehicle's engine, this workshop will kindle the flame in your film-making journey.
There are millions of people who want to become the next Steven Spielberg / Mani Ratnam / Rajamouli, but do you know what it really takes to become like them?
When millions of talented individuals and countless films join the film industry every year, why do still only a handful of films/film makers stay with us? What is the secret formula they follow? What is the secret ingredient they use to make such memorable films?
HAVE YOU EVER WONDERED ABOUT THIS??
If you are an aspiring actor/filmmaker/cinematographer/writer/editor or interested in any other aspect of film-making, then please join this 3-hour session where Vihaan, a national level award winning filmmaker, shares his invaluable experience about the right way to approach film making.
What is the session about?
To achieve mastery in any field, KSAs (Knowledge, Skills and Attitudes) to solve problems are the primary aspects. While in our regular film making workshops we teach you (knowledge and skills) the basics of how to make films, in this session, we will focus on how to approach the process of filmmaking (attitude) in the best way possible.
Many people try to get started with filmmaking without even having a proper idea of how to go about it. Though it's not impossible to become a successful filmmaker that way, it's almost as difficult as driving in a dark alley with your car's headlights off.
Who is this session for?
Irrespective of what profession you are in:
If becoming an actor/filmmaker is your passion
If you are just a beginner who has no idea about how acting or film making works
If the humongous information available on the internet scares you,
If you prefer having a experienced mentor guide you rather than a YouTube video
If you are confused or clueless about how to get started
then this session is for you.
Ticket price: 499 only
What do you get along with this session?
Get your fee 100% back (flat INR 499 discount) if you attend any of our future workshops
An opportunity to work with us in our short term projects if you fulfil all the necessary criteria*
Eligibility:
Age limit: 15 and above
Language : English
Pre- requisites: You should know how to use computer/android phone and internet
Things you need: Google Meet application installed on a laptop/fully-charged android phone, Internet, notepad, pen, earphones (if needed)
About the Mentor
● Vihaan is a national level award winning actor/writer/director and editor. has worked in around 150 short films/ad films and around 4 Kannada feature films till now.
● His short film 'Navilugari' has won at the Bangalore international short film festival and Goa short film carnival.
● His Ad 'RajmaUpma' won the national level ad film competition 'CrashthePepsiIPL'
● He runs a filmmaking company called Goldenagefilmhouse.
● He has been conducting film making workshops across Bangalore for the last five years, 52 workshops successfully completed, 52 short films made, around 500+ people trained.
● He worked as an associate director for a Kannada feature film and currently working on his debut directorial venture in Kannada
● He started a new brand/YouTube channel called "OrangeKannadaka" in 2019, to share his film making knowledge and Positive/Motivational thoughts in Kannada language.
● He is an engineer turned filmmaker and hence follows an engineering approach in making and teaching films.
https://www.goldenagefilmhouse.com/aboutvihaan/
Terms and Conditions:
● You may not be able to attend the live session if you are late.
● You may face interruptions during the course of the live stream due to internet connectivity issues
● No refunds on purchased tickets are possible, but you will be given opportunity to attend the next session
Check out more about us and all our works on www.goldenagefilmhouse.com
*Terms and conditions apply